| | |
| --- | --- |
| | INTERNATIONAL HISTORY |

Palestine was split between Israel, Jordan and Egypt. Palestinian Arabs' desire for their own country has caused conflict with the Israelis since.


| | |
| --- | --- |
| | LOCAL HISTORY |

An Act of Parliament creates New Zealand citizenship, distinct from 'British subject'.

February - Schools closed because of polio epidemic.

Controversy erupts over the purchase of Frances Hodgkin's Pleasure Garden painting.

The City Council takes over the Public Library from the University.

Six passengers were killed and 61 injured when the Picton - Christchurch express derailed at Blind River near Seddon.

Credit: Ch-Ch City Libraries


| | |
| --- | --- |
| | RACING HISTORY PEOPLE |

F J SMITH

The death occurred suddenly at his home 'Village Farm,' Takanini, on Monday, of F J Smith, one of the greatest trainers in the history of NZ trotting. He was 54 years of age.

Smith came to NZ in the 1929-30 season, and bought with him the trotter Linnett The Great, an American-bred mare with whom he soon established his reputation as a skilled trainer and driver. So much so that in the comparatively short space of three seasons he had risen to the top of his profession; he became leading trainer and driver in 1932-33 with totals of 39 and 37 respectively. In the following season Smith set a record that still stands when he trained 52 winners and drove 51.

Smith was the leading trainer of England before he came to this country, but the sport was at a very low ebb there, and he spent some time in America, where he studied under some of the leading trainers and horsemen. His experience in the States was indelibly stamped upon his training and driving methods, the superlative condition of his horses, and his own immaculate and perfectly-groomed appearance at all times. His American dress, with its distinctive cap, jacket and gloves, was the epitome of neatness, cleanliness and polish, and his 18-odd years as a trainer and driver in the Dominion did much to elevate the sport in the eyes of the public, who had implicit faith in the integrity of a man they came to respect and admire to a very great extent. His governing purpose was to train horses to win races, and he had the reputation of being a non-bettor. His loss to trotting is very real, and will be felt as much in the North Island as was that of probably his greatest contemporary in the South Island - the late R B Berry.

During his 18 seasons in NZ Smith headed the list of leading trainers on six occasions, and he was the leading horseman on seven occasions. In 18 years he trained more than 500 winners. His last meeting was at Cambridge on January 10, where he was successful with Goldsmith, Delphine, Bessie Grattan and Sure Rey.

Smith's most important win at Addington was the 1941 NZ Cup with Josedale Grattan. A regular visitor to Addington, he rarely made the long trip from Takanini without winning his share of races. Some of his best performers in recent years were Ironside (National Handicap), Worthy Light (Christchurch Handicap), Captain Gaillard, Great Belwin, Doctor Ted and Bonnie Jack. Smith made four attempts to win the Ashburton Trotting Club's NZ Sapling Stakes, but success eluded him, Chancellor finished in third place to War Bouy and Morello in 1933, Sandusky in second place to Two's Loose in 1937, Karnak second to Captain Morant in 1942 and Doctor Ted second to Sprayman in 1945.

Some of Smith's important wins in the North Island included the Auckland Cup (King's Warrior), Great Northern Stakes (Symphony), Great Northern Derby (Chancellor, Bonniedene, Symphony and Josie Dell), Adams Memorial Handicap (Worthy light, Ironside, Josedale Grattan, Bexley's Pride, Doctor Ted), Otahuhu Handicap (Mountain Dell, Kewpie's Guy, Worthy Light, King's Warrior and Our Jewel), Rowe Trotting Handicap (Nell Volo - twice in succession), Hawera Cup (Bonny Azure) and the Manawatu Cup (Rayon d'Or).

A keen student of breeding, Smith imported several horses from America including Nell Volo, Cloverdale, Josedale Dictator, Josedale Grattan, Swordsman and Josedale Dawn. Besides Linnett The Great, his importations from England included Miss Joan Direct and Dan Direct



Credit: 'Ribbonwood' writing in NZ Trotting Calendar 21Jan48


| | |
| --- | --- |
| | RACING HISTORY PEOPLE |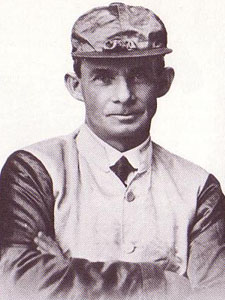 Manny Edwards

EDWARDS: M B

M B Edwards, whose death occured last week, was one of the Dominion's most successful trainers and reinsmen over a long period. He headed the trainers' list in the 1926-7 season.

Edwards was the son of the late M Edwards, who was also a leading trainer and driver. When he set up on his own account about thirty years ago, M B Edwards met with early success with Phil Smith, Homeleigh Dick and Vice Admiral. Many of his early winners came fron the 'Willowbank' Stud, Southland, among the good ones sent to him from that successful nursery being Dalmeny, Black Admiral, Dalnahine, Harold Thorpe, and Shine Soon. Another Southland pacer with whom he won important races was Mate o' Mine.

For a period Edwards enjoyed outstanding success in the classic field, his juvenile winners including War Buoy (NZ Sapling Stakes, NZ Derby, etc), Frisco Lady (NZ Sapling Stakes and NZ Champion Stakes), Twos Loose (Timaru Nursery Stakes, NZ Sapling Stakes and NZ Derby) and Gamble (NZ Derby).

Credit: NZ Trotting Calendar 5May48


| | |
| --- | --- |
| | RACING HISTORY PEOPLE |

JARDEN: JAMES

Mr James Jarden, who died in Christchurch on Sunday at the age of 85, was one of the pioneers of trotting in NZ.

Mr Jarden was always interested in horses, riding his first winner, a galloper, when he was nine years of age, at a sports meeting on the New Brighton beach. A keen judge of horses, Mr Jarden won two races at the first totalisator meeting held on the property now occupied by the New Brighton Trotting Club.

Mr Jarden won the first Otahuhu Cup with Royanna and he also won races with Young Irvington. Among his last winning rides was Merrylegs, at Addington in 1904. Pacers he was interested in more recently included John Dillon, Birdwood and Leewood.

Credit: NZ Trotting Calendar 14Jul48


| | |
| --- | --- |
| | RACING HISTORY MESCELLANY |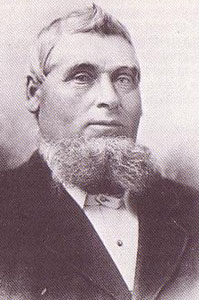 Henry Mace

MACE MEMORIAL HANDICAP

This race, until recently, was run by the NBTC, and honours the late Henry Mace, one of thne benefactors of the sport of trotting. He ran a soft-drink business in Christchurch, and was always prominent in public affairs.

The New Brighton racecourse had been purchased from its original owner, Mr Tom Free, by the Canterbury Sports Co Ltd with the idea of encouraging athletics, but this body soon went into liquidation and the course was then purchased by Mr Mace, who established his home, stables and stud there. He called it 'Brooklyn Lodge.' He then set about improving the grounds, sinking deep wells, sowing grass, and erecting buildings, and the present position of the New Brighton Trotting Club, may, to a great extent, be placed to the credit of Mr Mace. Later the course was sold to the Button family, and was subsequently purchased by the New Brighton Trotting Club.

Henry Mace was always a leading light in the government of the sport and anything that would help its advancement. He was on all deputations urging Government recognition of the sport, and with the late Mr A I Rattray and Sir Wesley Percival waited on the Hon R J Seddon with a request that a tax be placed on the totalisator receipts. This, of course, was done to counter the anti-totalisator people, who were particularly strong in those days.

Mr Mace's stud soon developed, until he had about 80 sires, mares and young stock. These were all from the best imported strains and included such well-known names as Almont, Candidate, Mambrino, Abdallah, Brooklyn and Director.

Henry Mace was one of New Brighton Trotting Club's most enthusiastic workers and well deserves to leave his name enshrined in the annals of trotting pioneers and enthusiasts.


Credit: H E Goggin writing in NZ Trotting Calendar 5May48


| | |
| --- | --- |
| | RACING HISTORY MESCELLANY |

OLLIVIER HANDICAP

This is the big race on the second day of the NZMTC's Cup meeting, and is in memory of the late Mr C M Ollivier, who was a committeeman and steward of the club for some years, and acted as vice-president under the late Mr J H Williams from 1925 until his death in 1935. During that period he rendered great service in the administration of the affairs of the club, in which he took a very deep interest.

Mr Ollivier owned a number of high-class horses, and in 1922 won the NZ Cup with Agathos. He occupied the stables situated beside the Riccarton Railway Station.

His son, Mr W M Ollivier, has been a committeeman and steward, and also honorary judicial steward of the Metropolitan club for some years. He is also a member of the board of the NZ Trotting Assiciation

Credit: H E Goggin writing in NZ Trotting Calendar 19May48


| | |
| --- | --- |
| | RACING HISTORY MESCELLANY |

LOUISSON HANDICAP

This race was run at the NZMTC's Cup meeting until recently and perpetuates the name of the Hon Chas Louisson, who was president of that club from 1906 to 1924. He was one of the pioneers of trotting and took an active interest in the sport from its earliest days. He was a committeeman and steward of the Lancaster Park Trotting Club and was active in securing the ground of the present Addington Course and in making it what it is today.

During his presidency, the enlargement of the course and grounds to its present size was carried out. All the modern buildings on the ground, with the exception of the totalisator houses, were erected during his presidency. He laid the foundation stone of the outside public stand, and his name is engraved on it.

For some years he presented the Cup for the NZ Cup Handicap and was always ready to assist the finances of the club. In recognition of his great services, his widow and son, Dr M G Louisson, the present vice-president, were elected life members of the club.

Credit: H E Goggin writing in NZ Trotting Calendar 12May48


| | |
| --- | --- |
| | RACING HISTORY MESCELLANY |

J H WILLIAMS HANDICAP

This race is run on the second day of the NZMTC Easter meeting and honours the late Mr J H Williams, who did so much for the sport generally.

He was a barrister and solicitor in Christchurch, and joined the NZMTC in 1906. He was appointed a committeeman and steward in 1914, and was made vice-president in 1915. In 1924 he was elected president of the club, a position he occupied until his death in 1939.

In 1916 he was elected to the board of the NZ Trotting Association. In 1925 he became chairman of the board and remained as such for 14 years.

By his enthusiasm, ability and geniality he earned the respect and goodwill of the whole trotting community. The valuable services he rendered to trotting are suitably recognised in the naming of this race, and in the election of his widow as a life member of the NZMTC.

Credit: H E Goggin writing in NZ Trotting Calendar 9Jun48


| | |
| --- | --- |
| | RACING HISTORY INTERDOMINIONS |

AUCKLAND - EMULOUS
In 1948 conditions for the first time decreed that the horses winning the Grand Finals would automatically become the Grand Champions. A record crowd of 31,000 cheered Emulous to victory in World record time of 4.12.4 on the grass track.



| | |
| --- | --- |
| | RACING HISTORY HORSES |

JOHNNY GLOBE - Bargain Buy

Johnny Globe(1948) $100, 34 wins $85,375

This story has been told so often it literally has fur on it. How Don Nyhan and his wife, Doris, were visiting English expatriate breeding and saddle horse riding fan, Frank Ward, before he left to return to England. They were discussing what to do with the Ward horses in his absence. After some discussion Doris offered the $100 she had been saving for a fur coat for an unimpressive Logan Derby colt foal from Sandfast. Don went to his grave claiming he "wouldn't have given $20 for him."

It turned out to be Johnny Globe. He won 34 races(one in every three starts) and 15 Free-For-Alls(the next best in our history then, Gold Bar, won six). He retired the highest stake earner of either code raced solely in New Zealand; held four world records, and became a champion stallion. A few fur coats there! He had already made the Nyhan family fortune before he sired Lordship for Doris and he went on to break all his old man's records - a story for the ages. But was it all that it seemed?

Don entered Johnny Globe in the National Sales thinking it was the only way Doris would get her fur coat money back. Then, in what was a life changing moment, he trialled the colt over 800m on the rough old Ashhurst grass track and timed him in 1.06. Johnny Globe and the Nyhan family were headed south all right - to a West Melton stable not the sales. A pencil line went through the catalogue page.

In truth Doris Nyhan was just being practical. There was history in the stable of the family through a horse called Gold Flight, a half-brother to Sandfast. Sandfast herself had shown potential before a mishap in a bog ended her career. Johnny Globe was her first foal and apparently she hadn't done him well.

But Gold Flight had won 8 races including 3 Addington staying features for the stable and Don always maintained he was a NZ Cup horse. He died as an 8yo in tragic circumstances. The muscle powders he was treated with were banned from import to New Zealand. The Veterinary experts could find no successful replacement treatment and the old soldier just faded away

Credit: David McCarthy writing in Harnessed May 2016


| | |
| --- | --- |
| | RACING HISTORY HORSES |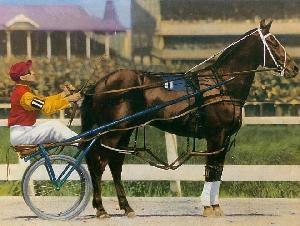 Harold Logan & Maurice Holmes at the start of a NZ Cup

HAROLD LOGAN

Harold Logan died last week at the age of 25 years. The owner, Mr E F C Hinds, stated that Harold Logan's heart weighed four pounds. His lungs were still perfectly sound, but his teeth and gums were gone.

Harold Logan was a horse who became an institution with the racing public. His name was a household word. He was almost human. Everybody idolised him. Can't you still hear the cry re-echoing through the grandstands? "It's Harold Logan coming through." The cry was taken up by thousands, until it swelled into a mighty roar as the hero of a hundred fights broke another world's record. Harold Logan's deeds live on as an epic. He was, indeed, one of Nature's finest little gentlemen. Homer never sang of a greater hero than this courageous piece of pacing dynamite.

Harold Logan rose from comparative insignificance. His dam, Ivy Cole, was never threatened with fame, and when Harold Logan was born in a yard at the back of the Springfield Hotel, he was regarded by the natives as just another horse. But what a horse! As near perfection in racing qualities as we are ever likely to see. Harold Logan's third dam, Charity, was a thoroughbred, but was a poor galloper, and her track performances would scarcely have done credit to a back-country hack. To Duncan Abdullah she produced Wisconsin. For some years Wisconsin did duty as a shepherd's hack. Later she was raced, but was a decided moderate. Her owner, Mr J J Coffey, mated her with King Cole, the result being Ivy Cole, a good-looking sort; but she was injured and did not race. Ivy Cole, if she had never left another foal, earned immortality as the dam of Harold Logan.

Harold Logan had his first race at a Waimate Hunt Meeting as a 5-year-old in the 1927-28 season, when with his owner, the late F R Legg, in the saddle, he won easily over the mile and a half journey. He raced four times as a 6-year-old, but without any return. In fact, it was not until he came into the ownership of Miss E Hinds, at the small outlay of £100, and joined the late R J Humphrey's stable, that he began to show his real worth.

Nothing succeeded quite like Harold Logan. His onslaught on the West Coast of the North Island curcuit in the 1929-30 season was one of the cleanest sweeps on record. He took everything before him, and was later successful at Addington and Auckland, in all sorts of going. Each of his wins was more impressive than the last, and already he was recognised as a coming champion. By the time he had passed the 8-year-old mark he was among the stars. His victory in the Oamaru Handicap that year is still regarded by many experienced observers as one of his greatest performances. Buffeted from pillar to post, he was apparently out of the contest more than once, and it was a supreme effort in the straight that enabled him to get up and win in a blanket finish between four of the best stayers of that time. The public could not believe the watch when the world's record race figures of 4.13 2/5 for two miles were hung up for his third placing in the Midsummer Handicap at Addington in 1931. The previous best figures were Peter Bingen's 4.18 4/5. Harold Logan was time in 4.11 from post to post. Already he was one in a million.

His first victory in the NZ Cup came when he was nine. A brilliant win in the Weston Handicap at Oamaru pointed to success, but in the first division of the NZ Cup he was driven wide out practically all the way and just managed to struggle into fourth place and qualify for the final. He was allowed to go out second favourite in the final, but, more judiciously handled, he came away from Kingcraft in the straight after pacing his last half-mile in the sensational time of 58 2/5secs. The Free-For-All fell easy prey to him.

Harold Logan had now reached ten years of age, and he celebrated his birthday by returning after a spell to down Red Shadow in the National Handicap. He set new record figures for a mile and a quarter when he finished third in the Avon Handicap at New Brighton in 2.38 2/5, and subsequently won the NZ Cup Trial, a prelude to his second victory in the NZ Cup, in which he set a new race record of 4.16 2/5.

The following season he created a surprise at the August meeting by winning from a long mark over a mile and a quarter. His dividend was well into double figures and many and varied were the tales of people who 'let him go.' But now was to follow a period of eclipse for the champion. He failed to gain a place in the NZ Cup, was beaten by Red Shadow and Kingcraft in the Free-For-All, and it seemed that the new champion in Red Shadow was entitled to the crown.

It was soon after this that the NZ Metropolitan Trotting Club made arrangements for the Australian champion Walla Walla, to appear in match races with Red Shadow, Harold Logan, Roi l'Or and Jewel Pointer - and tremendous interest was displayed by the public in the track work of all these horses weeks before the event. Such an impression Red Shadow made by his NZ Cup and Free-For-All victories, that he was a firm favourite over Walla Walla and Harold Logan. The first of the invitation races was run over a mile, and Walla Walla, beginning very fast, set a new world's record of 2.04 1/5 from a standing start and narrowly defeated Harold Logan, with Red Shadow a fair third. This was the only race in which Walla Walla was seen at his best, and in all but one of the other five - run at Auckland, Forbury Park, Oamaru and Wellington - Harold Logan was the victor. These highly exhilarating contests - they put new life and enthusiasm into the sport throughout NZ - were the crowning glory of Harold Logan's 12-year-old career.

Enthusiasm knew no bounds when he opened up his winning account in the Avon Handicap, of a mile and a quarter, at New Brighton the following season. He started from the seemingly impossible mark of 84 yards. Those in front of him included such proven sprinters as Silver de Oro, Kingcraft and Craganour. Once again Harold Logan paid a large dividend; but winners and losers alike put their hands together and roared themselves hoarse when they realised that the irresistable Harold had bagged another world's race record. His 2.36 3/5 was then a world's winning race record.

This would have been enough for one season for most champions, but just by way of variety Harold Logan gave the record roster another jolt by finishing third from 72 yards in the NZ Cup and clocked 4.12 2/5. This was a world's pacing record for two miles, with no reservations whatsoever, and it stood for thirteen years. For this meeting a special two-mile Free-for-all, with lap prizes had been included in the programme, and Harold Logan was equal to outstaying Roi l'Or decisively after taking the prize from the second lap and collecting an additional £50. The mile and a quarter Free-For-All was just as easy for him.

Now wearing on for thirteen, Harold Logan was evidently at last beginning to take toll of his years, but his vitality still proved invulnerable, and he gained another victory in the NZ Cup Trial at Wellington. He did not contest the NZ Cup, in which his handicap would have been 84 yards. In the Free-For-All he was beaten out of a place. He again failed from a long mark at Easter, but one was still loath to write 'C'est finis' to a grand and glorious career.

And just as well, because, without Dr Voronoff or anybody else, he came back as a 14-year-old, finishing fourth in the NZ Cup, third in the Louisson Handicap, and winning another Free-For-All. He was given an official farewell at this meeting, and enthusiasm ran high when a garland of roses was placed around his neck by Mrs J H Williams. The crowd went hysterical with delight. One dear old lady showered the 'horse that time forgot' with rose petals, and children round the birdcage gave him a warm 'hand.'

Everybody loved this horse. His uncanny intelligence, unflinching courage, and perfect manners appealed to all. His terrific bursts of speed from rear positions round the best of fields always sent the pulse doing overtime and brought thousands to their feet to do honour to the horse who proved time and time again that nothing was beyond him.

At the barrier! He would stand there, the whole field in front of him, and, ears pricked and not a move out of him, he would watch the starter, as keenly as any driver ever watched him. And I heard one of his drivers admit that on more than one occasion old Harold was into his stride and full speed ahead before even his pilot realised that the barriers had been released. He has a sense of anticipation that would have lined up with Bert Cooke's!

In training Harold Logan was also little short of human. He knew the training track from the racetrack as well as any trainer, and he would not go any faster than he had to. But if any strange horse was brought along to work with him, he would go like fun to beat it, just to prove he could, and once he had done so he would not bother his head about it again. Now, that's one for Ripley, because it is on record that Harold Logan could size up his opposition as well as his trainer or driver. At the races, however, he was just the opposite, becausehe never stopped trying, no matter how gigantic the task.

They are not foaled better than Harold Logan.

-o0o-

Frank Marrion writing in NZ Trotting Calendar 8Feb84

Harold Logan was a gelded son of Logan Pointer and a non-standardbred mare in Ivy Cole, who was by King Cole (by Ribbonwood) from Wisconsin, she being out of a poorly performed thoroughbred mare. Harold Logan rose from total obscurity to become a household name in NZ, the idol of thousands. But it wasn't so much his perfect manners, devastating turn of speed nor undeniable will to win that saw him rise to such heights of popularity. It was his character. Harold Logan was virtually human, so intelligent he was known to train himself and run his own races. One famous instance was after one of his many wins at Addington, his driver commenting Harold Logan was into full stride before he realised the starter had let the field go.

Nobody had heard of Harold Logan when he began his first serious campaign as a seven-year-old, having just been purchased by Mr E Hinds for £100 and joined the stable of R J (Dick) Hunphreys. However, after a North Island campaign in the winter of 1930, where he was unbeaten in four starts at Wanganui, Hawera and Taranaki in the space of a fortnight, he was already among the stars. After winning at Addington, Harold Logan travelled to Auckland where he scored a double, his final start of the season resulting in a five length win in the featured Adams Memorial Cup.

He won his first three starts as an eight-year-old later finishing second in the Auckland Cup from 36 yards to Carmel (front) and winning the NZ Trotting Gold Cup at Wellington by four lengths. He was placed in his final three starts at Addington that season, including a third from 84 yards over two miles. Nobody could believe their eyes when his time of 4:13.4 was posted, the previous best being Peter Bingen's 4:18.8. He was timed from post to post in better than 4:11, figures unheard of and unequalled until Highland Fling appeared on the scene some 15 years later.

As a nine-year-old Harold Logan won his first NZ Cup, coming off a 48 yard handicap to easily beat Kingcraft (front), Free Advice (12) and Wrackler (36). The stake of 1500 sovereigns was half what the Cup had been run for in the mid 1920s. He also won the Free-For-All on the final day pointlessly. Harold Logan returned the following season to win the National Handicap from 60 yards, set new figures for a mile and a quarter in finishing third at Addington in 2:38.4, win the NZ Cup Trial at Wellington, and win his second NZ Cup from 60 yards, beating Glenrossie (12), Roi l'Or (24) and Red Shadow (12) by two lengths in 4:16.4, a race record.

Now trained by his owner at New Brighton, Harold Logan returned at the advanced age of 11 to win at Addington in August, beating Mountain Dell (front), and Red Shadow (36) from 60 yards over a mile and a quarter in 2:38 2/5. However, he was overshadowed by Red Shadow at the Cup meeting, finishing fifth from 72 yards in the Cup and being soundly beaten by that horse in the Free-For-All after uncharacteristically beaking in the run home. It seemed youth was about to be served, but Harold Logan still had other ideas.

Thus when Walla Walla stepped into the Addington birdcage to do battle with New Zealand's best, the scene was unprecedented, or at least for 30 years when Fritz and Ribbonwood had set the trotting world alight. It is impossible to recapture the excitement of the day in words now, so for a while we will step back into history, remembering we are 50 years in the past, and let the noted scribe of those years, "Ribbonwood" (or Karl Scott as he was better known) recall the events.

(Published April 5, 1934, NZ Referee).
"From a very early hour the trams and taxis did a roaring trade. People were seen walking to the course from 9:30am and by 11:30 traffic control at the course entrances was a most difficult task. They continued to arrive in thousands until the appointed hour of the Invitation Match, and by this time grandstand accommodation was at a premium. Inside and outside the course every possible vantage point was taken. The Showgrounds fence, and the back fence of the course, cattle trucks and carriages in the railway yard, the workshops roof, and the roofs of private houses adjacent to the course were loaded with humanity. From the crowd covering the lawns came a steady drone that could be likened to the roar of an Eastern market place.

"But the crowd round the totalisator dispersed much earlier than usual, and five minutes before closing time the totalisator was being patronised by only a few stragglers who were probably imbued with purely gambling instincts, and who were not particularly desirous of obtaining the best possible view of the race. It is safe to say that many thousands did not make any investment on the race. They went solely to see the champions in action, and monetary interests became a secondary consideration with many of the 22,000 present.

"The CJC as well as retailers, hotel keepers and bording house keepers have benefitted by the enterprise of the Metropolitan Trotting Club in arranging the match races. One incident will give some idea of the tremendous interest it has engended. Of nine men staying at one hotel, six admitted that it was the first trotting meeting they had attended. That is a large percentage and does not hold good in all cases. But one can safely assume that the increase of £11,985 in the totalisator investments on the first day was represented by the drawing influence of the Invitation Match.

Walla Walla was the first horse to enter the birdcage and when he was driven round by his owner, unstinted applause came from the dense crowd around the birdcage. It had an unsettling effect on Walla Walla, who got on his toes immediately and showed nervousness during the preliminary that his owner stated was due to the surroundings and a multitude his champion had never seen before. When Harold Logan appeared, prancing along to the plaudits that only a public idol receives, the hero of 'ten thousand' fights was given the warmest reception of all the contestants. He has gained a place in the estimation of the sporting public that will never be surpassed, even when his memory is dimmed with time. Red Shadow, the best conditioned horse of the field, made a marvellous impression in his 'Sunday waistcoat' as he was enthusiastically received. Roi l'Or, who, perhaps, did not look as though he had all his medals on, also came in for a tremendous round of applause, and little Jewel Pointer was received as a battle-scarred old veteran with a runner's chance.

"Walla Walla and Roi l'Or were both restive at the start, and they held up the despatch for nearly two minutes. Harold Logan stood like a statue, and Red Shadow and Jewel Pointer gave little trouble. Walla Walla continued to rear up and back out, but eventually they were all caught nearly in line. Walla Walla began ver fast and was soon showing out from Harold Logan and Red Shadow, while Roi l'Or and Jewel Pointer were slow to muster their speed. Walla Walla drew out by two lengths clear of Harold Logan at the end of a quarter, and Red Shadow was about the same distance back, and then Jewel Pointer and Roi l'Or at close intervals. Jewel Pointer moved up to be almost on terms with Red Shadow three furlongs from home, but from this stage the race was a duel between Walla Walla and Harold Logan. Walla Walla reached the straight with Harold Logan challenging on the outside of him.

"The crowd had cheered wildly from the outset, but when Harold Logan drew up to Walla Walla a furlong from the post, the mingled advice and exhortations were deafening. 'Harold Logan wins' came from thousands of throats and halfway down the straight the New Zealander certainly appeared to have the measure of the
Australian. About 50 yards from the post they drew level again, but Walla Walla had a little in reserve, and gradually drew out from Harold Logan, and passed the post a neck in front. Red Shadow, flat out, was three lengths away, Jewel Pointer four lengths farther back, and Roi l'Or about two lengths away.

"The crowd literally went mad with delight. They would have liked to see our champion beat Walla Walla, but the fact that the Australian came again when apparently beaten, and won the most hair raising duel ever witnessed at Addington, left them hoarse but satisfied. It took the police all their time to prevent a section of the crowd from mobbing the winner when he was returning to the birdcage, but more was to follow. On their way back to the sheds, Walla Walla and Mr Martin were effectively mobbed. Police protection had to be availed of, and, before the crowd dispersed, several volunteers had to be called upon to protect the police, or assist them. 'My greatest hope has been realised,' stated Mr Martin. 'The demonstration fairly staggered me.' 'The best horse won,' said Mr E F C Hinds, owner of Harold Logan. 'I am quite satisfied.'"

The best horse had won and in world record time for a standing start mile of 2:04.2.

The subsequent invitation races at Addington, Alexandra Park, Forbury Park, Oamaru and Wellington were understandably anti-climatic, with Walla Walla failing to reproduce his best.

The second day of Addington's Easter meeting saw Walla Walla, Harold Logan, Red Shadow, Jewel Pointer and Ces Donald's Lindbergh return for a clash over a mile and a half. Harold Logan won easily after Walla Walla had put his foot through Jewel Pointer's cart with about a mile to run. Walla Walla had begun slowly and was trying to get out of a pocket on the rails when the incident occurred. A youthful Maurice Holmes who drove Harold Logan throughout the series, received some criticism for "walking" the field in the early stages. With Harold Logan reeling of his last half mile in close to 59 seconds, he gave nobody a show, beating Red Shadow by a length with Lindbergh and Walla Walla six lengths away. Harold Logan recorded 3:16.4 for the journey, more than two seconds slower than Worthy Queen took in the main trot later in the day, recording 3:14.2 from 60 yards. Worthy Queen's time was to stand as a record for almost 20 years, Dictation reducing it in the early 1950s.

The third and fourth rounds of the invitation races were held at Alexandra Park. Harold Logan was an easy winner of the first, leading throughout to beat Auburn Lad and Red Shadow, but in the second he drifted off the rails at a vital stage and allowed Impromptu and Red Shadow through to beat him narrowly. Walla Walla had not travelled north but he and Harold Logan clashed at Forbury Park where the track was so bad they were forced to race in the centre of the course. Walla Walla set a strong pace in the early stages but had no answer when challenged by Harold Logan in the straight. The concluding invitation events at Oamaru and Wellington also fell easy prey to Harold Logan, with Walla Walla struggling. However it was later revealed that the stallion had been suffering from a severe cold.

For Harold Logan the series with Walla Walla could easily have been his crowning glory, but still there was much more to come. He returned the following season and stunned the trotting world when he won the mile and a quarter Avon Handicap at Addington from 84 yards. Eleventh favourite in the 13 horse field, Maurice Holmes got him home by a length in 2:36.6, a record which stood until the suicidal Gold Bar clocked 2:35 in 1942.

Starting from 72 yards in the 1934 NZ Cup, he found Indianapolis (12 yards) and Blue Mountain (front) impossible to beat, but on the second day he easily won a free-for-all over two miles, beating Roi l'Or and Red Shadow, and on the final day he won the mile and a quarter free-for-all by three lengths over Roi l'Or. In the Cup that year Harold Logan recorded 4:12.4, a record which stood for 13 years.

He was back again the following season to win the NZ Cup Trial Handicap at Wellington by three lengths after starting from 60 yards over a mile and a quarter, but did not attempt the Cup. Some idea of the ridiculous handicaps now imposed on Harold Logan was in evidence when he lined up on the second day, starting from 72 yards in a mile event. Indianapolis won fron 48 yards. He was a close fourth on the final day in the free-for-all won by Indianapolis over stablemate Tempest and Roi l'Or.

By now one could easily have been excused for writing "C'est finis" to a grand and glorious career but still Harold Logan had other ideas, returning as a 14-year-old in 1936 to finish a fine fourth in Indianapolis' third NZ Cup, then win the free-for-all on the final day over Tempest, Red Shadow, Roi l'Or and Indianapolis. This was finally Harold Logan's crowning glory and gave rise to a highly emotional scene when he was decorated in the birdcage afterwards. It was his last start for the season and seemingly he was retired with a record of 29 wins and 20 times second or third in 108 starts, earning just over £10,000.

But, incredibly, Harold Logan was leased and brought back into work as a 16-year-old, recording a couple more placings before the curtain fell on the career of a horse who really defied description. Appropriately Harold Logan's final start also brought to a close the career of his remarkable sire Logan Pointer, having been foaled only a year or so before Logan Pointer was fatally kicked by a pony, dying at the age of 15.


Credit: 'Ribbonwood' writing in NZ Trotting Calendar 21Apr48


| | |
| --- | --- |
| | RACING HISTORY HORSES |

CUP KINGS - FALLACY 1948

INTRODUCTION
Bettor's Delight in just about ready to make the list as a "Cups King"- the most influential stallion in the two major all-aged races on out calendar, the Auckland and New Zealand Cups. He already has three winners and given his domination that might grow rapidly.

But topping some of the "old timers" won't be that easy, even if he has gone past many already. Who are the best? My top 10, based on the following statistical model.
- 10 points for each winner of the New Zealand or Auckland Cup.
- 5 point bonus for each individual winner greater than one.
- 5 points for each broodmare sire win.
- 1 point for each winner sired by a stallion son.

7= FALLACY 1948
(Light Brigade-Diversion-Rey-de-Oro)(Died aged 24)
Five WINS, Three WINNERS, Two BROODMARE WINS = 70 points

Like Wrack he had a triple NZ Cup winner in False Step but he added True Averil, Auckland Cup winner Allakasam and sired the dams of Royal Ascot and Hands Down. It is an outstanding record for the then unfashionable "colonial bred" stallions.
He left a number of other top liners such as Falsehood, Junior Royal and Kotare Legend. Fallacy never had more than 70 starters in any season. The locals always had to do it the hard way.

TRIVIA FACT - Despite strong support from owner Jack Litten, Fallacy's first crop was of just eight foals an he was later doing 30 mares when unproven imports were hitting 80 in their first season. In the mid 1960's he left his biggest crop of 61 foals but left many fewer than he deserved.


Credit: David McCarthy writing in Harnessed Nov 2016


| | |
| --- | --- |
| | RACING HISTORY FEATURE RACE COMMENT |

1948 NZ SPRINT CHAMPIONSHIP (NZ FREE-FOR-ALL)

Highland Fling's mile against time at Addington on Friday morning in 1:57 4-5 was a further triumph for the unconventional training and driving methods of L F Berkett. The usual procedure in trials against time is a strong warm-up and a galloping pace-maker. Berkett dispensed with both and shattered the previous record jointly hed by Highland Fling and Lawn Derby, by 1 3-5 secs. The spectacle of Highland Fling's lone role was a thrilling one - probably much more so than it would have been with a pacemaker, and the public appeal of the trial was emphasised by packed stands and enclosures, although the starting time for the first race was still half an hour away.

Berkett rated Highland Fling to perfection: the first quarter in 29secs, half-mile in 58 2-5secs, six furlongs in 1:28 3-5 and full-journey in 1:57 4-5. The last half-mile showed 59 2-5secs and the last quarter 29 1-5secs. A warm ovation awaited Highland Fling and Berkett when they returned to the birdcage, and Berkett's deep satisfaction with the greatest mile paced outside of America was betrayed by his permitting himself one of his isolated smiles.

Six hours after breaking the mile record, Highland Fling was harnessed up for the New Zealand Sprint Championship, which he won by a safe margin after being left flat-footed at the start. Berkett's coolness and unconcern at this initial setback was not lost upon the crowd, and also made a profound impression upon many of the sport's oldest adherents.

Highland Fling's time for the mile and a quarter journey was 2:37 2-5. Single Direct was second two lenghts away, with Integrity a further length and a half back. Ingle Belmer was fourth.

Credit: 'Ribbonwood' writing in NZ Trotting Calendar 17Nov48


| | |
| --- | --- |
| | RACING HISTORY FEATURE RACE COMMENT |

1948 NEW BRIGHTON OAKS

The New Brighton Trotting Club has instituted the New Brighton Oaks Stakes, a race for three-year-old pacing fillies, to be run over a mile and a half, at it's December meeting. The stake is £800. This is the first occasion that a race of this kind has been provided in the Dominion.



Credit: NZ Trotting Calendar 20Oct48


| | |
| --- | --- |
| | RACING HISTORY FEATURE RACE COMMENT |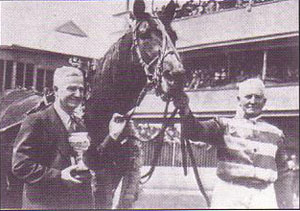 Alf Kemble, Highland Fling & Leo Berkett

1948 NEW ZEALAND TROTTING CUP

Highland Fling's New Zealand Cup victory on Saturday was the most fluent, smashing and affluent run ever staged at Addington. Fluent because the faster this nonpareil travels the easier he appears to be doing it; smashing because he reduced a couple of world's records by wide margins; affluent because the £4775 he won on Saturday took his winning total to £30,160, which puts him well in front of the previous New Zealand record stake-winner - the mighty galloper Gloaming - whose total was £26,202.

Descending on the leaders with the same overwhelming purpose as the young blood in the poem who brought the good news from Aix to Ghent (or visa versa) Highland Fling had his second NZ Cup sitting on the sideboard a furlong from the post; in the remaining 220 yards he put the finishing touches to a new world's pacing record for two miles and a world's winning race record for horses of both gaits.

Highland Fling and Berkett richly earned the terrific ovation they received from the dense crowd when they passed the post six lengths clear of Plunder Bar. So secure was Highland Fling's victory that Berkett put away his whip short of the post and took a disdainful look round at the havoc he had wrought. It was a pardonable flourish on a very special occasion - Berkett's first winning Cup drive; his son, Colin, drove 'The Fling' last year. It is only fair to add that the beating of a rapid tattoo on the sulky shaft was the nearest acquaintance Highland Fling made with the whip on Saturday. Never before has the rout of a high-class field been so complete. For a high-class field it undoubtedly was: in the ultimate you had the ancient allusion to a Triton among the minnows.

Highland Fling's 4:10 3-5 is the fastest time a pacer has yet registered the world over. The only harness horse to have bettered it is Greyhound, a trotter, whose 4:06 was done against time and with many advantages not enjoyed by Highland Fling. But that is not all: from post to post Highland Fling was timed at 4:07 2-5, his last mile in 2:02 3-5 and last half-mile in 59 3-5sec, so the people who have been putting him in world class for long enough have now come into their own. Two-mile races are now becoming fairly common in America, and nothing approaching Highland Fling's achievement of Saturday has been reported from the land of his ancestors.

Highland Fling's supporters - he was apparently summed up as unbeatable by the multitude of backers who put more than a third of the total win investments on him - must have had palpitations when the champion bobbed at the start and increased his handicap by at least 24 yards. And before a furlong had been covered he narrowly averted disaster when Nyallo Scott broke. Highland Fling had repaired these setbacks with six furlongs covered, at which stage he was tucked in behind the bunch, but he gave further cause for anxiety with five furlongs to go by drifting slightly. Once he reached the clear just after entering the last half-mile, however, all fears were soon put to rest and he gathered in everthing except Plunder Bar and Single Direct smartly. He did not attenpt to dispose of his only remanining opponents until the home turn was rounded and his task proved much simpler than even his most ardent admirers could have imagined.

Single Direct ran a fine race but was a trifle disappointing. He tackled the pacemaker, Plunder Bar, early and often, but never looked like beating him. Plunder Bar made a notable contribution to light-harness history by carrying the field along at a solid pace; his 4:16 4-5 is easily his best time to date. Emulous made one of the best beginings of his career and was soon favourably placed in the running, only one sulky-width from the rails; but when Highland Fling moved up on the outside of him with three furlongs to go Emulous was plainly on the way out. He finished ninth. Knave of Diamonds, who appeared to be hampered by another horse in the back stretch the last time, was a moderate fourth, followed by Loyal Nurse, Sprayman, Dundee Sandy, and Navigate.

Highland Fling, like another great harness figure in Harold Logan, had lowly beginnings. Bred by Mrs K Bare, of Riccarton, he was sold to Mr A T Kemble, of Auckland, for a sum about £25 short of £200 by the time a contingency had been paid. Highland Fling is still a comparative youth as pacers go, being only six. By all precedents his best days should still be in front of him. He is by U Scott from Queen Ayesha, an unraced mare by Frank Worthy from Royal Empress, who was by Logan Pointer from a Silver King mare. It is what is commonly known in breeding circles as a short or lopsided pedigree. His sire is just the best, and what there is of his dam's family tree for two generations back in unimpeachable; but from Silver King onwards it falls short of what is usually expected of a champion's lines in the trotting DeBretts - the NZ Stud Book. Be that as it may, Highland Fling's greatness has gone a long way towards raising the obscure name of Silver King to the standard-bred peerage. Very little is known of Silver King, but it has been established that he was by Wallace L (imp)from a mare by Kentucky from Silver Queen.

The Cup this year was apparently looked forward to more as a spectacle because of the decrease of £6641 in the totalisator investments for the day, £4311 was recorded in the Cup total alone. Many of the estimated crowd of 32,000 must have made up their minds to take no risks in missing a vantage point to see the race, because the totalisator cues were not as long as last year, and all the money offering was handled comfortably several minutes before the totalisator closed. The NZ Cup total was £34,972, compared with the record of £39,283 last year.

Credit: 'Ribbonood' writing in NZ Trotting Calendar 3Nov48


| | |
| --- | --- |
| | RACING HISTORY FEATURE RACE COMMENT |

1948 NEW ZEALAND DERBY STAKES

There will be general agreement with Mr C S Thomas, president of the NZ Metropolitan Trotting Club, in his declaration that the New Zealand Derby on Saturday was the greatest classic race ever staged at Addington. Four horses - Croughton, Bronze Gold, Perpetua and Chamfer came to the wire with less than a length between them, and the winner's time, 3:15 4-5, was a new record for the race, clipping two-fifths of a second off War Bouy's long-standing record established in 1933.

Although Croughton enjoyed better luck in the running than either Bronze Gold or Chamfer, he is every inch a Derby colt and fought on in the gamest possible manner in a finish demanding the highest degree of courage, staying power and true racing instincts. Bronze Gold was in an almost hopeless position turning for home; at the back of a bunch of six horses and boxed in on the rails. He had to be extricated and brought on the outside to make his run and was travelling faster than anything only a neck behind the winner at the finish.

Chamfer was in front at the end of a quarter but M Holmes allowed Perpetua to supplant him. This may have led to his ultimate undoing, because he could not find an opening until late, and when it did come he appeared to be hampered for room in his attempt to push through on the rails. Chamfer was only a head away fourth.

Spring Fashion, who at one stage of the betting was a firm favourite, began slowly and met a slight check when Zantileer broke near her with five furlongs covered. Spring Fashion made a run going to the far turn but came to the end of it long before the straight had been reached.

Croughton, a tall, racy-looking bay colt, is the first horse raced by his owner, Mr J S South. Mr South, who is a resident of Geraldine, has achieved in a year or two what most breeders fail to do in a lifetime - breed a Derby winner. Croughton is by Springfield Globe, a Colonial-bred stallion who is making a big name as a sire of classic and semi-classic winners. Croughton's dam is Lady Antrim, by John Dillon from a Wildwood mare, and that is as far as the pedigree goes.

Croughton gave his trainer, J Young, his first Derby success. R Young, who drove Croughton, also won the blue riband event with Sir Michael in 1945

Credit: 'Ribbonwood' writing in NZ Trotting Calendar 10Nov48


| | |
| --- | --- |
| | RACING HISTORY FEATURE RACE COMMENT |

1948 DOMINION HANDICAP

Full Result

First: J T Taylor's GREAT VENTURE. Trained by the owner and driven by S A Edwards, started off 12yds.

Second: L F Berkett's TOUSHAY. Driven by the owner, started off 24yds.

Third: J R McKenzie's FANTOM. Driven by G B Noble, started off 60yds

Fourth: Bruce Bros' ACCLAIMATION. Driven by M Holmes, started off Scratch.

The winner won by five lengths, with three lengths back to third.

Also started (in finishing order): Medical Student, Rerewaka, Belmoral, Pardon Me and Ariel Scott.

Credit: NZ Trotting Calendar 17Nov48


| | |
| --- | --- |
| | RACING HISTORY FEATURE RACE COMMENT |

1948 NEW BRIGHTON OAKS

Perpetua outclassed her eight rivals in the New Brighton Oaks, the first race confined to three-year-old fillies in the long history of the sport.

Perpetua added to her task by beginning slowly and drifting all of 30 yards behind the leaders in the first quarter. With seven furlongs covered she flashed up to second place alongside Rayon. She was in front with three furlongs to go and ran on strongly in the straight to win unchallenged by a length. Her time 3:16 2-5, was outstanding, and revealed the winner as a youngster of exceptional class. It also confirmed her fine showing for a close third in the NZ Derby.

Perpetua was a top-class two-year-old, winning the NZ Sapling Stakes and she is proving a bargain at the 475gns, M A Todd, of Oamaru, paid for her at the 1946 yearling sales. An appealing feature of the win, although a distant one, is the fact that on the same course 49 years ago Perpetua's famous fifth dam, Thelma, won the principal event, the Brighton Handicap, two miles, by a dozen lengths.

Star Rosa, who was inclinded to hang in over the last furlong, looked dangerous only momentarily. She nevertheless went a good race and her barrier manners are gradually improving. Tradition, who pulled hard for more than a mile, was checked slightly when Rayon tired quickly coming to the home turn, but this probably made no difference to the result. It was Tradition's best performance for a long period, however, and the fast time she recorded was good enough to win races for older horses than three-year-olds.

Of the others, Scottish Nurse impressed most. She was just shaded into fourth place. Her greatest assets at present are her solidarity and honesty. She comes from a family that is well served by age.


Credit: 'Ribbonwood' writing in NZ Trotting Calendar 15Dec48


| | |
| --- | --- |
| | CLUB HISTORY MESCELLANY |

C S HOWELL HANDICAP

This race, which is run at the CPTC's New Year meeting, perpetuates the name of one of the most honourable and respected men in the early days of trotting.

Chas. Selby Howell ran a saddlers shop in Tattersall's building in Cashel Street, Christchurch. Later he handed the business to his sons, who in turn sold it to Messrs Trist and Small. Mr Howell was one of the founders of the Canterbury Park Trotting Club in 1891, and acted as its honorary secretary until 1895, when the late Mr A L Rattray was appointed to the position. In 1897 he was appointed president of the Club, a position he occupied until his death in 1921, with the exception of an interval of three years. He was always in the forefront in anything appertaining to the advancement of trotting.

He was born in Stroud, Gloucestershire and was educated at the parrish school, known as Red Coat School (some dozen boys only wearing scarlet coats and vests, a benefaction left by some ancient hunting squire for that purpose) of which his father was schoolmaster and parrish clerk for over 50 years.

It was he who circularised clubs in the Canterbury district stating that as there were now so many clubs springing up in the district, he felt some controlling organisation was necessary, and he was influential in forming the Canterbury Metropolitan Trotting Association, of which he was president for some years and did yeoman service while acting in that capacity. He was one of a committee which framed the constitution and rules of the Association, the name of which was later changed to the South Island Trotting Association. Later he was instrumental in bringing about the amalgamation with the North Island Trotting Association, and thus was initiated the present NZ Trotting Association.

During the time Mr Howell was president of the Canterbury Metropolitan Trotting Association, they were fighting for Government recognition of the sport and a proper allocation of racing days. In 1896 he sent the following circular to all clubs:

"162 Cashel Street, Ch-Ch.
June 15, 1896.

To Secretary,-

The Canterbury Metropolitan Trotting Association having had under consideration the advisability of all the trotting clubs in NZ moving in the matter of securing their proper allowance of trotting meetings for each province, on the basis proposed for the years 1895 and 1896.
The Racing Conference meets in Wellington during the month of July (date not yet fixed), and endeavour to obtain an interview with the Racing Conference, by a delegate from each of the trotting clubs, and at the same time to act on the advice of the Colonial Secretary to see him a few days before the Racing Conference meets.
That, if possible, each trotting club to be represented by a delegate, and each club to pay their delegate's expenses to Wellington. That a united and energetic effort be made to secure the just and common interest of all trotting clubs in NZ, by obtaining their fair share of the totalisator permits, so that the strongest combination of the clubs is required. The interest and influence of all members of the Legislative Council, and House of Representatives, of each Electorate where trotting meetings are held, would have to be solicited for their assistance in this matter to secure our rights.
Any matters, other than the above, in the interest of trotting could be discussed by the delegates at the same time. Your prompt reply in assisting this will be obvious.

I have the honour to be, Dear Sir,
Yours faithfully, CHAS S HOWELL
President, CMTA"

Thus Mr Howell became the convener and also chairman of the first NZ Trotting Conference and acted in that capacity for several years. A set of rules was drawn up and these form the basis of the present rules. Mr A I Rattray was the first secretary of the NZ Trotting Conference, and though he soon relinquished the position, the effect of his good work remains.

In 1908, in recognition of the wonderful work done for his club and trotting generally, the club commissioned Mr Sydney L Thompson to execute his protrait, and this was later presented to him. On his death the family handed it back to the club, and now it hangs in my office. About 1910 Mr Howell decided to take a trip to England, and prior to his leaving, a dinner was tendered him as a mark of respect and goodwill.

Chas Selby Howell undoubtedly deserved the compliment paid him in the naming of this race.

Credit: H E Goggin writing in NZ Trotting Calendar 28Apr48


| | |
| --- | --- |
| | CLUB HISTORY MESCELLANY |

WILKIN HANDICAP

For many years now the Wilkin Handicap has appeared on the Easter programmes of the NZMTC, but I wonder how many know why the race is so named?

It is to commemorate 'the father of trotting turf' Robert Wilkin.

Robert Wilkin was a merchant in Hereford Street, Christchurch, and had his stables at the corner of Holmwood and Garden Roads, Fendalton. Prior to 1882 there were no clean-bred trotting sires in the Dominion. With the idea of remedying this want, Robert Wilkin commissioned an American trotting authority to send him a collection of three sires and six brood mares. These duly arrived, the sires being Berlin, Blackwood Abdullah and Vancleve, and the brood mares Messenger Maid, Blue Grass Belle, Fannie Belle, Jeannie Tracey, Queen Emma and Woodburn Maid.

These horses did more to improve the type of light-harness horse in the Dominion than any who have arrived since. Vancleve, of course, went to Australia and later was a wonderful success at the stud of Mr J A Buckland, and exercised a great influence on the trotting breed in Australia. Berlin was an immediate success as a sire, his progeny being noted for their stamina and gameness. Two mares by him were also a great influence at the stud, namely Fraulein and Puella.

All the other importations left their mark on the light-harness breed and laid the foundation for the wonderful breed we have today.

Credit: H E Goggin writing in NZ Trotting Calendar 21Apr48


| | |
| --- | --- |
| | CLUB HISTORY NEW BRIGHTON TROTTING CLUB |

IMPROVEMENTS AT NEW BRIGHTON

A three-storied tower housing the photo-finish equipment, the judge, and the commentator, has been built in the centre of the New Brighton Club's stewards' stand and will be in use at this weeks meeting. Other additions to the stewards' stand include a casualty room, a room for police officials, and a small cafetaria, which will serve the needs of the officials.

The whole space under the grandstand, which was originally used as the members' luncheon room, has been turned into a public cafetaria, three huge cylinders providing an abundant hot water service.

The course broadcast system has been extended so that picnickers in the car park will be able to follow the racing.

For some time the club has received complaints that the glass in the ends of the stands distorted the view, and plate glass has now been substituted.

At the first two meetings, spectators found it difficult to see the horses as they paraded at the new mile and a quarter starting post, but they should have no difficulty this week as a white painted iron fence has been erected and it should provide an effective background.

Other improvements include the provision of more accommodation in the women's rooms, bitumen floors in the horse stalls, and the erection of turnstiles at the carpark. Special provision has been made for the handling of cars and there should be no traffic jams at the meeting this week.

Credit: NZ Trotting Calendar 8Dec48


| | |
| --- | --- |
| | CLUB HISTORY NEW BRIGHTON TROTTING CLUB |
New Tote Annex

RETURN TO NEW BRIGHTON

Spic and span with a brand-new £3000 coat of paint, the New Brighton Trotting Club's stands, totalisator houses and rails will present a beaming front to the thousands of old and new patrons expected to throng the roomy seaside course when the club, next month, holds the first meeting on its own grounds for more than six years; the last meeting held at New Brighton was in February, 1942.

The 'new look' manifests itself on all sides. The transformation from the drab dilapidation left by years of military occupation, to the clean, neat orderliness of today is a shining example of what faith in a tradition, loyalty to a cause and an appropriate admixture of sentiment can do. After all, it is only two years since the club decided to go back to New Brighton rather than race permanently at Addington, and in that short time, even though confronted with many difficulties and shortages of materials, it has worked wonders.

Not the least of these is the remodelling of the mile grass track, which has been banked, regraded and top-dressed and a new mile and a quarter start put down. This new starting point will give fields racing over the main sprint distance a straight run of over two furlongs before a bend is encountered. Previously races over this distance were started on a bend. The track at present bears a beautiful sole of grass, and it has never been in better heart. This opinion is giving it something to live up to, because a number of records were broken on it years and years ago.

In 1925 the great mare Onyx, against time, paced a mile and a half in 3.13, then a world's pacing record, and two years previously Happy Voyage, also against time, had set the NZ main for a mile at 2.04 1/5. A superlative performance registered at New Brighton was Harold Logan's 2.36 3/5 in winning the Avon Handicap, of a mile and a quarter, from 84yds in October, 1934. That was then a world's race record, and, from such a long mark, it still ranks as one of the greatest sprints of all time. About that time the claim was made that the New Brighton track was the best grass track in the Dominion, and racing may not be resumed on it for very long before such a claim is reaffirmed.

Training facilities at New Brighton are first class. The late F J Smith could never understand why there were not more stables in the New Brighton area; the easy sandy nature of the soil and training tracks greatly appealed to him and he always finished off the preparation of the teams he brought from Auckland at the New Brighton course.

The main totalisator house has been renovated throughout and now boasts a spruce annex of 13 new selling windows. These, it is hoped, will assist in handling the greatly-increased crowds now attending trotting meetings compared with 1942.

New Brighton is not the oldest trotting club in NZ - that distinction belongs to Wanganui - but trotting races were held on the New Brighton beach in the early 1870s. Later the New Brighton Racing Club conducted its meetings on a property owned by the late Mr Tom Free. Trotting races were introduced to help the club along, but the New Brighton Racing Club was eventually wound up and the ground leased to the Canterbury Sports Co Ltd, for athletics. This body also went into liquidation and the property purchased by the late Mr Henry Mace, who established 'Brooklyn Lodge' a breeding and traing establishment.

The New Brighton Trotting Club became tenants of the grounds in 1890, and from that year went on from success to success, ultimately purchasing the property from the Button family, who had bought it after the death of Henry Mace. Wise conduct of the club's finances resulted in New Brighton becoming the only freehold racecourse in Christchurch. It is quite unencumbered.

A red-letter day in the history of the club was March 15, 1927, when the other two Christchurch trotting clubs conceded it the privilege of holding the Royal Meeting at Addington in honour of the visit of the present King and Queen, then the Duke and Duchess of York. Great Bingen, a big public favourite at the time, rose to the occasion by winning the York Handicap from 108yds and putting up the then world's record of 4.21.

Not a few trainers, and a big section of the public, have a warm spot for the seaside course. New Brighton's carnival spirit, its public atmosphere, did much to popularise the club's meetings in the past. The present officials are alive to their rich heritage; if teamwork gets results, the future of New Brighton is A1 at Lloyds.



Credit: 'Ribbonwood' writing in NZ Trotting Calendar 18Aug48