| | |
| --- | --- |
| | INTERNATIONAL HISTORY |

India granted independence.

The Dead Sea scrolls are discovered.

The International Monetary Fund is established.


| | |
| --- | --- |
| | LOCAL HISTORY |

February 26 - First ticketed airline flight from NZ - Lancastrian "City of London" flies from Harewood to Sydney.

May 14 - Mabel Howard (Sydenham) becomes Minister of Health, the country's first woman Cabinet Minister.

November 18 - Disastrous fire in Ballantynes Department store when 41 lives(all staff members)were lost. The fire led to drastic revisions of fire safety codes throughout the country.

Credit: Ch-Ch City Libraries


| | |
| --- | --- |
| | RACING HISTORY PEOPLE |

EDWARDS: BERTRAM

In the very early days of trotting in Canterbury there were two families that stood out in a class by themselves - B and M Edwards and W and C Kerr. For many years these four horsemen won the major portion of events decided at New Brighton, Heathcote, Lancaster Park and Plumpton Park, but, whereas the Kerrs did little campaigning outside Canterbury, the Edwards Brothers won races in almost every centre where trotting meetings were held.

Bert Edward's record on the tracks was a remarkable one, and, from a versatility standpoint, suggest him as being 'the daddy of them all.' There are a number of achievements that seem to make good this claim:-

Won races at the inaugural meetings at Lancaster Park and Auckland.
Rode the first horse in NZ to get within American standard time.
Owned the first pneumatic sulky ever made in NZ.
Won the first NZ Trotting Cup.
Held trainer's, rider's and driver's licences continuously from the time they were first issued (over forty years) without trouble with any club.

It was away back in 1887 that Bert owned his first trotter - a grey gelding callet Fidget, by the thoroughbred horse Diomedes. A love of horses was evidently inherited by the two brothers from their father who bred many horses in England. These he schooled and hunted them to follow the Suffolk hounds. Naturally Bert and his brother Manny were riding as soon as they were big enough to sit on a horse. On one occasion the former happened to mention to Mr W Philpott, a Christchurch grain merchant, that he would like to get a trotter to beat Edwards senior's grey mare mare, Kitty. Mr Philpott said he had just such a one in mind, a grey called Fidget, who had just won a high jump at Little River and had run third in a hurdle race there. This will give present day owners some idea of the material those old-time horsemen had to work on. To test Fidget's ability as a trotter, a match was made between him and Kitty, and, over a course from Christchurch to New Brighton, Fidget won easily. This induced Edwards to buy him and brought about his entry into the racing game.

There were no harness races in those days, nor was a boot of any sort obtainable. Many of the races were over three miles or more. Every time a horse broke he had to be turned round, towards the inside of the track, so as not to interfere with the other competitors. Later, when harness races were instituted, this break and turn rule had to be wiped out as unworkable. At some of the meetings the starting was on the yards system, while at others the time method was in vogue.

Fidget's first start was at Heathcote, where he won, and his next on the New Brighton beach, over two miles. In the latter he was defeated by a horse called Sly Sam, on whom only one investment was made. Shortly afterwards the New Brighton Trotting Club held a meeting on its newly opened course. Fidget won a race there over three and a half miles, being followed home by Cock Robin, ridden by Charlie Kerr. When Lancaster Park was opened as a trotting course, Edwards won the first race with Fidget on the three laps to a mile course. It must be remembered that in those days trainers knew nothing about booting, gearing and gaiting horses. If a horse was inclined to pace heavy shoes were put on him, also 9oz to 10oz toe-weights to keep him at the trotting gait.

None of these ancients had a single strain of trotting blood. Most of them came from Banks Peninsula where the hill country had a lot to do with making them trot. The stallion Victor, owned by Mr Roderiques, Akaroa, begot many winners, and they were great road horses. Another stallion standing in the Akaroa district was Touchstone who left a lot of good horses and whose blood strains can be found in the pedigrees of many present-day winners.

After a lengthy stay in Canterbury, the brothers Edwards shifted their headquarters to Auckland where trotting was well established. At one of the first meetings held there Bert had three representatives and though the hope of the stable, Black Hawk, went lame, he won races with Fair Nell and the pony Chuznee. Shortly afterwards Edwards purchased a horse named Rarus, by the imported sire Fitz James, who made Turf history. In his first start for Edwards he won a champion race at Auckland, and then Bert decided to try out the best that Christchurch could produce. During the trip Rarus won several races, including one at New Brighton in which he went 5.38, thereby reducing Kentucky's two mile record of 5.40.

Edwards is among several who claim to have introduced the pneumatic sulky. On one occasion he was in the shop of Baston Brothers, coach-builders of Auckland, and was shown an illustration of a pneumatic-tyred sulky just to hand in an American publication. Being taken with the vehicle, Edwards had one built, and, as there was a meeting about to come off shortly at Auckland, the builders managed to get it finished for that fixture. Bert ran second in the Auckland Cup with Fairy in a high-wheel cart. Later in the afternoon Fairy was engaged in another harness event and Edwards decided to try her out in the pneumatic sulky. Its appearance created a lot of interest, one spectator remarking that they were going to see a horse run in a 'bike.' During the preliminary a spindle bar broke and Edwards had to take Fairy back to the paddock and hitch her to a high-wheel wooden cart, but even so she won. The pneumatic sulky was repaired for the second day of the meeting. Hitched to it Fairy won the Glasgow Handicap, and this, Edwards claims, was the first occasion on which a pneumatic sulky was used in NZ.

Then followed another trip to Christchurch, and Fairy was the first to introduce the innovation to southern tracks. She won at her first start, defeating Stonewall Jackson in a race at the Canterbury Club's meeting. Another of Edward's early good ones was the Australian-bred Yum Yum, by Childe Harold, who had been brought over to win the Auckland Trotting Cup. She was taken to Christchurch, and won a mile saddle race, giving away 25sec. She won easily going the mile in 2.27 1/5 and, by distancing the field, got all the prize money. Yum Yum covered the mile in 2.27 1/5, being the first horse in NZ to get within the American standard time of 2.30.

After a while the brothers returned to Christchurch where the stakes and racing conditions were much better than in the north. Bert took over an establishment at Upper Riccarton where he trained many good horses, and brother Manny, then 17, won his first race on a horse of his brother's called Madcap, at Heathcote. This was the start of a brilliant career, that in later years eclipsed that of his elder brother.

The importation of many American stallions and mares continued to improve the sport and the class of competitors. The use of hopples and pneumatic sulkies also played a big part in raising the standard of the light-harness sport. Of all the horse that passed through Bert's hands, none gained such esteem in public estimation as did the grand old trotter Monte Carlo. Old 'Monte' was owned by that fine old sportsman, Mr Tom Yarr, for whom Monte Carlo won the first NZ Trotting Cup, as well as manny races from a mile to two miles, both in saddle and harness. In the writer's opinion 'Monte' was the greatest all-rounder of all time. When he won the Trotting Cup his popularity gave rise to a remarkable demonstration at Addington. Ladies showered bunches of flowers on the unconcerned veteran and before Edwards could get him back to his stall half the hairs had been plucked from his tail as souvenirs. Monte Carlo and Reta Peter share the honour of being the only free-legged horses to win the Cup.

In 1898 the Lancaster Park Club offered a prize for any horse that could lower the two-mile Australasian record of 4.55, held by Mr Buckland's champion, Fritz. Several horses were entered for the event but Monte Carlo was the only one to continue with his engagement. Paced by Free Holmes on the galloper Salvo Shot, the veteran trotted the journey without a mistake in 4.53, thereby getting within Fritz's time by 2sec. Later in the same afternoon 'Monte' came out and won the big-two-mile handicap. Another great trotter owned by Mr Tom Yarr was Jessie Palm, one of the speediest mares of her day. At one Metropolitan meeting she won both mile saddle races, and at a later date, at Addington she won a two-mile saddle race in 4.43, a record for trotters that stood for several years. Jessie Palm set the seal on her fame at a later Metropolitan meeting, when, starting from scratch, she ran second to Vasco, who went 2.27. As Jessie Palm was conceding the Australian 11sec, and had 20 horses to pass, her performance of going the mile in 2.16 1/5 was a remarkable one. It must be remembered also that most of the Rothschild mare's races were run against pacers. When at the height of her career Jessie Palm was accidentally killed when running out in a paddock at Fendalton. The last notable horse Bert Edwards drove was Mr H Mace's Almont, who was the undisputed champion of his day.

Credit: F C Thomas writing in NZ Trotting Calendar 26Feb47


| | |
| --- | --- |
| | RACING HISTORY PEOPLE |

FREEMAN WRIGHT HOLMES

As an all-round exponent of all branches of trotting and racing, it is doubtful if Freeman Holmes has had an equal in the Dominion. In his day he rode gallopers on the flat, over hurdles and steeplechase fences, and also figured largely as a trainer and owner of what our American friends term "the runners." To this must be added the success he has achived on the trotting tracks with trotters and pacers. Nor must we forget his benefit to trotting by the importation of high-class stallions and broodmares. With the rifle and shotgun he had few superiors so it is quite evident that in Freeman Holmes we have an all-rounder who is in a class by himself.

Though this article has to do more with his trotting than his racing activities, both branches of the sport must be included to give an idea of Holmes's versatility. Away back in the early eighties, a race meeting was in progress at Ashburton. There was a shortage of jockeys and, when the hack race came up for decision anyone with the smallest pretentions to riding ability was pressed into service. Under the latter category came young Free Holmes, and so commenced a turf career that was to be both varied and colourful. On the occasion under notice it took the midget (then about 5st) all his strength to carry his dead-weight to the scale. There being a shortage of lead, a sack was requisitioned. Into this (so the story goes) were piled blacksmith's tools, lumps of iron and even stray bricks. This conglomeration was lashed to the front of the saddle almost obscuring from view the pocket-edition jockey. Despite these drawbacks, young Holmes gave a foretaste of his later ability by piloting Our John to victory.

Among those who witnessed young Free's debut was the astute judge of both horses and men, Patsy Butler, then at the zenith of a meteoric career. So impressed was the genial Irishman with the boy's display that an offer of employment followed. Thus began an association that Free Holmes still regards as the turning point in his career. One of the first horses he rode work on was that grand steeplechaser, Agent, who carried Bulter's colours to victory in three Grand Nationals. The early tuition given by Patsty and his chief horseman Tommy Lyford, undoubtely laid the foundations for Holmes's subsequent success in the saddle.

One of the proudest moments of Free's life was when, garbed in green and white hoops, he rode Tit Bits to victory in a race at Riccarton. With experience he soon took rank among the best of his profession. He won the Dunedin Champagne Stakes on Butler's erratic but brilliant Thackeray and when that great 3-year-old Manton won the 'triple crown' at Riccarton in 1888 Free had the mount on him in the NZ Cup and Canterbury Cup. At that time he could go to the scale at 6.10, so that he avoided putting up too much dead weight, Wally Clifford was given the mount on Butler's colt in the Derby. Despite the success that had come his way with Manton, Butler was soon in monetary difficulties again. To meet pressing demands all his horses were sold up and Free severed his connection with the stable.

His next employment was as trainer and jockey to the Leeston sportsman, Mr Walter Spring. At that time Leeston was a real 'up-and-coming' district - much more so than is now the case. It had it's own racecourse, and quite a number of good horses were trained there. Among the first of Free's charges were Bredalbane, Red Cross, Carronade, The Idler and Magpie. He won races on all of these, including a third in the Grand National Steeplechase on Magpie. Actually the first horse Free ever rode in a hurdle race was Erin-go-Bragh, and thereby hangs a tale. On the second day of a South Canterbury he was having a little flutter in which two pennies placed on a kip played a prominent part. The fates had not been good to him; indeed, he was what is commonly called 'stoney broke.' Just then along came genial Tommy Sheenan seeking a rider for Erin-go-Bragh in the day's hurdle race. On Sheenan making his wants known to 'the school' Holmes thought of a good way of getting some of his own back and on the spur of the moment accepted Sheenan's offer. With an advance on the riding fee Holmes went on with the game in han and was rewarded with a change of luck. During the next few hours he was in anything but a happy frame of mind, but, even though i was against his inclination, free was determined to stick to his bargain. Erin-go-Bragh did not win, but the jockey's fee enabled his rider to get home again.

A few years later Mr Spring decided to retire from racing. This left Freeman Holmes again at a loose end and which determined him to launch out as a public trainer at Riccarton. Again success came his way through the agency of Empire, Ability, Cameo and Cadet, while for Mr Victor Harris, he prepared Strathnairn, Rochester, Searbrook, Epaulet and others.

It was with the name of Liberator, however, that Free's fame was perpetuated. When attached to Butler's stable he had to look after that most brainy of all thoroughbreds, one who could mix galloping, hurdling and steeplchasing as to the manor born. Free had the mount when 'Old Lib' spreadeagled a good field in the Grand National Hurdles of 1894, carrying 12.6 and subsequently landed the Ellerslie double of Great Northern Hurdles and Steeplechase. Not long afterwards the old battler broke down so badly that he was sold for £6. To Free was entrusted the job of patching him up again, with such good results as to enable the veteran to win a few more races. On finally concluding his racing career Liberator was turned out to end his days in fitting ease and comfort. The poor old fellow was nearly blind. One evening he wandered away from his home paddock an next day was found at the foot of a cliff with a broken neck. Is it to be wondered at that Free still has a soft spot in his heart fpr 'Old Lib' whom he maintains was the best all-rounder
and most sensible racehorse ever to look though a bridle.

In the early days of the early days of the trotting sport well-bred American stallions did much to benefit the class of light-harness horses. Robert Wilkins's fine assortment of sires and broodmares laid a foundation that has stood the test of time while in later years Messrs E X LeLievre, Bob McMillan, Free Holmes and J R McKenzie and others, all added blood strains, both through stallions and broodmares. Though he has not maintained an extensive stud Holmes showed excellent judgement during his several trips to America by choosing such sires as Logan Pointer, Rey de Oro and Grattan Loyal, a trio whose influence on the breeding industry has been outstanding.

As Holmes's introduction to the racing world was of a somewhat unusual nature, so also was his entry into the ranks of light-harness enthusiasts. Among the presents he received on the occasion of his wedding, was one from that fine sportsman, Mr Graham Holmes. This took the form of a trotting pony Black Oats. This was his first experience with a light-harness horse and the success he attained with her soon found him just as keen with the trotters as he had ben with the gallopers. He also brought his ability gained with gallopers to bear on the side wheelers.

The first top-notcher to enter his stable was Stonewall Jackson whom he leased from Mr Harry Mace. This over-sized trotter was a remarkable horse for he won races in saddle and harness, some of his best performances being registered on the three furlong Lancaster Park track, generally giving what nowdays would be looked upon as impossible starts. Then came the Australian-bred Vasco, who won many important races on Canterbury tracks. One of these was gained at Ashburton which was a regular Tom Tiddler's course for the gelding and his new owner. It was on this track that Holmes won his first races on the flat, over hurdles and over country. Another coincidence in connection with the Ashburton course was that on it Free won the hurdle race on the opening day of the meeting three years in succession and had a fall each time on the second.

When fairly launched out with the trotters he was successful all alongthe line; in fact he handled winners of most of the Dominion's important races. Free is of the opinion that Great Bingen was the fastest horse he ever sat behind, but even so, he credits his little favourite Trix Pointer with being the best all-rounder. With her he won the NZ Trotting Cup, Free-For-All, National Cup and other big events. Though a slug in training, she was an altogether different proposition when raceday came round. Other winning performances to Holmes's credit are the Canterbury Park Handicap with Logan Chief, NZ Trotting Stakes with Quickfire and the Timaru Cup with Emperor. Consequent on the age limit now imposed on drivers, he is now debarred from holding the reins on race days, but his stable, situated on the Yaldhurst Road, always shelters a few light-harness horses with a galloper or two thrown in. As a reinsman Free had few superiors. He was never in a hurry till the winning post hove in sight and alway displayed fine judgement in calculating pace. His name will go down to posterity as a driver and trainer of the highest rank, and evidently he has bequeathed his ability to his three sons, Freeman Junr, Alan and Maurice.

After several successful seasons Holmes decided in 1915 to go further afield in his endeavour to find new strains of pacing and trotting blood. This took him to America where he secured Logan Pointer, Bonilene and Trix Pointer. On taking up stud duties at Riccarton, Logan Pointer was an immediate success, and, until his death in 1924, he headed the list of winning stallions on eight occasions and later became the leading sire of producing mares. Encouraged by the results of his first trip to the States, Holmes made another trip in 1922. Again his judgement was vindicated by the purchase of Rey de Oro, who proved a worthy successor to the incomparable Logan Pointer. After a short but successful turf career the son of Copa de Oro took Logan Pointer's place in his owner's stud and prior to his death in 1939, Rey de Oro was leading sire several times and later leading sire of broodmares.

Free's next venture to America was in 1930 when Grattan Loyal and Frank Worthy were purchased. Frank Worthy, who survived only four seasons at the stud, got many good horses of both gaits, and considering the comparatively few mares representing him, he put up a remarkable performance to become the leading broodmare sire in the 1847-48 season. Grattan Loyal was an outstanding sire of tough, high-class racehorses. His progeny included Gold Bar, Loyal Nurse, Dundee Sandy, Mankind, Loyal Rey, Loyal Peter, Bulldozer, Loyal Friend, Coquette, Colonel Grattan, Nell Grattan and Renown's Best. Grattan Loyal was never leading sire, but he finished a close second to Jack Potts and others on several occasions, and he sired 294 individual winners of £466,121 in stakes in the Dominion alone. He lived to the advanced age of 32, and in later years he became the leading broodmare sire. Thus, every stallion imported by Mr Holmes was at one time or another the leading sire of broodmares.

Trix Pointer, after winning 'everything in sight', made history at the stud. Her son, Wrackler, became the greatest dual-gaited performer of all time - and still is; and her numerous great descendants include other top-notchers of both gaits. Bonilene also became a cornerstone of NZ breeding, and two of her descendants, Adorian and Lookaway, won the NZ Cup. Mr Holmes also imported Estella Amos, dam of the triple NZ Cup winner Indianapolis, and whose descendants continue to include great horses of both gaits.

Free Holmes retired from race driving in 1944. He was then 72. However, a gracious act on the part of the New Brighton Trotting Club, and Free's son, Allan Holmes, saw the veteran return to the sulky in September, 1947, to drive Gold Bar in that great pacer's farewell exhibition at Addington. The 'Grand Old Man' of Dominion horsemen, and the racecourse idol whose forbears Holmes had imported several generations back certainly made a combination and an adieu par excellence.

Three of Mr Holmes's sons, Freeman, Maurice and Allan have been notable trainers and horsemen, and two grandsons, A K (Kevin) and Graham, inherit the family skills. Free Holmes in his peak years was said to have 'no peer in the sulky.' In a race he was a tough man to drive against, giving no quarter and expecting none. His sons were often reported to remark in the dressing room that if "the old man" had given them "an inch of room" they would have won. He was a tremendous 'character,' and is already a trotting legend.

Credit: F C Thomas writing in NZ Trotting Calendar 1Mar67


| | |
| --- | --- |
| | RACING HISTORY PEOPLE |

R J HUMPHREYS

R J Humphreys, whose death occurred last week, had a long and successful career as a trainer, rider and driver of pacers and trotters.

The best horse prepared by this popular and unassuming trainer, was the great Harold Logan, who was trained and driven by Humphreys to win the NZ Cup in 1931.

Humphreys was early associated with A Hendriksen. He rode that good saddle performer, Brutus, in several of his victories.

Humphreys also trained, among other winners, Walter Moore, Supertax, Blair Athol, Huon Voyage, Donald Dhu, Acuity, Special Edition and Tam o' Shanter. Huon Voyage won the Dominion Handicap in 1933; Walter Moore won the NZ Futurity Stakes in 1941 and All Aged Stakes 1941; and Tam o' Shanter won the Timaru Nursery Stakes in 1942.

Credit: 20Aug47


| | |
| --- | --- |
| | RACING HISTORY PEOPLE |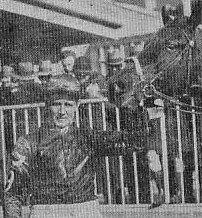 J S Shaw holds Native Prince

J S SHAW

J S Shaw, talented reinsman and trainer of champions, breeder of bloodstock and one of the most consistent buyers of 'bargain' yearlings at Trentham over a long period; for nine years a stipendiary steward to the NZ Trotting Conference, has purchased a half share in the trotter Not Quite, whom he will race in partnership with Mr W Hosking. Shaw has also taken out a driver's licence, and he may hold the reins over Not Quite at the New Brighton Trotting Club's meeting on September 6, for which the trotter is being trained by C Fairman. Shaw had his last drive in a race behind Tempest at the Metropolitan meeting on 1937. He won, and is naturally hopeful of bridging a decade with success on either side. (Note: Not Quite finished fifth)

"I am certain, if conditions had been ideal that day she would have trotted two minutes." J S Shaw was discussing his champion of 13 years standing, Worthy Queen, a trotter who made history on a windy, dusty day at Addington in April, 1934, by trotting a mile against time in 2.03 3/5. "It was partly my own fault. There was a gale blowing, and it was the first time she had ever had a horse galloping beside her. I was under the impression I could trail the pacemaker, but was told I couldn't. Over the first three furlongs she was trying to beat the galloper, trying to go faster than she could. She was pulling hard and trotting all in a heap. She was hitched to a short sulky and round the showgrounds bend her hock was hitting my leg. It wasn't until she reached the back straight that she flattened out to really trot. But the first half in 61 1/2 took as much out of her as 58 or 59 would have if she had been trotting kindly.

"She was a really wonderful mare. She didn't know what it was to do anything wrong. She never broke in a race unless something took the legs from under her, which happened on only one occasion to my knowledge. She had her funny little ways," continued Shaw. "On race day you had no chance of driving her on the roads or on to the tracks. She had to be led, and even then she insisted upon stopping now and again to gaze at things. Nothing would thwart her."

Worthy Queen's 2.03 3/5 is not her only record that remains unassailed after 13 years. Her 3.14 1/5 in a race was also established in 1934, and she was clocked from post to post on that occasion in 3.09 - and round the field.

Worthy Queen, by Worthy Bingen from Queen Chimes, a Coldstream Bells mare from Vanquish, was bred by the late J R Corrigan, of Hawera, and sold as a yearling to Mr T Agnew, of Hastings. "A mutual friend of both, the late Harry Jones, saw her trotting in the paddock and told Mr Corrigan what a wonderful filly she was," related Shaw, "with the result that Mr Corrigan leased her back. For him she won several races under the direction of Alex Corrigan and afterwards, when I shifted from Auckland to Christchurch he sent her down to me. That was in 1931. I won several races with her for Mr Corrigan. When he became ill and restricted his racing activities he sold the mare's racing rights to me, and she continued to win races."

"Although Worthy Queen was the best trotter up to a mile and a half ever seen in this country, she was not a top-notch two-miler. The best two-mile trotter I ever had was Peter Dean, by Petereta-Ivy Dean. Mrs Sweetapple and I bought him five minutes before a race on the third day of the Auckland Christmas meeting of 1932. He was 144yds behind in a mile and a half race, and although I had never driven him before, he won; and he also won a two mile race the same day. He cost us £1000, but in the first three months we owned him he won £1025. He won three times and was second in his first four starts for us. Shortly after I brought him to Christchurch he kicked at another horse in an adjoining paddock, injuring himself behind, and although he won races afterwards, he was never sound again. His action changed altogether. I consider he is easily the best two-mile trotter I have ever seen. In a trial before leaving Auckland he came the last half-mile in 61sec and the last quarter in 29sec. When I make this claim I am not forgetting Hardy Wilkes, Electrocute, Bellflower, Submarine, Muricata, Quincey, Whispering Willie, Sea Gift, Trampfast, Wrackler, Huon Voyage, Moneyspider and other great staying trotters."

"Hardy Wilkes was a phenomenal horse, too. He broke five times in a NZ Cup when competing against the pacers and then finished just out of the money. He was especially good in bad ground, but was a very difficult horse to control. He was trained by A Fleming when I was in his employ. I was still in my teens when I trained my first horse. This was none other than Whispering Willie. He won many races, including the Auckland Summer Cup among the pacers at Auckland. For his inches he was a super horse. The sulky he raced in weighed 86lb, compared with the average of 35lb today. What was most remarkable about Whispering Willie was that he won races for every person who trained and drove him, among the number being J Wilson, G Murfitt, J Bryce, R W Mills, W Orange and myself."

Native Prince was a pacer who still stands high in Shaw's regard. "He was a really beautiful-looking horse," he said. "He was bred in Hastings, and sold as a yearling by Ben Shadbolt to C Rokkjer. He won races in Australia, and was bought back to Auckland by Peter Riddle and sold to Mrs Sweetapple. I trained him to win many races, and he finished up by running a great race in the NZ Cup, although he was unplaced. He was a really genuine horse."

"Jewel Pointer was the best all-rounder I ever had. He was good in saddle or harness, he won from a mile to two miles, he was equally at home on grass of clay, mud or dry, and any class of mud to boot. Besides being foolproof at the start - which was a great asset with him - you could always afford to take a risk and get a position before a race had been long in progress. I bought Jewel Pointer for Mr Moodabe for about £300, and he won thousands. One of his best feats was to win three £1000 races within eight days, besides three seconds. He had to travel from Auckland to Christchurch, and it has to be remembered that stakes were then less than half what they are today."

"Carmel must be included among a number a really good horses I had the good fortune to train and drive. The Richmond brothers, friends of mine, bought Carmel among some draught horses at a sale for 14gns the vendor being A Cameron. They leased him to me and I developed him and won several races before selling him to Mr J W Murphy. He went into C S Donald's stable, and under his guidance he won the Auckland Cup and many other races. Torpedo Huon, a good-looking well-bred horse from Australia, was a good winner under my direction, but he did not breed on," continued Shaw. "Western King was also bought in Australia for Mr Moodabe. Unfortunately, this grand pacer got hurt and I thought he would never race here. Even under this severe handicap he went 2.07 4/5 round a field to win, and he had a good two-mile record as well. This horse might have been capable of anything if he had not been injured. Florrie Bingen was one of my favourites. She was bought by Mrs Sweetapple and myself for £150 and she won numerous races, including two over two miles at one meeting in Christchurch towards the conclusion of her career. This was the first meeting at which a limit was put on both ends of a race. One of the races she won was 4.40 to 4.35."

In August 1930, after a run of successes with Warplane and Native Chief, I went out of racing and bought a partnership in a gymnasium in Auckland. A year later I came to Christchurch with Peter Pirate, setting up as a public trainer. It was then that I received Impromptu to train. He was not doing any good at that stage. The first time I started him he won at New Brighton. The following week he won the leading event at Wellington. He ended up by going 3.13 and winning very easily at Ashburton and beating Harold Logan in a free-for-all at Auckland. On his day it took a really good horse to beat Impromptu over any distance; but he was a bad-gaited horse and one of the hardest to train I ever had anything to do with. When I received Royal Silk to train he had one miss and then won five on end, including the big race at Dunedin, the Auckland Cup, the big sprint on the second day, and the big two-miles on the third day of the Auckland meeting; and the NZ Trotting Gold Cup at Wellington."

Koro Peter, champion 2-year-old trotter of the late 1920s, and the only horse of his age and gait to win in open company in the Dominion during the last 20 years, was another celebrity who passed through J S Shaw's hands. This big, overgrown gelding by Peter Moko from Koro Ena, trained and driven by his owner, T Cooper, astounded the trotting world by winning the Introductory Handicap of a mile and a half, from a big field of all ages at Cambridge in May, 1928. Shaw immediately opened negotiations on behalf of Mrs Sweetapple to buy Koro Peter, and secured him for £500. "The same season, a 2-year-old trotting filly named First Wrack, bred and owned by Mr H F Nicoll, had finished third in open company in the Allenton Handicap, of a mile and a half, at Ashburton a month before Koro Peter won at Cambridge. These youngsters were the only 2-year-old trotters to have shown any form for many years. In fact, it is the exception rather than the rule, even up to the present day, for a 2-year-old trotter to race, let alone perform with any degree of success," said Shaw.

"Koro Peter and First Wrack created such Dominion-wide interest that the upshot of it all was that their merit was recognised by the Auckland Trotting Club, which matched them over a mile and a quarter at their June meeting, 1928. The totalisator was opened on the event, and Koro Peter was made favourite. It was a terrible day. The going was fetlock deep in slush, and the two horses had to frighten thousands of seagulls off the track as they went along. These birds frightened First Wrack more than they did Koro Peter, and Koro Peter managed to win after a great struggle all the way up the straight. After the match Koro Peter was sold to Mr G McMillan for £1000 and entered R B Berry's stable, from which he met with a lot of success, First Wrack also reached the top flight of trotters."

"Man o' War was the greatest stayer I ever had," continued Shaw. "He was so clean-winded that he would race on less work than any other horse I have trained. In addition, he had a splendid disposition and was most intelligent. I only had him for about 12 months. He was previously trained by J Bryce, for whom he won two Auckland Cups. The last time I drove Man o' War was a very memorable occasion. It was at Addington when a special day's racing was put on in honour of the American fleet. Man o' War rose to the occasion and won the HMS Hood Handicap, the leading event of the day. This was the worst day that I have ever experienced on a racetrack. There was hail and sleet all day and the races could not be postponed, as this was the only day the fleet could be in Christchurch. Of this particular race I saw only about half; Man o' War came from the back mark and did the job himself. I was absoutely blinded with the slush that was flying everywhere. This may soung incredible, but there are many of the old drivers who will vividly remember it. Some of our mounts had to be led back to the birdcage, as we were driving blind. The morning after the races I woke in daylight but everything was still black. It was hours before my eyesight returned to normal. Most of us had driven all day and our eyes had to be attended to in between races by the doctors present at the meeting. Warplane was a son of Man o' War bred by the late James Pettie, and sold to Mrs Sweetapple for £250. He was a very successful performer over all distances. On the last occasion I brought him to Christchurch - August, 1930 - he won two races in good company, his only two starts at the meeting."

"The Abbey was a good horse I trained, but he had to be humoured. He won several good handicaps for Mr Moodabe. One of his wins was the Whangarei Cup. The Abbey was one of those horses who suffered by the old system of handicapping. I remember one meeting in Christchurch, I won a 4.40 class with him on the first day in 4.29, and he was handicapped the next day in the big race on 4.28 in a 4.29 class, going back 11secs for winning a race which from memory was worth £250 to the winner. He ran second from a 4.28 mark and the found himself in NZ Cup company. Cases such as these," said Shaw, "must make the present-day owner thankful for the existing system of penalties."

"Peter Pirate was one of the best mud horses I ever drove," he continued. "I leased him for Mr Moodabe towards the end of his career, and he won several races. I drove him in four events at an Auckland meeting, for which he was trained by Edgar Kennerley, and he won three and was third in the other. One of his wins was the Adams Memorial Cup. I bought Ironside from Mr H F Nicoll for Mr Hosking for £500. I didn't get on well with this horse, although he won his first race for me, but under G Robertson and later F J Smith, he won good races and stakes running into several thousands. Among his successes were the Ashburton Cup and Adams Memorial Cup."

"The last horse I trained before I was appointed a stipendiary steward was Golden Eagle. She was a really sweet trotter and I was sorry to have to give her up. I bought her from J T Paul on his recommendation for £250 on behalf of Mr Hosking. She won several races, and when I parted with her she was sold to Mr G J Barton for £500. For him she also proved a good winner. Sold to a West Australian owner, she continued to win races in Perth. It was also on J T Paul's recommendation that I bought Not Quite for Mr Hosking and myself," said Shaw.

"The first horse I ever rode in a race was Bribery. He was a wonderful saddle horse, especially over two miles. At that time I was head lad for Mr T G Fox, one of my first employers. Mr Fox was a really considerate boss, and one whose advice I found very valuable in later life. I would like to make some reference to saddle races, particularly straight-out trotters' saddle races. The men who shone in this department some 30 years ago were A Pringle, T Annat, W Orange, J McEwen, F Holmes, and a bit later J McLennan, D Bennett and F G Holmes. In those days when men used to ride in trotting races they were in much better health than they are today, when you very seldom see a horse worked in saddle. I won a lot of saddle races with straight-out trotters and enjoyed them very much though I was never in the first flight of saddle horsemen and had to waste hard to get down to 10st."

"I remember once winning a two mile saddle race on a trotter called Rothmoor giving away starts of up to 28secs. When the limit horses went away I was on the ground putting a martingale on. I had 28secs in which to complete this, mount my horse, and travel down to the starting post to catch my clock under the old system of starting. The present system of starting is far ahead of the old system of the clock. And there is no doubt that the present system of handicapping is also a great improvement on the old order, under which there was a definite encouragement to wait for slow tracks."

Shaw recalled that he won the first Taranaki Cup with Overate, a trotter competing against pacers; and the first Adams Memorial Cup with the imported American stallion Ballin, who had just been converted fron a trotter to a pacer. Another Taranaki Cup winner he trained and drove was Jewel Wood, who also won the Nelson Cup and the first Hawkes Bay Cup in the same season. "The Squire was a trotter I had more than average success with in Auckland," said Shaw. "Mr G McMillan came by him in exchange for a mare named Bingen Jean, and the exchange proved a very good one from our point of view, as The Squire won the two big trotting events at the first Auckland meeting at which we raced him."

Asked about the standard of driving, Shaw said he considered there are equally as many, if not more, expert reinsmen today; but there are considerably more of those who, in his opinion, have not had sufficient experience before being granted a licence. "I think the grading of horsemen a big mistake," he said. "Either a man is capable of driving in any class of race or he is not. The races that we found the hardest to drive in were the maiden races, because here you have the large fields of green horses, and it is in these events that the inexperienced horsemen of today, classified 'C' grade, are found in the largest numbers. I always found it advisable in a race to trail the man, not the horse," said Shaw. "By this I mean that you will invariably get a better run behind an experienced horseman than you will get behind an inexperienced one who in the majority of cases cannot stay put for any length of time. The old hand knows the shortest way round and retains that little in reserve until the right end of the race."

"One of my regrets," continued Shaw, "is the complete dissappearance of the unhoppled pacer. At one time this class of horse was catered by the Auckland Trotting Club by the inclusion of a race for unhoppled horses, which embraced straight-out trotters and free-legged pacers. I won several of these events with a little horse called Nipper. The late A J Julian had a good unhoppled pacer in Haricot, and the late W J Tomkinson won more than his share with that good free-legged mare Pearlie Chimes. But easily the best of this class of horse was Don Wild, who held his own among the best hoppled pacers in the Dominion. I think that if this class of horse was catered for again, so would they be developed. In fact, the way pacers are bred today,they should have less need for straps, and I see no reason why the number of unhoppled pacers should not be considerably multiplied until there are as many of them as there were in Don Wild's day."

Amaris, Fairyland, Gay Paree, Halgana, Arachne, Sal Pointer, Ben Lomond, Warspite, Great Change, Jimmy Richmond, Meritorious, Prinzora, Rustle and Mr Penalty were some of the many other winners of both gaits Shaw trained and drove up to the time he was appointed stipendiary steward to the NZ Trotting Conference in 1937. He held this position with credit to himself and the sport until last year, when he resigned. As stated previously Shaw may return to trotting as an owner and driver with Not Quite (in whom he holds a half-interest with Mr W Hosking), at the New Brighton meeting on September 6. He is assured of a warm reception from the public an his fellow reinsmen.



Credit: 'Ribbomwood' writing in NZ Trotting Calendar 20Aug47


| | |
| --- | --- |
| | RACING HISTORY INTERDOMINIONS |

PERTH - BANDBOX
A record crowd of 35,000 turned out for the 1947 Final, run on a good track. Stormy Weather made the pace but lost the lead with half a mile to go having damaged a wheel. Bandbox, in the hands of Len Moriarty, took over at the far turn and came on to win well by 6yds in a 2.10.25 rate for the 13 furlongs.



| | |
| --- | --- |
| | RACING HISTORY HORSES |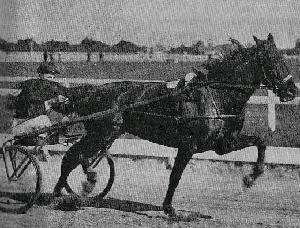 Worthy Queen & J S Shaw

WORTHY QUEEN

"I am certain, if conditions had been ideal that day she would have trotted two minutes." J S Shaw was discussing his champion of 13 years standing, Worthy Queen, a trotter who made history on a windy, dusty day at Addington in April, 1934, by trotting a mile against time in 2.03 3/5. "It was partly my own fault. There was a gale blowing, and it was the first time she had ever had a horse galloping beside her. I was under the impression I could trail the pacemaker, but was told I couldn't. Over the first three furlongs she was trying to beat the galloper, trying to go faster than she could. She was pulling hard and trotting all in a heap. She was hitched to a short sulky and round the showgrounds bend her hock was hitting my leg. It wasn't until she reached the back straight that she flattened out to really trot. But the first half in 61 1/2 took as much out of her as 58 or 59 would have if she had been trotting kindly.

"She was a really wonderful mare. She didn't know what it was to do anything wrong. She never broke in a race unless something took the legs from under her, which happened on only one occasion to my knowledge. She had her funny little ways," continued Shaw. "On race day you had no chance of driving her on the roads or on to the tracks. She had to be led, and even then she insisted upon stopping now and again to gaze at things. Nothing would thwart her."

Worthy Queen's 2.03 3/5 is not her only record that remains unassailed after 13 years. Her 3.14 1/5 in a race was also established in 1934, and she was clocked from post to post on that occasion in 3.09 - and round the field.

Worthy Queen, by Worthy Bingen from Queen Chimes, a Coldstream Bells mare from Vanquish, was bred by the late J R Corrigan, of Hawera, and sold as a yearling to Mr T Agnew, of Hastings. "A mutual friend of both, the late Harry Jones, saw her trotting in the paddock and told Mr Corrigan what a wonderful filly she was," related Shaw, "with the result that Mr Corrigan leased her back. For him she won several races under the direction of Alex Corrigan and afterwards, when I shifted from Auckland to Christchurch he sent her down to me. That was in 1931. I won several races with her for Mr Corrigan. When he became ill and restricted his racing activities he sold the mare's racing rights to me, and she continued to win races."

"Although Worthy Queen was the best trotter up to a mile and a half ever seen in this country, she was not a top-notch two-miler. The best two-mile trotter I ever had was Peter Dean, by Petereta-Ivy Dean. Mrs Sweetapple and I bought him five minutes before a race on the third day of the Auckland Christmas meeting of 1932. He was 144yds behind in a mile and a half race, and although I had never driven him before, he won; and he also won a two mile race the same day. He cost us £1000, but in the first three months we owned him he won £1025. He won three times and was second in his first four starts for us. Shortly after I brought him to Christchurch he kicked at another horse in an adjoining paddock, injuring himself behind, and although he won races afterwards, he was never sound again. His action changed altogether. I consider he is easily the best two-mile trotter I have ever seen. In a trial before leaving Auckland he came the last half-mile in 61sec and the last quarter in 29sec. When I make this claim I am not forgetting Hardy Wilkes, Electrocute, Bellflower, Submarine, Muricata, Quincey, Whispering Willie, Sea Gift, Trampfast, Wrackler, Huon Voyage, Moneyspider and other great staying trotters."


Credit: 'Ribbonwood' writing in NZ Trotting Calendar 20Aug47


| | |
| --- | --- |
| | RACING HISTORY HORSES |

ROI L'OR

The death has occurred of the great little pacer Roi l'Or at the ripe old age of 24. Equally at home on dirt or grass tracks, Roi l'Or built up an imposing record over all distances to reach championship class. Although overshadowed by Harold Logan during his career, he had many victories in important events, including the Auckland Cup of 1934 in the record time of 4.15 2/5, a record for the race that still stands. He also won the Free-For-All at Addington in 1932 (which is now called the NZ Pacing Sprint Championship) pacing the mile and a quarter in 2.38 1/5.

Other important events won by Roi l'Or were the Ashburton Trotting Cup in 1928, the August Handicap in 1929, and the Dunedin Cup in 1930.

Roi l'Or, who was by Rey de Oro-Gold Queen, by King Cole-Dorothy, by Viking, was bred by Mr P Brown, Waimate. He was the first foal of Gold Queen, being foaled in 1923. Gold Queen also left Louis Bingen to Nelson Bingen.

Credit: NZ Trotting Calendar 3Dec47


| | |
| --- | --- |
| | RACING HISTORY FEATURE RACE COMMENT |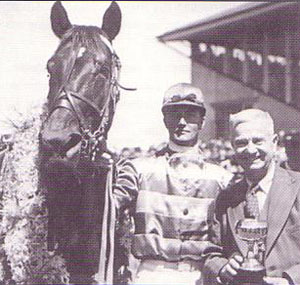 Highland Fling, Colin Berkett & Alf Kemble

1947 NEW ZEALAND TROTTING CUP

The NZ Trotting Cup, 1947, was nothing more than a workout for Highland Fling. If the field he routed was high class - it must be assumed it was, because winners of three previous Cups and five free-for-all winners were strung out behind him - then Highland Fling has proved himself the greatest pacer ever bred in this country.

He elected to win the race the tough way. He took the lead off Loyal Peter within half a mile and proceeded to carry the cream of the Dominion's stayers to a state of exhaustion that gave the finish all the appearances of a walk-over. Highland Fling had only to register 4:18 2-5, nearly five seconds slower than his best time as a four-year-old last season, and the effortlessness of his win had to be seen to be appreciated. The trite saying "He did not turn a hair," was heard on all sides when he returned to the birdcage, and it was never more appropriately applied.

Only now five years old, Highland Fling is already several removes above anything else wearing harness, sprinters and stayers alike. He is the only horse since Harold Logan who looks capable of putting the longer-distance records as far out of reach of his successors as Harold Logan did, and Harold Logan's 4:12 2-5 has stood for 13 years.

And now something about the man who transformed Highland Fling from a petulant,'iffy' flying machine into a businesslike, genuine racehorse. L F Berkett, from the time he first 'talked turkey' to Highland Fling, knew that he had the greatest horse in his long and notable career, Dilworth, Imprint, Red Shadow, Royal Silk etc, notwithstanding. That was just over a year ago, and in that short space of time Highland Fling has won ten races and more than £12,000 in stakes - his total to date has reached £15,313, which is only £744/10/- short of Integrity's New Zealand and Australian record total of £16,057/10/-.

Bought by Mr A T Kemble from his breeder, Mrs K Bare, for something under £200, Highland Fling was a sensational early two-year-old, and an unsuccessful offer of £2000 for him was made by a Canterbury sportsman. His mile record of 2:10 for that age still stands, and if he had not drawn up his own set of rules as a three-year-old he would probably figure prominently on the record roster of pacers of that age. He was a winner at three years, but altogether he did not line up at the races as he should have done, although always produced in the pink of condition by his young Auckland trainer.

The first time Berkett raced Highland Fling in Canterbury he struck a very sloppy track and in both the main distance event and the sprint at the New Brighton Autumn Meeting he had to strike his colours to an honest, though not great mare in Gold Peg. Then came Highland Fling's meteoric rise to championship status. Losing upwards of 100 yards at the start of two-mile races, he still proved capable of winning decisively. Not always though, because on odd occasions he refused to lend any sort of co-operation to Berkett, Sen. or Berkett, Jnr., and took no real part in some of his races. But in 18 starts for Berkett he has won 10 races, been second twice and third once. You could scarcely call that inconsistent.

The father and son tradition in New Zealand trotting can offer no finer examples than those of the Bryce and Holmes families. Both are now producing their successful horsemen in the third generation. L F Berkett bids fair to establish a similar family saga of skilled reinsmen. Already his son, C R Berkett, who drove the Cup winner, is the leading trainer and horseman of the season, and another of his sons, N L Berkett, is also one of the most successful of the younger generation of trainers and drivers.

Highland Fling was the favourite and started from 12 yards, the second horse, owned and driven by O E Hooper was Knave of Diamonds also started from 12yds. Loyal Peter, starting from scratch was driven for W B Somerville by S A Edwards and finished third. Mr W J Doyle's In The Mood also started off scratch and was driven by the owner into fourth place. The margins were two lengths and one and a half lengths.


Credit: 'Ribbonwood' writing in NZ Trotting Calendar 5Nov47


| | |
| --- | --- |
| | RACING HISTORY FEATURE RACE COMMENT |

1947 NEW ZEALAND DERBY STAKES

In one of the roughest classic races seen at Addington for some considerable time, in which interference leading to protracted judicial inquiry was rife in the concluding half-mile, Congo Song won the NZ Derby Stakes at Addington on Saturday after a great duel with Beckleigh.

Congo Song who was bred by A Holmes and P Symes, and is trained by A Holmes, was driven by Holmes's brother, M Holmes, who has a proud record in the Derby. Congo Song gave him his eighth success in the race. He won with Wrackler in 1928, Arethusa in 1930, Ciro in 1931, Aldershot in 1938, Imperial Jade in 1939, Scottish Lady in 1942, Free Fight in 1946 and Congo Song this year.

Congo Song, who finished second in the Canterbury Park Juvenile Handicap and the NZ Sapling Stakes as a two-year-old, continued this promise by filling second place to Gay Knight in the Canterbury Three-year-old Stakes at the Metropolitan August meeting. In this race he looked very unlucky to be beaten, and on the strength of this showing he was made a short-priced favourite for the Riccarton Stakes, which he won decisively, though narrowly from Belmont Hall.

Congo Song is one of the finest types of three-year-olds ever to win the blue ribbon event. He boasts plenty of size and quality, is a magnificent pacer, and in all his races he has displayed gameness that would do credit to any seasoned performer. His barrier manners are above reproach, and altogether he is everything a classic winner, especially an entire with the budding qualifications of a future stud horse, should be.

Congo Song is by Gold Bar, 1:59 3-5, from Flying Helen, by Flying Prince, whose name appears very rarely in pedigrees, because he died young. He was above the average as a two-year-old, finishing fourth in the NZ Sapling Stakes, but he did not win a race, and if memory is not at fault his death was reported when he was a late three-year-old. He was by Wrack (imp) from Queen Cole, by King Cole from Norice (imp), so his breeding was impeccable. Flying Helen is out of Helen, by Brent Locanda (imp), who reached prominence on the sires' list, among his best known performers being Black Admiral, Locanda Mac, Locanda Dillon, Somerby, Vilo, Brentloc, Locanda Boy, Dundas Boy, Trenand, Peter Locanda, Dalmeny, Dalnahine and Epigram. Helen was out of Tui Russell, by Russell Patch (imp), who was a son of famous Dan Patch, a world's champion in his day, and whose record of 1:55¼ behind a windshield, although subsequently disallowed by the American authorities, stood as the official world's record for some time. Tui Russell's dam was Elie de Beaumont, a daughter of Prince Imperial, whose name continues to crop up in the pedigrees of high class pacers and trotters. The Elie de Beaumont family has produced many winners, though nothing in the top flight as yet. Congo Song may repair that deficiency. Congo Song's time of 3:17 3-5 in the Derby has been beaten only once previously, by War Buoy, who put up the race record of 3:16 1-5 in 1933.

Beckleigh, runner-up in the Derby, is a rapidly-improving bay colt by Dillon Hall from Maeve, by Grattan Loyal from Olwyn, by Four Chimes from Taruna Mary, the dam of the great stayer in Lindbergh, who won a heat of the NZ Trotting Cup when the premier race was run in two divisions and a final. Fortuna, who ran a creditable third after getting almost on terms with the winner at the distance, is a bay filly of very nice quality by Springfield Globe from Betty Wrack, who goes back to the same source of winners as the greatest of out Colonial-bred brood-mares, Thelma. Fortuna is a full sister to Super Globe, a young pacer of real possibilities.

Credit: 'Ribbonwood' writing in NZ Trotting Calendar 12Nov47


| | |
| --- | --- |
| | RACING HISTORY FEATURE RACE COMMENT |

1947 DOMINION HANDICAP

Full Result

First: D Stormont & M Stewart's HIDDEN NOTE. Trained by part-owner M Stewart and driven by D C Watts, started off scratch.

Second: R Young's SURE LADY. Driven by the owner, started off scratch.

Third: A Holmes's FIRE WATER. Driven by the owner, started off scratch.

Fourth: F E Graham's REREWAKA. Driven by W J Doyle, started off 12yds.

The winner won by three lengths, with a neck to third.

Also started: Betty Maxigin, Toushay, Medical Student, Mae Wynne, Aerial Scott, Bomber, Pardon Me, Mistydale, Range Finder, Forewarned and Will Cary




Credit: NZ Trotting Calendar 19Nov47


| | |
| --- | --- |
| | RACING HISTORY FEATURE RACE COMMENT |

1947 NZ SPRINT CHAMPIONSHIP (NZ FREE-FOR-ALL)

The highlight of Show Day was Sir Michael's all-the-way win in the New Zealand Premier Sprint Championship. His return to the winning list, despite some poor form earlier this season, did not come as a complete surprise, because he was reported to have worked a brilliant mile and a quarter a few days before this latest success. Sir Michael, a handsome five-year-old brown horse by Lusty Volo from Lady Bridget, has now won 12 races and £7985 in stakes.

Full Result

First: C Tasker's SIR MICHAEL. Trained by the owner and driven by R Young.

Second: A V Prendeville & J X Ferguson's TURCO. Driven by G S Smith.

Third: N H Norton's GREAT BELWIN. Driven by F J Smith.

Fourth: O E Hooper's KNAVE OF DIAMONDS. Driven by the owner.

The winner won by half a length, with a further half a length back to third.

Also started: Battle Colours, Dundee Sandy, Emulous, Highland Fling, Nyallo Scott, Integrity, In The Mood, Loyal Nurse & Trusty Scott.

Credit: NZ Trotting Calandar 19Nov47