| | |
| --- | --- |
| | INTERNATIONAL HISTORY |

The Japanese attack Pearl Harbour.

The production of penicillin, discovered by Scottish scientist Alexander Fleming begins. The antibiotic was shown to have a remarkable ability to combat bacterially infected wounds and was invaluable in the theatres of war.

NZ troops land in Greece on 18 March, and are evacuated to Crete a month later; they fight the Battle of Crete on 20 May, and are evacuated to Egypt from 29 May, leaving behind 962 killed, 6942 wounded, and 3794 captured.

When the HMS Neptune was sunk by mines in the Mediterranean, 150 New Zealanders lost their lives. It was the NZ Navy's worst single loss in WWII.

The National Film Unit is formed and produces a weekly war information newsreel.


| | |
| --- | --- |
| | LOCAL HISTORY |

December 12 - Slit tenches dug in Hagley Park and in Cranmer and Latimer Squares.

Credit: Ch-Ch City Libraries


| | |
| --- | --- |
| | RACING HISTORY |

PEGGOTTY

In 1935 a five-year-old racing mare was bought at a Christchurch sale ring for £4 as a plough horse for then Mid-Canterbury farmer, Reg Butterick.

In 1938, as Peggotty, she was the Cinderella of harness racing, whose every appearance attracted an army of fans and supporters, especially among women. Peggoty's story, now largely forgotten, was a classic example of the racing adage "never say never".

Bred by a leading Christchurch sportsman Charles Olliver, Peggotty had a curious "back to front" body - a strong shoulder but weak behind. After a few months in the plough she had to be retired to hack duties. One day when Butterick let her loose she showed unexpected speed.

He asked trainer, Jackie Behrns to try her as a racehorse. In a few starts as a pacer she did nothing. As a last resort because the mare picked her feet up high when pacing, he put away the hopples and tried her as a trotter. The result was miraculous. Late in 1937, as a seven-year-old mother, Peggotty lined up at Addington and won by the length of the straight.

She won her next seven races including two at the inaugural Interdominion Championships at Addington in 1938. A trotter winning eight on end then was unheard of. The pacing record was nine in a row and stood for another 40 years. In her first defeat, Peggotty, normally a safe beginner, lost 100m at the start and still ran fourth. She won 11 of her first 13 trotting starts and her fame went outside racing circles. Some rated her as our best trotter ever.

Many wins meant she was soon racing off impossible handicaps and Butterick, a man who had a stunning record of buying racing bargains, retired her in 1939. Peggotty had a foal but it died.

So Butterick himself trained her for an amazing comeback. On Cup Day at Addington in November 1941, in her first start for more than two years, against seasoned stars, 12-year-old Peggotty won the Dominion Handicap, New Zealand's premier trotting race. The huge crowd gave her a tremendous reception. Women fans were said to be in tears.

That was her last hurrah and she left only one minor winner at stud. Ugly to look at Peggotty may have been to the purist but poetry in motion when on the trot. Living proof that looks are not everything.

Credit: David McCarthy writing in 9Jul 2011


| | |
| --- | --- |
| | RACING HISTORY BUILDINGS & FACILITIES |

FALSE RAIL

This photo shows the finish of the Ellersmere Handicap at the Canterbury Park meeting at Addington in June, 1941 won by Positive from Turco, Stylish Boy and Labour Day.

The interest in this photo is the false rail that can be seen at the straight entrance. Note: Just how long this was in use has not, as yet, been established.

Credit: HRWeekly 25Jul90


| | |
| --- | --- |
| | RACING HISTORY PEOPLE |

LEICESTER MAIDENS

Now forgotten, a lesson on how few "legends" last beyond our own time, Winchmore trainer Leicester Maidens produced some amazing results with "has been" pacers and trotters on both sides of the Tasman in the 1930's and 1940's. What was his secret? - and did it later play a role in Bart Cummings winning at least one of his Melbourne Cups?

Maiden's feats with top class veteran horses remain unequalled. In 1941, fresh from a two year retirement on health grounds, he won 23 races just from January to July when leading trainer Ces Donald had 34 for the whole season. More remarkably, the youngest of his winners was eight and the eldest two were 12! Zincali, raced by West Coast All Black, Jack Steel, and formerly with experts Maurice McTigue and "Dil" Edwards, was the leading stakes earner nationally, winning six races and setting an Australasian record for a mile and a half.

In 1936 when asked to take a "lost cause" for Ashburton owner, Harry Nicoll, Maidens agreed - if he could also try the New Zealand Cup/ Dominion Handicap winner Wrackler, then 10, which had been hacked in retirement for more than 12 months. Nicoll reluctantly agreed and within three months Wrackler had won the Addington Handicap beating most of the best open class trotters around.

Born in 1900 into an Ashburton farming family, the personable and popular Maidens first came to prominence with Harvest Child, one of two high class winners from th first crop of the "hyped" expensive stallion, Sonoma Harvester who never repeated the feat. Past his best and a refugee from stables such as that of Freeman Holmes, Harvest Child was rejuvenated under Maidens.

At his 1930's peak Maidens had 30 horses in work near Methven, a huge number then. Rollo, then a 12-year-old, had been retired out of Roy Berry's stable but won several rich races for Maidens. Peter Locanda, Marie Celeste - both 10 year olds - Zingarrie, Jesse Owens - who won four of his six starts for Maidens after being taken over from Dinny Teahen of Certissimus fame - and Palomar were other great successes.

His two best results, apart from Zincali, were Blue Mountain and Peter Smith. Blue Mountain was a tough grey horse owned bt Mrs Inex Sweetapple of Auckland and fornerly with Jack Shaw before Maidens raced him in partnership with his owner. He went within a length of beating Indianapolis in that champion's first NZ Cup in 1934, anothe champion Harold Logan being three lengths away.

Maidens inherited Peter Smith late in his career. He won the rich Olivier Handicap and ran third in three NZ Cup attempts, his problem on Cup Day being that as a fast beginner he was always dragging the field up to inevitable tearaway pacemaker, Gold Bar.

Maidens retired again in 1945 and took over the Royal Hotel in Palmerston North. In 17 seasons training by his count he had been in the top four trainers or drivers seven times and rarely outside the top five. In 1949 Maidens turned up in Melbourne, claiming health reasons though his wife, Margaret, remained in Palmerston North. After a time he took over a free-legged pacer well past his best called Dauntless Peter and decided to train him in hopples, something the horse hated with a passion. "He tried to kick them off every day for six weeks," Maidens recalled.

Largely thanks to a rejuvenated Dauntless Peter who beat the best in the Melbourne Free-For-All in spite of carrying a buckled wheel for most of the way so bad the driver had to sit on one side of the cart, Maidens then won a Melbourne trainer's premiership. Later, in 1953, he was on the front pages (headline "Women Screamed) after surviving a spetacular smash at the Showgrounds when thrown 20ft high in the air, and he was also a guest columnist in the Melbourne Argus.

He was then private trainer for owner/breeder Bob Stewart but after a time there was strife with the stewards over the form of Silver Trigger in two races the same night at a provincial meeting. Owner-trainer and horse were disqualified for 12 months. On appeal Stewart was absolved. However Maidens, who had been in trouble for giving the stewards a "serve" about them talking to him before the start of the race on the night, (he won one race and was second in the other) lost his appeal in spite of several impressive character witnesses in his defence. Stewart sold up in favour of galloping in disgust. Maidens later retired and died in Toorak, Melbourne, in 1973.

The Maidens secret? Various tonics were in use in that era but few were unknown to the top trainers on whom Maidens seemed to improve on time after time. He had either found an effective form of natural hormone treatment or, as he himself seemed to claim, he was ahead of his time in recognising the role of ulcers on the performance of older horses. "Old horses suffer more from ulcers because of stress and the standard training feeding diet ofter makes it worse," Maidens once said in an interview. "Ulcers are painful and have a big effect on diet and work. I pay special attention to diets for my horses (lower oats content, special cooked supplements) and work them less to cut stress."

60 years later, after veteran Rogan Josh came from nowhere to win the 1999 Melbourne Cup, Bart Cummings sang the praises of an ulcer product as the winning edge. Treating ulcers became a racing fad - until an ingredient was found to be a prohibited substance. Ulcer treatment remains large in the training of older horses as a result.

It would have been another story the colourful Leicester Maidens would love to have told.

Credit: David McCarthy writing in HR Weekly 6Feb13


| | |
| --- | --- |
| | RACING HISTORY HORSES |

CERTISSIMUS

He raced across the harness racing sky like a blazing comet, hailed on all sides as the greatest young trotter the country had ever seen. It wasn't just hype. He won 13 of his first 20 starts, unheard of for a youngster running against all aged horses in an era when trotting stars hit their peak at about eight or nine. Even the weary scribes who had seen it all lobbed superlatives in his direction.

Then, in freak and bizarre circumstances, Certissimus was gone, before he had had his fifth birthday. His chance to be up there with all-time greats expired on the side of a country road near Pleasant Point but his memory among those fortunate enough to have seen him never faded. Beside his ability he had charisma like no other of his time. There are still horsemen around who rate him the most spectacular trotter they ever saw.

Certissimus was a product of South Canterbury courtesy of the Teahen family of Pleasant Point. Dinny Teahen had purchased the star's American-bred dam for a paltry sum and bred her to American stallion Quite Sure - Though Certissimus raced in the name of Jack Teahen. The clever name meant "most certain". Certissimus started as a pacer.

His granddam Belle Keller had been imported from the US by J R McKenzie in foal to Arion Guy. Roydon's Pride, the resulting foal, showed trainer George Mouritz extreme trotting speed but was too highly strung to do it on raceday. At a Roydon Lodge dispersal sale in 1936 she could only fetch 14 quineas. Her first foal for the Teahens, a Maxegin filly died as a young horse, perhaps an ill omen.

Quite Sure was notable stud announcement of 1939 to stand at the Kennington Stud in Southland by Julia Cuff. Miss Cuff, a one-time publican and Southland's first professional woman trainer in either code, earlier stood ex-Canterbury sires Rey De Oro, Wrack and Grattan Loyal for the locals. With Quite Sure's success sho later moved to Hinds, dying in Christchurch in the 1970s.

Quite Sure was a free legged pacer and the real deal in the States having been runner-up in the Pacers Classic at two to the top juvenile, Calumet Cheater, in world record 2:02.5 and 2:03.5 heats. As an older horse he beat stars like Mc I Win, the dual gaited world champion Raider(who emigrated to Australia) and Cold Cash (1:58.2). He had been recommended to Cuff by prominent US journalist and breeding expert Walter Moore and the stallion's first star, owned by Cuff, was a colt by that name, the best 2-year-old of 1940.

Special Force was another star by him for Peter Gallagher and then Certissimus appeared on the scene. He was a sign of things to come because, against expectations, Quite Sure became a noted sire of trotters. Experts like Bill Doyle later had reason to recall fondly how reliable an in-form Quite Sure trotter was when the money was on. Breeders of pacers, however, soon lost some of their enthusiasm.

Certissimus made his debut at Methven in the spring of 1940, pacing early before living up to his already big reputation by winning easily. His composure, which must have come from his sire, was an important key to his success. Certissimus was so good that in January, 1941 in a historic special Match Race at Timaru he took on the best 3-year-old pacers including Special Force, Gold Chief(later to sire Rupee), Ronald Logan, Walter Moore and Shadow Maid. He broke twice in that event, wanting to pace, but "showed wonderful speed in between proving he was a great colt" one media report said.

Certissimus beat all aged fields at Addington from long marks when it was unheard of for one of his age. In November 1940 he beat a NZ 2400m record by six seconds after losing 40m at the start. In January 1941 from 72 yards he ran six seconds faster than the second horse, the aged Hamel Bay, clocking 3:18, a national 3-year-old record for over 20 years. A year later he received a reception at Timaru after beating the accomplished Dark Hazard rated the "heartiest in living memory". A month later he was dead.

He had gone to another training track (that of Jack Brophy) for a workout on February 24. Jogging home Certissimus was stung on the nose by a bee. He reared, his untied overcheck hooked around the shaft of the cart and he fell heavily on his head on to the asphalt, stunned and severely injured. Certissimus could not be moved, so right there on the road a tent was erected around him and he was attended night and day by a veterinarian and a doctor. A specialist from Dunedin made a special journey to oversee the crisis.

"There is every prospect of the horse making a complete recovery" was the optimistic claim in the media after Certissimus managed to get back on his feet two days later. But recovery was always a long shot and he died soon afterward. There were various claims, rumours ans recriminations about the real cause of the incident over the years. Nothing could bring the horse back.

Roydon's Pride's descendants gave the Teahan family - and others - compensation when Global Hall won them a Rowe Cup, and Deotatus a Trotting Stakes while Don Hall, owned and trained by Ray Teahen and trained also for a time by Cecil Devine, was a top class pacer though now largely famous in trivia quizzes as a principal in the famous whip incident involving the latter. Roy Grattan, a half-brother, was another outstanding pacer from this family and Heber Hewson's "Cord" family, among others, also came from it.

Certissimus was used lightly as a stallion in his racing days with remarkable success. He sired the high class trotter Acclamation and his daughters left the high class Alight as well as Highland Flame a sensational youngster who won the Trotting Stakes, officially, by 100 yards.

We can't be sure where Certissimus's star would have finnally landed in the galaxy of champion trotters because fate robbed him of his chance. That it would have been right up there was never doubted by his many admirers.

Credit: David McCarthy writing in HRWeekly 28Nov2012


| | |
| --- | --- |
| | RACING HISTORY HORSES |

ADMIRATION - Classic Winner Producing Mare

ADMIRATION (1941 Grattan Loyal-Bonny Logan), USA family of Black Betty; 2:11.0, £3,020; 2 wins; 14 foals, 12 winners. Breeder: Miss P Norton. Foals bred by F G Holmes and G Aitchison (Esteem, Shy, Modest); F G Holmes, West Eyreton (Adoration, Achates); all other NZ foals bred by G Aitchison, Oamaru. A number of foals were bred in Australia.

Sire Grattan Loyal was imported from Canada by Free Holmes in 1930. Leading broodmare sire (stakes-twice, winners-four times), he often finished second or third on the sires list to U Scott, Light Brigade, Jack Potts and Dillon Hall. Grattan Loyal left many stayers among his 322 winners including Bonny Bridge (NZ Derby), Gold Bar (NZ Cup/FFA, first NZ bred under 2 minutes, sire), Loyal Friend (AK Cup), Loyal Nurse (NZ/AK Cup), Sir Vivian (GN Derby). As a broodmare sire, he left Adorian & Integrity (NZ Cup), Ar Miss, dam of Armalight & Zany (NZ Oaks), Blue (NZ & NSW Derbies), Cabra & Great Venture (Dominion Hcp), Damian, Dandy Briar & Unite (AK Cup), Danniels Pride, Rauka Lad & Torrent (Easter Cup), Guiseppe (GN Derby), Leyoro & Lord Mina (WA Cup), Single Direct (AK Cup, NZFFA, WA Cup, ID Pacing Grand Final), Stella Frost (AK Cup, NZFFZ, ID Pacing Grand Final).

The family of Black Betty faded out in North America but prospered in New Zealand through Bonilene (3rd dam Black Betty) and her daughters, led by Bonny Logan, Bon Rey, Bonny Drusus, Bonny Norval and St Helena. Tracing back to Bonilene are double millionaire , three time Australian Harness Horse of Year & Grand Circuit Pacing champion Westburn Grant, NZ Cup Winners Adorian & Lookaway and top race mares Hyperstat & Gina Rosa.

Admiration commenced racing at two winning the Timaru Nursery Stakes and twice placed from three starts including third in the Sapling Stakes. Unplaced at three, two placings at four, two further wins came as a five-year-old at Cheviot and Hutt Park. Twice placed at six, she retired to the broodmare paddock the winner of three races.

ADMIRATION'S MALE PROGENY INCLUDED:
1. Achates, which won 5 races in NZ before his export to Australia. As a three-year-old, he won at Marlborough and twice at Nelson. Two wins as a four-year-old came in the Louisson Memorial at Nelson and the Geraldine Cup, and was placed second in the Nelson and Marlborough Cups. Placed at five and six he went to Australia during the 1959/60 season and was a winner at Wyong in July 1961.
2. Admiral Way won the York Cup at Cunderdin, WA and became a sire of 30 winners including Haddock (ID heat) and damsire (48 winners) of Earth Station (Aust Pacing C/S.
3. Admire won eight races in NZ (2:06.4) before his export to USA in late 1967 (2:04.0US). Wins at Geraldine and Oamaru as a three-year-old, unraced as a four-year-old, 3 wins as a five-year-old - Central Otago Hcp, Kurow Cup (April 1966) and Timaru President Hcp. A second win in the Kurow Cup (August 1966) and Addington together with second placings in the Rangiora Cup, Easter Cup qualifier and third in the Southland Invitation Stakes saw Admire compete at the top level as a six-year-old. His final NZ win came in the Hannon Memorial before his move ton the USA.
4. Chief Wonder, born in Australia didn't race until he was a five-year-old. He won 15 races over the next six seasons including a heat of the Tasmanian Pacing C/S at Hobart (second in another heat, unplaced in final) and Terang Winter Cup.

ADMIRATION'S FILLIES WHICH BRED ON INCLUDE:
1. Adoration, winner of five including four on end with 2 wins on both days od Nelson's 1956 Winter meeting. Her fifth win came at New Brighton as a five-year-old. She was the dam of:
- Louie Lopez, NSW SW and Riverina Derby.
- Taiko News, dam of Milson Edition (WA 4/5 Championship, ht Aust Pacing Championship)
- Tama Trees, granddam of Adrenalin (Southland Oaks), 3rd dam of Thomas Sharp (Northern Southland Autumn Cup).
- Tasman, NZ Railway Hcp Trot (Forbury Park)
2. Esteem, an eight-win mare commenced with a win as a four-year-old at Westland RC followed closely by success in the Epsom Stakes - four at Alexandra Park. As a five-year-old, her three wins were at Timaru, New Brighton and Addington. As a six-year-old a second place in the Methven Cup was followed by victory on Show Day in the Hayward Hcp. Unplaced as a seven-year-old, her final two victories were as an eight-year-old in the Spring Hcp on NZ Cup Day and Smithson Hcp at Addington. Esteem was not bred from.
3. Mirastorm, a winner in Australia was the dam of:
- Acutron, dam om several mainly Tasmanian winners,
- Cover Up, TAS 3yo C/S
4. Shy, won one of four starts as a 5yo at Cambridge and was the dam of:
- Carmen Jones, VIC Her Ladyship-4m.
- Charm, dam of Armbro Free (Cup Day Canterbury Hcp, Hutchinson FFA).
- Devotion, dam of Captain Devotion (NSW Breeders Plate-2)
- Shy Castle, dam of Frosty Castle (NSW Star Trek series), Lincoln Castle (Gloucester Park FFA)
- Timid, dam of Big Chase (Cambridge Gold Cup-3/4), Armadene (NSW Golden Easter Egg-3f); granddam of Bronski Beat (WA Easter Cup, VIC Laidlaw, Hamilton, Yarra Valley Pacers & Maryborough Cups); 4th dam of Sharp Bret (VIC The O' Keefe), Jake Pastime (NSW Breeders Plate-2, Bathurst Gold Chalice-3c).
5. Zany, top class mare won ten races. Unplaced in two 2yo starts, as a 3yo she completed two wins at Greymouth and in the NZ Oaks, also placing third in the Champion Stakes (Ashburton). Three wins at Forbury and another at Alexandra Park resulted during her 4yo career. Zany's one win as a 5yo came in the Ashburton Cup with a second in the Dunedin Cup. At six she won the CPTC's HH Wardrop Hcp and third in the Wellington Cup. Her final season of racing resulted in victory in the National Hcp at Addington and New Brighton's Esplanade Hcp. Zany was the dam of:
- Reporter, Marlborough Cup.
- Stylish Eden, 3rd dam of The Statesman (1:53.0US) at Mohawk, among first 100 Aus bred 1:55.0 pacers).
- Zany Hanover, granddam of Tally Van Gold (QLD Qbred Breeders Classic-4); 3rd dam of Partywiththedevil (WA Higgins Memorial).

Minor winners from Admiration included: Modest, two wins on the same day at Nelson while from other foals born in Australia: Craigs Admire, four race winner; Newport Boy, five-race winner; Craig Junior, a winner at Wayville, Adelaide.

Credit: Peter Craig Writing in Harnessed June2015


| | |
| --- | --- |
| | RACING HISTORY FEATURE RACE COMMENT |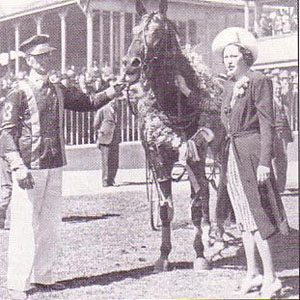 Fred Smith, Josedale Grattan & Winifred Matson

1941 NEW ZEALAND TROTTING CUP

Josedale Grattan, a stallion imported from America by polished Auckland horseman F J Smith, convincingly led home a North Island-owned trifecta when Kenworthy and Peter Smith filled the placings.

It was an exciting spectacle thanks to the tearaway Gold Bar, but Josedale Grattan had his measure two furlongs from home and won by three lengths in a race record of 4:15.

The meeting also saw notable wins recorded by the mare Haughty and the Globe Derby entire Springfield Globe, who had won the Inter-Dominion in Tasmania as a 4-year-old.

Credit: NZ HRWeekly 8Oct03


| | |
| --- | --- |
| | RACING HISTORY FEATURE RACE COMMENT |

1941 DOMINION TROTTING HANDICAP

The death has occurred of Mr R H Butterick, for many years one of Canterbury's best-known owners, trainers and breeders. Reg Butterick was one of trotting's 'characters'- a self-effacing, agreeable type of man who had a great deal more ability than ever appeared on the surface.

Reg secured his first real 'break' in trotting one overcast afternoon - it was Wednesday, August 14, 1935, to be exact - when he bid 4gns for lot 13 at a horse sale of nondescripts at Christchurch Tattersall's Horse Bazaar, Cashel Street (now-1962- Gough, Gough & Hamer's premises) and had it knocked down to him. This was a bay mare, seven years, by Wrack from a Nelson Bingen mare, and about the plainest bit of horseflesh imaginable. It took the auctioneer, the late Mr A L Matson, all his time to give her away, and Reg Butterick declared that he "only bought her for a farm hack."

By mere chance Mr Butterick discovered the mare could trot; he put her into training and she proved a goldmine by winning seven races on end. She was then retired to the stud and produced a foal by Quite Sure which strangled itself in a fence. Of a fatalistic philosophy, Reg Butterick decided that Peggotty should not have been retired to the stud, and he put her back into training - she proved better than ever, and won the Dominion Handicap in 1941.

Reg Butterick, who bought the American trotting stallion Josedale Dictator from the late F J Smith and had him at stud for many years, owned a lengthy list of horses, the best of whom were Roy Grattan, who was placed second in the NZ Cup, Macklin, winner of the Auckland Cup, and Peggotty.

Credit: NZ Trotting Calendar 26Sep62