| | |
| --- | --- |
| | LOCAL HISTORY |

January 31 - NZ's first regular airmail service begins between Christchurch, Ashburton and Timaru.

February 15 - Radio Society of Ch-Ch formed.

July 30 - Canterbury becomes the first NZ provincial rugby team to defeat the Springboks.

Credit: Ch-Ch City Libraries


| | |
| --- | --- |
| | RACING HISTORY |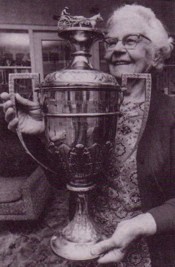 Reta Peter's 1921 Cup & Evelyn Robson

Prior to 1914 the winner of the NZ Cup did not win a cup.

From 1914 to 1923 the then President of the NZMTC donated cups for this purpose. The imposing silver cups were made in London, were 26 inches (66cm) high and were surmounted by a silver horse, sulky and driver.

Since 2001 the 1923 Cup won by J Trengrove's Great Hope has been used as a challenge trophy for the Dominion Handicap.




| | |
| --- | --- |
| | RACING HISTORY CANTERBURY PARK TROTTING CLUB |

C S HOWELL

The father of Charles Selby Howell...an old Peninsula veteran, having been taken by a press gang in Bristol. He served for some 12 years; his last ship, the 'Duke of York'...of which he was paymaster, was at the taking of Martinique from the French in 1794.

Later Mr Howell was 'schoolmaster and parish clerk for over 50 years' at Stroud, Gloucestershire. The school was 'known as the Red Coat School because the boys wore scarlet coats and vests in fulfilment of a benefaction left by some ancient hunting squire for that purpose'.

Charles Selby was born at Stroud on 23 June 1836 and educated at his father's school. He became a saddler and worked at Bristol, Bath, Penzance, Birmingham, Oxford, London and towns in South Wales.

Howell boarded the 'Roman Emperor' as an assisted immigrant bound for Canterbury. Perhaps, like future author Samuel Butler, one of the gentlemen who came on this vessel, he transhipped from the 'Burmah' which was specially fitted out for stock which it was to bring to the Antipodes and then disappeared without trace.

The 'Roman Emperor' arrived in 1860. Howell worked in Christchurch, moved to Sydney, and then came back as foreman to his old employer, John Craib Angus, a man prominent in business and the Presbyterian church. In 1873 Howell went into partnership with William White. After 18 months he set up his own establishment in Tattersall's Buildings at 162 Cashel Street. He carried 'on a profitable and successful business until December 1895 when he sold out to his two eldest sons'. For a time he again took over the reins before becoming interested in the Timaru Flour Milling Company and Zealandia Soap and Candle Works. In old age he decided to take a trip 'home'. Prior to his departure a dinner was tendered him as a mark of respect and goodwill. Like many businessmen, he was active in the Masonic Lodge.

Interested in racing and trotting 'as almost part of his business', Howell was one of the convenors and first chairman of the first Trotting Conference in 1895. A club - originally intended to be a coursing club - was formed at Plumpton Park, Sockburn. This did not flourish and there was established the Plumpton Park Racing and Trotting Club.

Howell was one of the original promoters, being 'gateman, secretary, treasurer, judge and chairman' and helping 'to bring the club to the successful position which it...attained'. In 1903 he could state that the club had 75 acres of freehold property at Sockburn, these being in good order and...equipped with granstand, boxes and all necessary buildings'. Indeed Plumpton Park was the only club in New Zealand which possessed 'a racing and training track with grounds of its own'. In his last years Howell saw his beloved park - now 106 acres in extent - purchased by Henry (later Sir Henry) Wigram for his air school. The park was to become the Wigram Air Force Base.

In his dealings with others in the trotting world Howell showed 'enthusiasm, ability, integrity and geniality'. In 1908 his peers commissioned Sydney Lough Thompson to paint his likeness. As well, the C S Howell Handicap was established to perpetuate 'the name of one of the most honourable and respected men in the early days of trotting'.

On 30 March 1867, at St John's Anglican church, Latimer Square, Christchurch, C S Howell harness maker, married Maggie Hall. Charles died at his daughter's residence in New Brighton, leaving four sons and two daughters. The gravestone recalls Charles Selby Howell who was born on 23 June 1836 and died on 29 April 1921; and his wife Maggie, 64, who died at Opawa on 2 October 1906.

Credit: Ch-Ch Library: Woolston/Heathcote Cemetery Records


| | |
| --- | --- |
| | RACING HISTORY HORSES |

FIRST WATER

First Water(1921 Harold Rothschild-Red Diamond), NZ family of Red Diamond; 2:20.7; £995; three wins; 15 foals, 12 winners. Breeder: J Stevenson & J J McMath, Riversdale. All foals bred by H Hunter, Wyndham.

First Water's sire Harold Rothschild was a line bred Childe Harold(Rothschild-Harolds Rest) homebred stallion foaled at Willowbank Stud by Stevenson and McMath. Auckland Cup winner Harold Junior was one of his 49 winners and he was broodmare sire of First Water's Auckland Cup winning progeny Ned Worthy.

Her dam Red Diamond established a family that was set alight by First Water and her progeny. Red Diamond was by Prince Imperial from a Blackwood Abdallah mare. Prince Imperial came to NZ from Australia as a two-year-old. As a sire he left Lady Clare(NZ Cup) and was broodmare sire of many NZ provincial cup winners and Michael Galindo(Dominion Handicap). Prince Imperial left an indelible mark on NZ foundation maternal families. Red Diamond won her first race at Gore RC in 1911 (Labour Day Trot) was placed second in one of two other four-year-old starts and was unplaced at five before being bred from. Red Diamond also left Red Star and Diamond Child who founded successful families.

Red Diamond's family's greatest product is four time ID Pacing Champion Blacks A Fake (Victoria/ Hunter Cups, Truer Memorial, Qld Pacing C/S(2), $4.5m). Rondel and Smooth Satin are other ID Champions from the family. Leading juveniles descending from First Water are the 1970's champion Noodlum (Sapling/ Welcome Stakes, NZ/ Qld Derbies), multiple derby winning youngster of the 1960's in Tactile (Welcome/ Kindergarten Stakes, GN/NZ/NSW/VIC/SA Derbies) and more recently One Dream (NZ/ AUS Oaks). The quickest of Red Diamond's family members are Oneinamillion (1:49.3US, June 1998, 2nd NZ bred under 1:50) and in Australasia, Freyberg (1:51.7).

In her inaugural racing season (1925/6), First Water notched a win at Invercargill as a four-year-old. At five, two wins at Gore and Hutt Park while her final start as a six-year-old produced a £100 placing at Addington.

First Water's filly progeny:
1. First Author, first foal, unraced, left a number of fillies who bred on especially First Moko whose descendants have included Freberg, Malaz (Sapling Stakes, Southern Supremacy, Cross Stakes, Louisson Hcp, Invercargill Cup), Model Hardcraft (Timaru Nursery), Good Too (Dunedin Handicap).

2. Aqua Bond, winner of six races (Nelson President Hcp) left May Grattan whose descendants include All Promises (AUS/QLD Oaks) and Trout Stream leads directly to the Southland bred 'Matai' branch. Standouts include: Matai Dreamer (Kindergarten, GN Derby, NZ C/S - 4), Matai Mackenzie (Welcome Stakes, NZSS-2, NZ C/S, GN Derby), Matai Bret (Bunbury Cup), Black Irish (Aust Pacing C/S, ID hts(2), Fremantle Cup), Helena Jet (Southern Belle Speed Series), Angelina Jolie (Delightful Lady Classic-2f).

3. Nell Grattan, raced from three to nine years recording nine victories (Wanganui Cup, CPTC Matson Stks, NZMTC Papanui Handicap). She and her daughters bred on: Mighty Imp's descendants include Blue Water (Nevele R Fillies), Clancy (Hannon Memorial), Oneinamillion (QLD Derby) Winning Blue Chip (NZ Derby); Mighty Lass, Australian bred family of winners; Mighty Song, winner of eight to whom Best Deal Yet descends (QLD Derby) and Tactics, winner of eleven (New Brighton Cup) - dam of numerous winners including Tactile (six Derbies) and Deft (won 10 and was dam of Noodlum). This branch of the Nell Grattan (Red Diamond/ First Water) family is responsible for wonderful horses such as Blacks A Fake, Olga Korbut, One Dream, It's Ella, Some Legacy.

4. Rocks Ahead, won 16 races and was a sub 2:10.0 performer (2:09.4). Her wins included Addington's Dash/ Speedway/ Heathcote Handicaps, Oamaru's Presidents Handicap and Forbury's Dash Handicap [deadheat]/ Flying Handicap/ James Handicap (all told six wins at Forbury). Rocks Ahead was unplaced in 1938 and 1039 NZ Cups.
Rocks Ahead left seven winners including good pacer Navigate (11 wins, Ollivier Hcp/ Hannon Memorial) and Dominion Hcp/ Worthy Queen Trot/ ID heat winning trotter Barrier Reef (13 wins). She also left Rendezvous who founded her own award winning branch of the Red Diamond/ First Water family. Her filly Dismiss (Nelson Winter Cup) established a family that became a breeding goldmine for the Chins (Luk - trotters, Onn - pacers). Luk Chin's trotters descend through Dispense (dam Dimiss, eight wins, ID heat), including Gorbachev/ Djokovic (Cambridge Trotting Stakes -3), Lysenko, Lady Caballo (NZ Trotting Stakes -3), Fayanni (GN Breeders Trot twice, Thames Trotting Cup), Kasyanov (six wins then sold to Australia) and many more. Others not raced by Luk Chin descending from Dismiss include Godsun, Earl of Clevedon, Lord Burghley.
Dr Onn Chin raced pacer Feverish from this family (1:50.4 US at Meadowlands in earliy 2001, then fastest mare bred in NZ). Other good pacers descending from Dismiss were Disband for Chin Bing Foon (Luk & Onn's father), won 14 races in NZ including ID heat/3rd in 1965 Forbury final to dead-heaters Jay Ar/ Robin Dundee and Black Duke (34 wins, 1:53.7TT in Australia).
Rendezvous' fillies have left ID Pacing champions Rondel/ Smooth Satin ($1m, Chariots of Fire, Ben Hur), Light Buffy (SA Trotters Cup twice), The Private Dancer (Tatlow Memorial), Rare Touch NZ C/S -3) to name a few.

5. Salamis, raced once (unplaced), was a very productive broodmare. Among her descendants are Bitobliss (1:51.8, Kilmore Cup, Legends twice), Born to Trot (NZ Trotting Stakes-2), First Mate (USA Fireball series), Markalan (NZ Trotting Stakes-3, Trotting C/S).

First Water's male progeny:
1. First Lord, an entire, recorded ten wins(Heathcote Handicap twice, Wairarapa Cup at Hutt Park, Auckland's September Handicap/ F J Smith Memorial). First Lord became a successful sire both in NZ and Australia - Cardinal King (numerous feature races in NZ, 1968 Yonkers International race series), Lord Mina (WA Cup) and broodmare sire of Idolmite (Hannon/ Barton Memorials both twice, New Brighton Cup), John Craig (NSW/ SA Derby).
2. Indemnity by Dillon Hall, like First Lord he recorded four wins (Nelson Cup). Ned Worthy, like Aqua Bond by Worthy Bond, won seven races, winning the Winton Juvenile-3 at his first start, Wyndham Juvenile-3, 1940 Auckland Cup (trainer Bob Townley, driver Bill Doyle.

Minor winners produced by First Water include First Royal(3); Dark Water(2); Equery(2, one at Greymouth under saddle; Assault, one win from only two starts at Wellington; Paratrooper(1); Oasis(1).

Credit: Peter Craig writing in Harnessed Jan 2015


| | |
| --- | --- |
| | RACING HISTORY FEATURE RACE COMMENT |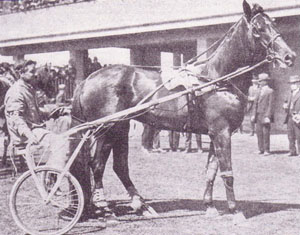 Reta Peter winner of the 1920 & 1921 NZ Cups

1921 NEW ZEALAND TROTTING CUP

If Reta Peter's first win was popular, the second was controversial.

She was second past the post to Sherwood and F G Holmes, but a protest was lodged and officials deemed the interference at the top of the straight serious enough to reverse the placings.

It was serious enough for Reta Peter to return to the birdcage bleeding from her front legs anyway.

In this way, Reta Peter went into the records as the second and last trotter to win the Cup, and one of only two mares to win it twice, the other being Haughty.

**Credit: NZ HRWeekly 1Oct 2003**

The 1921 New Zealand Cup had an unprecedented climax when Sherwood, driven by F G Holmes, was first past the post but was relegated to second for crossing in front of Reta Peter at the straight entrance. The finish was an exciting one, and it was unfortunate that the race had to won on protest.

The interference in the final stages was obvious and the protest lodged by the mare's owner did not surprise the Addington public. The Judicial Committee, after considering the matter, resolved under part 25 of the Rules of Trotting, "as to keeping positions", that Holmes, the driver of Sherwood, had seriously interfered with Reta Peter. It placed Reta Peter first and Sherwood second, In addition, Holmes was fined £25. Reta Peter returned to the birdcage after the race with skin off her front legs, which were bleeding.

An appeal against the decision was immediately lodged by Holmes and accepted by the stewards. The Appeal Committee of the New Zealand Trotting Association decision met and, after studying the evidence, decided that the Judicial Committee decision was correct. Holmes never agreed with that decision, and took the opportunity when Adorian won for him in 1953 to remind officials of the grave injustice he alleged had been done to him 32 years previously.

The crowd around the birdcage in 1921 did not show much enthusiasm after the protest, and conjecture remains as to whether the interference was serious enough to warrant relegation. In the history of the race the only other disqualification from first place came in 1969, when Stella Frost, driven by Doodey Townley, was deemed to have caused a serious spill, which cost several horses their chances.

For trainer-driver Alf Wilson and Reta Peter, the 1921 victory was a triumph. Reta Peter had not raced earlier in the season, as she had been pin-fired, so her effort without lead-up races was a good one. She remains the only trotter to have won the NZ Cup twice and, along with Haughty, the only mare to have had double success.

The Cup stake was raised to 3000 sovereigns and the class tightened to 4:32. Reta Peter was opposed by 11 others, but a short limit of six seconds was set, with the Australian import Man O'War - for several weeks the race favourite - on the back mark. There was great controversy at the time about this handicap, because, by comparison with Reta Peter, he seemed badly off. Man O'War's best two-mile time was 4:29.4, yet Reta Peter, who had a best time of 4:28.6, had an advantage of five seconds over him at the start.

Trainer James Bryce was not pleased with Man O'War's trackwork and stated publicly before the race that his horse was not fit enough to run a gruelling two miles. And so it proved. Man O'War was slow away and always toiled in the rear of the field in a cloud of dust. His display was the subject of an official inquiry, at which Bryce stated he had not wanted to start Man O'War, because the horse had gone from bad to unmanageable in training the week before the race. He further stated that Man O'War bored badly during the race and struck a post coming into the straight, almost falling. Owner Joe Corrigan was bitterly disappointed with the display. "The horse will not race again at the meeting," he said.

Man O'War, a black stallion born in Australia in 1914, was a good horse, adept in bad going. Brought to New Zealand in 1920 as a six-year-old, he won the Auckland Cup for Bryce, from 84 yards. He won a second Auckland Cup the following year, from 96 yards, and was a good winner on New Zealand tracks, ending the 1921-1922 season as leading money-winner with £2935. At stud he produced the top-class mare Navy Blue, who included the 1938 Auckland Cup among her 14 wins. Man O'War's best son was Happy Man, who reached Cup class and later, as a 17-year-old, won a free-for-all in Western Australia. Man O'War mares produced Loyal Nurse, who won the Auckland Cup in 1946 and the NZ Cup in 1949, Soangetaha, who won the Auckland Cup in 1951 and 1952, and Parawa Derby.

Man O'War started second favourite behind Albert Cling, who again let down his supporters. John McLennan had him well placed all the way but he faded to sixth. the race start was not the best recommendation for the time system - there were two false starts and, on the second ocession, several horses were at top speed for three furlongs before they were pulled up. Reta Peter was first out both times. Eventually, the field was sent away at their correct bells, with the exception of Asturio, who broke, and Man O'War, who was slow away.

Gleaming (Bill Warren) and Vice-Admiral (Dil Edwards) led out from John Dillon, Sherwood, Trix Pointer, Albert Cling and Reta Peter. There was little change until the last lap, at which stage Gleaming began to tire and Vice-Admiral opened a lead of four lengths on Reta Peter, with Trix Pointer and her bracketmate, Sherwood, starting good runs. Sherwood passed Vice-Admiral and Reta Peter just as the straight was reached and, driven with great vigour by F G Holmes, appeared to have won a good race by a length from Reta Peter.

Vice-Admiral, a black gelded son of the three-year-old Cup starter of 1907, Advance, and the best of his offspring, held on for third, just ahead of Willie Lincoln, Trix Pointer and Albert Cling. Manvers Edwards, known as Dil, was a son of Manny Edwards, and had his first Cup drive behind Vice-Admiral.

Surprisingly - even for those early days at Addington - Asturio ran again on Cup Day, finishing third in the final race, the Recovery Handicap. Just as significant on this occasion was his driver, Ossie Hooper, soon to leave an indelible mark on the Addington scene. Drum Withers was also prominent among the successful new drivers at this Cup meeting.

Albert Cling, who disappointed for a second consecutive time in the Cup, ran a New Zealand race record for the mile of 2:09.6 when winning the Free-For-All from three others, Trix Pointer, Willie Lincoln and Marie Tempest. The final day of the meeting belonged to Trix Pointer, who showed why Free Holmes held her in such high regard. She won the Christchurch Handicap over two miles, her first winning run since April 1920, and later in the day ran third to Ena Bell and Chid over one mile. In the process she registered 2:08.6, breaking the race record that had been set by Albert Cling the previous day. Ena Bell was trained and driven by Gisborne's Bob Fisken, who also produced the Dominion Handicap winner Wild Moor.

The only dual winner at the meeting was the trotter Whispering Willie, who beat the pacers in the Courtenay Handicap to win in 4:29.4 and the trotters in the Middleton Handicap.

**Credit: Bernie Wood writing in The Cup**

Credit: NZ HRWeekly 1Oct03


| | |
| --- | --- |
| | RACING HISTORY FEATURE RACE COMMENT |

1921 NEW ZEALAND TROTTING CUP

The weather was dull for the opening day at Addington, but the attendance was quite up to that of previous years. Agathos's number was missing when the scratching board was brought into evidence announcing the starters for the N.Z. Trotting Cup. This left a dozen runners. They were a well-conditioned lot, but while doing their preliminaries it was noticeable that Willie Lincoln and John Dillon were a trifle sore. Once warmed up, they raced along in good 3tyle. It is doubtful if Albert Cling has ever stripped better, and Man o' War looked a picture. Immediately the machine was opened Albert Cling and Man o' War divided favoritism,- the pair being entrusted with over a thousand tickets more than the third favorite, Gleaming.

After a false start, on which the field scarcely went more than a hundred yards, the candidates were again marshalled, but again the starter's efforts were frustrated due to Rangitata Lass dancing all over the course. On this occasion Vice Admiral, Sherwood, Trix Pointer, Reta Peter, John Dillon, General Link and Albert Cling raced for three furlongs before receiving the signal "no start." At the third attempt the field moved away to their bells with the exception of Asturio, who jibbed and took no part in the race.

Gleaming rushed to the front and raced to the four furlong distance in 1.8 1-5s., with Vice Admiral, John Dillon, Sherwood, Reta Peter, Trix Pointer. General Link and Willie Lincoln in close attendance, and Albert Cling making up his ground fast. At this stage it was obvious that Man o' War would never be in the picture, for he was boring badly and losing several lengths at every bend.

With a mile and a quarter covered in 2.41, Gleaming compounded, and Vice Admiral rushed to the head of affairs with Reta Peter, Sherwood, Willie Lincoln, Trix Pointer and John Dillon in hot pursuit. Going to the mile and a half post, which was negotiated in 3.23 2- 5s., Vice Admiral was hitting out in determined fashion, but Reta Peter, Sherwood and Trix Pointer were asserting themselves in bold style.

Entering the home stretch, Edwards drew the whip on Vice Admiral. Half way down the running Sherwood and Reta Peter headed Vice Admiral, and while the pair were engaged in a hot tussle, F. Holmes, Junr., driver of Sherwood, appeared to cross Reta Peter as they flashed past the judge. Sherwood had two lengths advantage of Reta Peter, who was three lengths in front of Vice Admiral. A neck away came Willie Lincoln, then Trix Pointer and Albert Cling.

Immediately on returning to scale the owner of Reta Peter lodged a protest against Sherwood for crossing fifty yards from the winning-post. After lengthy deliberation the stewards awarded the race to Reta Peter, and placed Sherwood second, and fined F. Holmes, Junr., driver of Sherwood, £25.

This places the second Cup to the credit of Reta Peter. She is owned by Mr. P. H. Robson, who bred her. Her , sire, Petereta, is a son of the world's greatest sire, Peter the Great, while her dam is Tot Huon, a daughter of the famous Huon. Reta Peter is trained at New Brighton by A. G. Wilson, who deserves credit for the manner in which he not only prepared the mare, but handled her in the race. Reta Peter, was the only trotter in the contest.

An appeal was lodged by the owner of Sherwood, but the Appeal Committee, which happened to be on the course, met immediately and decided that no appeal could lie.


Credit: NZ Truth 12 Nov 1921


| | |
| --- | --- |
| | CLUB HISTORY CANTERBURY PARK TROTTING CLUB |

CPTC Centennial History

February - Mr H Reynolds resigned as starter for the CPTC after 20 years.

March - The Club advertised for a new starter at £15/15/- per day. At the same time the Club confirmed salaries for the New Year at: secretary £200 per annum; clerk, £50, and timekeeper, £4/4/- per day.

April - Mr W Norman was appointed the new starter.

May - The death of Club stalwart, Mr C S Howell was recorded. He attended his last meeting as chairman on March 2 and testimony to his frailness can be seen in a very shakey signature on the minutes. A vote of deep appreciation for Mr Howell's services to the Club for 29 years was recorded.
The course caretaker, Mr H Shirley, resigned. A replacement was advertised for at £200 per annum "with provision for the successful applicant to keep a cow and a horse on the property."
The Club formulated a remit to the Conference calling for no two-year-old races to be run further than one mile.
Mr I Coates was appointed caretaker.

June - A letter was sent to the by-products company complaining about the "filthy stench" which affected the Club's meeting on June 4. The matter was placed in the hands of the CPTC's solicitor to take such action deemed "expedient" to prevent a recurrence of the "dreadful stench".

July - Proposed by Mr I A Holmes, seconded Mr I Hembling that the New Brighton & New Zealand Metropolitan Clubs be approached to see if they would give up a date to the Canterbury Park Trotting Club so that it could "carry on its business as usual" instead of being closed down as recommended by the Commission. Because of the gravity of the situation all work at the Sockburn course was stopped, including work on a new road.

August - A deputation of the Club met the Minister of Internal Affair to refute the recommendation of the Racing Commission to close the Club down.
The North Canterbury Jockey Club was given permission to hold its spring meeting on the Plumpton Park course.

October - The club, still fighting its closure, met with the Premier to discuss the matter.
The Club decided to pay out stakes of £6,600 at its two-day New Year Meeting.

Credit: CPTC: Centennial History