| | |
| --- | --- |
| | INTERNATIONAL HISTORY |

The League of Nations is formed.

The Third Afghan War ends.

The atom is spilt when a team at the University of Manchester, led by Ernest Rutherford succeeded usin artificial means.

Prohibition introduced in United States of America.

Alcock and Brown become the first to fly an aeroplane across the Atlantc Ocean.



| | |
| --- | --- |
| | LOCAL HISTORY |

A referendum favours Prohibition - until soldier's votes come in from overseas ans swing the decision against by only 10,365 among more than half a million votes.

Ch-Ch metropolitan population reaches 100,000.

February 1 - NZ's first commercial aviation accident. Chief instructor C M Hill killed in crash of a Canterbury Aviation Company biplane near Riccarton racecourse.

The school dental service was set up.

Credit: Ch-Ch City Libraries


| | |
| --- | --- |
| | RACING HISTORY CANTERBURY PARK TROTTING CLUB |

CPTC Centennial History

June - The salary of the caretaker was increased to £210 a year.

Credit: CPTC Centennial History


| | |
| --- | --- |
| | RACING HISTORY PEOPLE |

JOHN McLENNAN - Horseman

John McLennan, now in his early sixties, trained and rode his first winner, at a Geraldine meeting, before he was 17, and rapidly rose to be one of the best known and successful riders and drivers until he retired from the game about a decade ago. He holds a record of having ridden 70 winners of saddle races run over a mile, five of them on straight-out trotters. At the 1920 Cup meeting at Addington he and F G Holmes each handled six winners, just half the programme between them. At the previous Cup meeting he drove Cello Sydney Wilkes in his four victories, a performance which was another record up to that time.

Cello Sydney Wilkes was a pony stallion by Harold Dillon from Cremona Wilkes, bred and owned by Mrs T L Morrison at Balclutha, and who afterwards lived at Waimate. He commenced his racing career as a two-year-old in the 1914-15 season at Ashburton. During that season he won the Amateur Handicap in 2m 21s and was driven by H B Hubbard. He was lightly raced until six years old (did not start at all at four years), and in the 1919-20 season scored his record at Addington by winning the Riccarton Handicap, 13f from 7 sec mark in 3m 42 1/5 on the first day,



















b



Credit: W A Saunders writing in Pillars of Harness Horsedom


| | |
| --- | --- |
| | RACING HISTORY HORSES |

BONNY LOGAN

BONNY LOGAN(1919 Logan Pointer/Bonilene) USA family of Black Betty; 2:09.8; $14,514; 14 wins; nine live foals, eight winners. Breeders: F Holmes and W H Norton, Christchurch and breeders of all foals except Captain Morant, Bonny Bridge, Admiration, Bashful - Miss P Norton.

Bonny Logan's sire like Belle Logan was Logan Pointer, her dam Bonilene was also imported and the founding mare of a very successful family. From relatively obscure sire and broodmare sires, Bonilene's pedigree included infusions of leading American stallions: Baron Wilkes, Nutwood and Charles Derby, Steinway leading back to Hambletonian 10 through George Wilkes and Strathmore. The family of Black Betty faded out in North America but prospered in New Zealand through a number of her daughters(Bon Rey, Bonny Drusus, Bonny Norval, St Helena) led by Bonny Logan.

Notable descendants tracing back to Bonilene include her greatest performer in double millionaire and three time Australian Harness Horse of the Year/ Grand Circuit Pacing champion Westburn Grant(NZ/VIC/NSW Derbies, Golden Nugget, two Miracle Miles, Truer Memorial, QLD C/S, 2 SA Cups, Harold Park Cup, Aust Pacing C/S, Two WA Cups, ID Ht/Final), NZ Cup winners Adorian & Lookaway, top race mares Hyperstat(VSS-3f/4m) and Gina Rosa(NZ Oaks, Nevele R Fillies, NZ Breeders Stakes, dam of Allstar Blue Jean), Shattering Class($810k) plus fastest performers in Allstar Blue Jean(1:48.4US), Georgetown(1:50.0US) and Hillside Joe(1:52.0Aus).

Racing for 10 seasons from two till 11 years old, Bonny Logan was a very good class race mare. At two(1921/2), she won at New Brighton and was placed fourth in Sapling Stakes. Her three-year-old career included five victories(New Brighton, Alexandra Park, Addington, Forbury Park & Canterbury Park) and second placings in both NZ and GN Derbies(stakes of £1,608). Just the one solitary win as a four-year-old at Addington(Craven Hcp) and as a five-year-old in 1924/25 season in the New Brighton club's Telegraph Hcp. Bonny Logan's three six-year-old successes all came at Addington beginning with an early season feature, Lightning, Royal and Telegraph Hcps. Victories as a seven-year-old came in the High Class and Hagley Hcps, both at Addington. Bonny Logan's sole win as an eight-year-old was in the Henry Mace Memorial at Addington. She raced for a further three seasons(nine- to eleven-year-old) but recorded no further wins, just several placings before moving to the breeding paddock.

Bonny Logan's progeny included many top performers on the track and in the breeding barn. Admiration's deeds will be more fully reviewed in a future article where she is one of our classic-producing mares. She was a winner of Timaru Nursery as a two-year-old(three wins). Bashful(Grattan Loyal) was unraced but proved a prolific and successful breeder. Included amongst her progeny were Cup class performers:

1. Damian - AK Cup, ID heat and his full brother
2. Diamond Hanover - ID heat, Ashburton Flying Stakes
3. Guiseppe - GN Derby, ID heat; minor sire, dam sire of Rundale(SA Trotters Derby).
Note: Damian, Diamond Hanover, Guiseppe all started in 1961 ID Grand Final at Addington. (Bashful only mare to achieve this feat).
4. Torrent - Easter Cup, ID Consolation; dam of Amaze(NZ Derby), Elite Del(dam of Cavaliere Servente, Sossy - Hannon Memorial, Ch-Ch Airport Travelodge FFA), Our Flawless(descendants include Step Outside, NSWSS 3f), Prima Vance(grand-dam of Grenadier - Junior FFA), Nursemaid - (Southland Oaks), Surge(grand-dam of Misjudge-Sapling, Woodlea Life - Delightful Lady Classic - 2f) as well as Bashful Hanover, unraced sire of 88 winners in Australia including Run Joe Run(NSW/Qld/Aus Derbies), dam-sire of Executioner(NSWSS - 3c) and Shy Songster, winner and sire of 63 winners in Australia. Other progeny included Firth(unplaced in eight two to three-year-old starts) who bred on with descendants including One Way Traffic(NZ C/S-2); and Kai Tere, non winning mare whose descendants include Hashed World(several provincial Cups).

Another filly in Coquette(Grattan Loyal), a winner of eight races including National Cup Hcp, left the very good winners and sires in:

1. Adorian - from Springfield Globe's first crop, was the winner of 12 races including NZ Cup, National and Louisson Hcps, 2nd in NZFFA, sire of 50 winners and dam-sire of New Law(NZ Derby), Swift Princess(NZ Oaks).
2. Forward - leading juvenile pacer, winner of eight races including Welcome/Sapling Stakes; sire of 83 winners including Avante(Ashburton Cup), Bambi, Le Char, Max Brydon, Pancho Boy and dam-sire of Ascot Arrow(Rosso Antico Stakes), Bad Luck(Kaikoura Cup, Ashburton Flying Stakes), Cinimod Junior(TVNZ Mile), Precious Sally(GN Oaks), Watbro(Hannon Memorial).
3. Morano - winner of nine races including Timaru Nursery and Metropolitan Challenge Stakes; sire of 102 winners including Courtier(Welcome Stakes, Timaru Nursery), Diarac(Hannon Memorial, Ashburton Flying stakes), Have Care(NZ Oaks), Humphrey(NZ/Kaikoura Cups), Manaroa(Kaikoura Cup, six ID heats, 2nd ID G/F, Marius (BPTC/Ordeal Cups, Trotting C/S),Martinigue(Kaikoura Cup), Sam Carter(Sapling stakes), Semioh(Welcome Stakes) and dam-sire of Barbara Del(Welcome Stakes), Captain Harcourt(GN Derby, AK/Easter Cups,ID Consolation), Michele Bromac(Kaikoura Cup, Junior FFA), Micron(Kaikora Cup), Morano Magic(Golden Nugget, Palestine(two Hannon Memorials, Kaikoura Cup, ID Consolation, Matson FFA), Royal Lopez(Sapling Stakes), Saucy Star(ID Consolation), Shalimar(NZ Oaks, Tonton Macoute(Messenger).
4. Vigilant(gelding)- Welcome Stakes.

Safety Pin(Rey De Oro) was a winner eight times including the Armstrong Memorial at Trentham in 1944(Hutt Park was requisitioned by military during WWII: Sept 1942 - February 1946 meetings). She bred on leaving a number of winners including Secure(Otahuhu Cup, sire of Safe Return, Kaikoura Cup, ID Consolation) and was grand-dam of good trotter Forward March.

Captain Morant(Rey De Oro) proved a good youngster winning Sapling and Champion Stakes amongst five age group races as a two-, three- and four-year-old.

Bonny Logan also left a number of good sires in:

1. Bayard(Frank Worthy) - good winner of 11 races(placed2nd/4th AK Cup and 3rd NZ Cup) and sire exported to Australia in 1945, he stood mainly in SA but had his last season in NSW. He sired 57 winners, being dam-sire of Mercedes(good class Perth pacer), Simpsonic(VIC Sapling), Weezy Anna(SA Oaks)
2. Gaillard(Rey de Oro) - winner of five races and sire of 63(five Aust), dam-sire of Great Adios(NZ Cu/FFA, Easter Cup), Petite Yvonne(ID heat), Portree(WA Cup), Sibelia(Hunter Cup), Smoko(VIC Derby).
3. Bonny Bridge(Grattan Loyal) - winner of NZ Derby and two other races, sire of winners in Tasmania including Young Noddy(Tas Derby) and dam-sire of Wendy Dawn(NZ Oaks).

Prosecutor(Rey de Oro), a 2:50.0 pacer also won three races for his dam Bonny Logan.


Credit: Peter Craig writing in Harnessed Dec 2014


| | |
| --- | --- |
| | RACING HISTORY HORSES |

ACRON - Enigma

Few horses in the nearly 100 years since have had careers hitting the highs and lows of Acron. When he was handed over by his breeder to trainer Ben Jarden as an early juvenile, he drove him a few times and was so dazzled he went and found a wealthy Australian partner to help buy him. Before he turned three J R McKenzie paid a sensational £2000($4000) for him, TWICE the price of any previous Standardbred sale in New Zealand. By comparison he bought his best horse Great Bingen, the stakes winning record holder in NZ for over 20 years, when he was up and running for just £400($800).

When he was a 3yo Acron won both Derby classics. When he was a 4yo he should have been the first of that age to win a NZ Cup(1923) instead of running second, though to be fair driver Jack Kennerley had to take some of the blame for getting trapped on the fence. The nexy year he won the one mile NZ Free-For-All in 2:03.6 which was still standing as an Australasian record when the horse died in 1935. Nobody of that era ever doubted that Acron could have been our first minute pacer.

But Acron was also one of the most infuriating horses to ever step on a track. In the end he wore out his welcome. Two years before his death, having failed as a sire, he went through a Christchurch sale ring for 20 guineas(about $50) to a South Canterbury home.

Acron could be ornery. He broke hopelessly when the favourite for the 1924 Cup but won the Free-For-All(a move up start) brilliantly. In the 1925 Cup, after some brilliant trials he missed away and was a distant third even though they tried to outthink him by putting Artie Butterfield in the cart. But then he beat reigning champion Great Bingen with ease over a mile in the Free-For-All.

In the 1926 Cup they slipped Bill Tomkinson in the cart hoping to outthink the horse but without a result. In 1927, after being transferred to the James Bryce stable in the hope of finally winning a Cup for Roydon Lodge, he tutned in two terrible races at Greymouth beforehand, produced a blistering final Cup trial and then failed completely on the day.

That was Acron, one of the few horses to defeat the famous trainer Jack Kennerley. The owner and the stewards haunted Kennerley over form reversals always seeking an explanation for what Kennerley knew there was no rational reason. The only one to know when Acron was going to turn it on was Acron.

Credit: David McCarthy writing in Harnessed July 2016


| | |
| --- | --- |
| | RACING HISTORY FEATURE RACE COMMENT |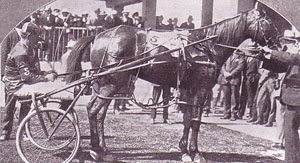 Trix Pointer & Free Holmes in the winner's circle

1919 NEW ZEALAND TROTTING CUP

Trix Pointer, selected and imported from America in 1915 by legendary horseman Free Holmes along with Bonilene and Logan Pointer, furthered the fine record of mares when she outstayed the pacemaking Moneymaker.

Not very big and not particularly pretty either, Trix Pointer is the only mare to win the Cup and leave a Cup winner (Wrackler,1930), and in fact established one of the best families in the Stud Book. She was a grandaughter of Charles Derby, the sire of Norice.

It completed a unique double for Holmes, who had ridden Manton to win the Cup at Riccarton in 1888, and who established a famous family all of his own.

**Credit: NZ HRWeekly 1Oct2003**

On a beautiful day and before a record crowd, the small six-year-old American-bred mare Trix Pointer, in the hands of Free Holmes, won the 1919 Cup in convincing style, by three lengths from Moneymaker (Andy Pringle), with four lengths back to Matchlight (James Bryce). Then followed Sherwood, Erin's Queen and Mintson. The winner, who was fifth favourite, paced 4:30 for the two miles.

Holmes bought Trix Pointer from her Californian breeder for a client of his Upper Riccarton stable, W H Norton, during one of his trips to the United States, and she proved to be a most consistent mare. With her Cup victory, Trix Pointer advanced her New Zealand earnings to £4399 15s from 11 wins, 11 seconds and seven thirds.

Trix Pointer was by Demonio from Bally Pointer. Demonio was by Charles Derby, the sire of Norice, who ran second to Monte Carlo in the inaugural NZ Cup.

After he retired from race driving in 1944, Free Holmes named Trix Pointer the best horse he trained and drove. After her racing days, Trix Pointer made a unique contribution at stud. To the imported Wrack she produced Wrackler, who won the 1930 NZ Cup and the 1932 Dominion Handicap. Of all the fine mares who have won Addington's big race, Trix Pointer is the only one to have later produced a Cup winner. Among the stallions, only Cathedral Chimes (Ahuriri and Kohara), Johnny Globe (Lordship, Spry and Globe Bay) and Lordship (Lord Module and Inky Lord) have produced Cup-winning offspring.

Holmes had Trix Pointer, off her handicap of six seconds, in fourth place from the start and never far away from the tearaway pacemaker Moneymaker, who started from nine seconds. Moneymaker and Erin's Queen were first into the straight followed by Trix Pointer, and under the whip she quickly gathered in the leaders.

Andy Pringle had Moneymaker in front by six lengths passing the stands for the first time and still had that advantage starting the last lap. However, as in so many of his distance races at Addington, Moneymaker failed at the business end. Matchlight, from two seconds, ran the best of the back contingent, finishing well for third. Sherwood ran a solid race for fourth, while Erin's Queen, always well up, ruined her chance for a place by losing her stride at the furlong post.

The disappointment of the race was the favourite, Author Dillon, who finished well back. In a field of 11, Author Dillon was asked to give a nine-second start to those in front. He did not get away well and was never near the leaders. In the back straight the last time he momentarily left his feet as he tried to improve. Before the race his trackwork had been excellent and, in September, when the club held a meeting to honour the visit of Viscount Jellicoe, he paced a record 2:41.4 for the mile-and-a-quarter.

Author Dillon made amends for his weak Cup performance by winning the Free-For-All on the second day. After two false starts in the race, Albert Cling, who failed to get up to the mark, was left when Author Dillon and the only two other starters, Cathedral Chimes and Admiral Wood, moved away from their flying start. Author Dillon, always in front, won by a length from Cathedral Chimes, with the other two coming in at 12-length intervals.

Trix Pointer was the season's top earner with £2635 and her owner, Bill Norton, was the season's leading owner, with £3135. Free Holmes finished the season with 16 winning drives and in fifth place. He had 22 training successes to be runner-up behind James Bryce. Only once in his long career did Free Holmes finish on top of these lists, when he trained 19 winners during the 1922-23 season.

His victory with Trix Pointer created a unique record for Holmes. In 1888, as a successful jockey, he had ridden Manton to victory in the New Zealand Galloping Cup at Riccarton. Before becoming interested in trotting, Holmes had been first a jockey, and then a trainer of thoroughbreds, and he was without doubt one of the great personalities of the racing scene in the last decades of the 19th century and the early decades of the 20th century. His other successes as a jockey included the Canterbury Cup, Grand National Hurdles and Great Northern Steeplechase. As a trainer, his successes included the New Zealand St Leger and Auckland Cup. Holmes' achievement of winning both New Zealand Cups was later equalled by Roy Berry, who rode Sinapis to victory in the 1913 New Zealand Cup at Riccarton, then trained and drove double winner Lucky Jack (1937 and 1939) and trained Bronze Eagle (1944) to NZ Cup victories.

In 1915 Holmes made his first trip to the United States, seeking new strains of blood, and bought Logan Pointer, Bonilene and Trix Pointer. In 1922 he made another trip and bought Rey de Oro, and in 1930 he returned with Grattan Loyal and Frank Worthy. The impact on these imports on the New Zealand breeding scene has been immeasurable.

Holmes had few peers as a trainer, owner and studmaster. His ability and expertise was obviously passed down to his three sons - F G, Allan and Maurice - all of whom were associated with NZ Cup victories. The family enjoyed seven Cup victories, with Trix Pointer(1919), Wrackler(1930), Harold Logan(1932), Gold Bar(1945), Chamfer(1950), Adorian(1953) and Lookaway(1957). Quite an achievement.

The Metropolitan Club offered record stakes of 11,000 sovereigns for the 1919 meeting. The big crowd on Cup Day wagered a record £76,291, and the amount invested on the Cup race itself, of £16,147 was a record amount for either a harness or galloping race in New Zealand. The 1919 meeting was a staggering success, with Show Day betting reaching £83,684 10s and an unsurpassed £218,723 for the three days.

The meeting had other highlights, with slow class pacer Cappricio and Cello Sydney Wilkes winning half the second-day programme between them. Cappricio won the Metropolitan Handicap over one-mile-and-five-furlongs in harness, and then later in the day won the Railway Handicap in saddle. Eugene McDermott handled him both times.

Cello Sydney Wilkes won the main event, the Courtenay Handicap, and then the Royal Handicap. On the first day he had also won, and on each occasion the Harold Dillon stallion paid generous dividends. When he won the Christchurch Handicap on the third day, Cello Sydney Wilkes and his trainer-driver John McLennan carved their place in Addington's history, the horse becoming the first of only five to win four races at the November carnival. The feat has been equalled since by Red Shadow(1933), Cardigan Bay(1963), trotter Tutira(1969) and Gentle George(1978). John McLennan had an outstanding meeting, driving six winners.

**Credit: Bernie Wood writing in The Cup 2003**

Credit: NZ HRWeekly 1Oct03


| | |
| --- | --- |
| | RACING HISTORY FEATURE RACE COMMENT |

Mushroom trotted very evenly right through the Spring Handicap, the opening event, of the Metropolitan meeting, and with Miss Salisbury breaking 100 yards from home, he won by a length.

Granger went before his bell in the Empire and was called off, and Frost, his rider, fined a tenner. He only wanted to go two seconds before his time, which was a bit over the odds.

Ouimet, when out in front in the Empire, broke badly, and settled what looked like a fair chance of success.

Schnapps trotted very solidly and beat Dillon Eddy by over a length in the Empire Handicap. The little fellow
was beatifully handled by E. McDermott.

Moneymaker began very quickly in the Trotting Cup, and always had a good break on his field till the last furlong, when Trix Pointer ran past him and won very easy.

John Dillon broke up at the start, and took no part in the Cup. Author Dillon seemed as if Jarden had got to the bottom of him, as at no part of the Cup did he ever flatter his large army of supporters, and was well beaten a mile from home. It should be mentioned he left 1 2-5s after his time. Matchlight appeared very sore in his preliminary, but it wore off, and he gave a real good showing, finishing third.


'Cello Sydney Wilkes and Dean Dillon showed a lot of pace in the last round of the Riccarton Handicap, and cleared out from the field, finishing in that order.
Admiral Wood plugged away, and passing a lot of tired horses, got the 40sovs for third in the Riccarton Handicap.

Beeswing, who went off at a great bat, put a big break on the field in the Middleton Handicap, but broke up badly at the five furlong post and was not prominent again. Imperial Crown stayed on well and beat Lady Patricia over the concluding stages of the Middleton Handicap.

Norah Creina and Capriccio stood on the mark, and took no part in the Victoria Handicap. Brown's Nugget showed a lot of pace in the middle stages of the Victoria Handicap, but failed to see it out. Dandy Chimes finished fast, and won the Victoria Handicap in good style. Gleaming trotted solidly all through the Victoria Handicap.

Birdwood dashed away, quickly at the start of the St. Alban's Handicap, and had the race won at the first quarter. He failed badly in his next essay.

Ivan Huon and Craibwood cleared out from the field over the last six furlongs of the Whiteleigh Handicap, and Orange, riding a very confident race on the former, won nicely. The judge could have had his lunch before Grattan Chimes arrived to gather the £25 for third m the Whiteleigh Handicap.

Granger was a hot order for the November, but never looked like assisting the punters to get their money back, as he could not get near the front at any part of the race. Harold Child, when looked to have the November Handicap won, stopped to a walk over the last few yards, and Acushla Machree just grabbed the big end of the purse. Rumor says the win was not anticipated by Owner John Farrell.

'Cello Sydney Wilkes had the Courtenay' Handicap well won a long way from home, and his driver took things leisurely in the straight. Emilius was very sore, and never had a winning show in the Courtenay Handicap.

Asturlo did not leave to his bell. He went a little way with the back markers, but then turned it up altogether. Cappricio just beat Gleaming over the last bit In the Metropolitan Handicap. Rorke's Drift trotted a fair race in the Metropolitan, and easing up Norah Creina, beat him for fourth place.

They went fairly fast in the Free for All — first quarter 32 2-5s, 1/2 mile 1.55, 3/4 mile 1.38 3-5s, mile 2.11 2-5s, 1 1/4 mile 2.44 4-5s. Author Dillon got a great reception on returning to the bird-cage after just outing Cathedral Chimes.

Paul Huon trotted a good race in the Sockburn, but Reta Peter was all too good, and beat him very comfortably over all the concluding stages.

Xavier, who did not leave the mark in the November Handicap, left smartly in the Railway Handicap, and
was in the picture till the last stride, heads only separating Cappricio, Pitaroa and him. Had Pitaroa not got knocked back near the tanks, there would have been no doubt about the result. Bob Reid, the Dunedin jockey who rode Pitaroa, got right through on the fence, and 'thought he' had won.

Miss Salisbury made a one-horse race of the Governor's Handicap, and carved a decent bit off her time. Billy Parole made a bad skip when he appeared to be going very well in the Governor's Handicap. Brown's Nugget had the Lyttelton Handicap well won when they had gone half-a-mile, and he never looked like being beaten.

'Cello Sydney Wilkes won the Christchurch Handicap (his fourth win at the meeting) just as easily as he did his other races. Handicapper Brinkman assessed him as the equal of Author Dillon in the last race. Emilius was very sore behind after the Christchurch Handicap, and did well to get third, just touching Erin's Queen off. The latter did not shape as well as she did in the Cup.

Granger was heavily supported for the Australasian Saddle Handicap, but he never got near the front division. Pitaroa, well-ridden by young Bob Reid, headed Silver Nut six furlongs from home in the Australasian Trot, and never putting a foot wrong, won nicely. His rider has a good idea of the game, and should get plenty of mounts.

Whist trotted solidly right through the Dominion Trotting Handicap, and won well over the last furlong. His success would get his owner square over a bad meeting. Gleaming had the Hornby Handicap won three furlongs from home. There was big money on the course to say he would win. General Link won the Enfield Handicap very easily. Like a lot of other winners he had J. McLellan on the bridge.

John Dillon showed a great burst of speed in the Recovery Handicap, but just failed to stall off a strong late run from Don Caesar. When Pitaroa got second place in the Enfield he put up 2.11 3-5s. This will be the end of the smallest horse m the Dominion for some time.

Xavier (A. Pringle) began very smartly in the Enfield Handicap, but he broke up badly in the straight. The big "skulls" thought Trix Pointer unbeatable in the concluding event, but she could not get up to John Dillon and Don Caesar, both of whom trotted well.

The conditions at Addington last week were well nigh unbearable, and it is high time the management studied the comfort of totalisator investors and put some sand and tar down to lay the dust. This should be done both inside and out. The cost would be a mere trifle to the comfort it would give the investing public.


Credit: 'Silenus' writing in NZ Truth 22 Nov 1919


| | |
| --- | --- |
| | RACING HISTORY FEATURE RACE COMMENT |

1919 SPRING MEETING: 11 NOVEMBER

The popularity of trotting has never been more strikingly illustrated in Canterbury than it was yesterday, when the New Zealand Metropolitan Trotting Club's Spring Meeting opened at Addington.

This fixtiure, at which £11,000 will be distributed in stakes during the three days, is easily the most important trotting Meeting of the year in Australasia, and the attendance yesterday must have been of record dimensions. There were visitors present from all parts of the Dominion, among them being his Excellency the Governor-General and the Countess of Liverpool, who took a very keen interest in the racing.

The weather was beautifully fine, but an easterly breeze made itself felt during the afternoon, and it was largely responsible for the dust that was flying on the track during the running of the earlier races. The racing track was in good order, but not quite so fast as it has been on other occasions, and there is nothing very striking about the times registered during the day.

There is no better equipped trotting ground in the Dominion than that at Addington, but large as are the stands there, they were quite inadequate to cope with the huge attendance, and if the crowds increase as they have done in recent years, the officers of the club will find it a very difficult task to provide sufficient accommodation for them. The grounds generally have never looked better, the well-kept lawns and bright flower-beds giving evidence of careful attention.

With such a large attendance, it was not surprising to find a record sum put through the totalisator, the investments for the day amounting to £76,291, the largest yet recorded at a trotting Meeting in New Zealand, as compared with £52,091 10s on the corresponding day last year. The investments on the New Zealand Trotting Cup were £16,147 10s which is a record for any single event, either trotting or racing in the Dominion. The management of the Meeting was of the usual high standard characteristic of gatherings at Addington, and it was unfortunate that an enquiry after the last race, resulting in the disqualification of the first horse, should have prolonged the proceedings.

The opening event, the Spring Handicap, a saddle race, over a mile and five furlongs, for unhoppled trotters, found Succory made a solid favourite, with Lord Roanchild next in demand. Succory began well, but did not go kindly, and a bad break lost him his place, and he could do no better than finish fourth. Miss Salisbury, who was third favourite, was always in a good position, but at the finish she was outstayed by Mushroom, one of the outsiders of the field, who paid a very substantial dividend. Colonel Havelock, as usual, was running on well at the finish, and finished third.

Schnapps was very solidly backed for the Empire Handicap, a two-mile event, in saddle, and he proved that his supporters' confidence was justified, for he paced solidly throughout, and, staying on well, won nicely from Dillon Eddy, with Will o' the Wisp close up third. Ouimet showed a lot of speed for over a mile and a half, but then left his feet, and was beaten into fifth place.

With these events decided, attention was centred on the New Zealand Trotting Cup, which with its stake of 2500 sovs, in addition to the silver cup presented by the president of the Club, the Hon C Louisson, is the most valuable trotting race of the year in Australasia. Practically ever since the nominations were taken Author Dillon had been favourite, and he retained his position in the betting right up to the start of the race, though Moneymaker was nearly as well backed on the machine. Matchlight, whose form last season was very consistent, was third in demand, and then came Albert Cling, Trix Pointer and Sherwood. They were a very well trained lot, and their prelininaries were closely watched.

The start was a very good one, but John Dillon, who was bracketed with Author Dillon, lost his chance immediately by failing to strike a gait, and took no part in the race. Moneymaker, always a good beginner, was quickly into his stride, and soon established a useful lead, but, as he has so often done at Addington, tired over the final stages and could not respond to the strong challenge thrown out by Trix Pointer, who won in convincing style. The winner, who is an American-bred mare, has been a very consistent performer since she first appeared on the track in New Zealand. She is on the small side, but thoughly genuine, and was driven a very well judged race by her trainer, F Holmes, who, it may be mentioned, purchased her on his last visit to America.

Erin's Queen rather surprised the public by her excellent showing, and it was not until she broke a furlong from home that she lost her chance of a place. Matchlight paced a good race, but Author Dillon's performance was very disappointing. He showed no dash at any stage of the race, and though he raced up to Matchlight he could not pass Bryce's representative and finished a good way back. Albert Cling was never really dangerous, and Agathos broke badly.

After the race the handsome silver cup attached to it was presented to Mr W H Norton by Lady Liverpool. In returning thanks Mr Norton said that it was one of the proudest moments of his life to be the owner of the winner of the New Zealand Trotting Cup. He did not deserve that position altogether, as his trainer, F Holmes, was really responsible for the win. He simply occupied the limelight as the owner, but Mr Holmes was the man who brought the horse to the condition to enable her to win. He thanked the president of the club for presenting the cup to the winner of the biggest trotting race in New Zealand.

The Riccarton Handicap was an interesting race between the placed horses, but in the final stages Cello Sydney Wilkes had no trouble in stalling off Dean Dillon's challenge, Admiral Wood finished strongly and took third place from Rorke's Drift, who had been responsible for much of the early running.

Olive L who was made favourite for the Middleton Handicap, a two-mile harness race for unhoppled trotters, did not go very kindly, and made three bad mistakes which probably cost her the race. Lady Patricia trotted very steadily, but Imperial Crown outstayed her at the finish, registering a very good performance. Beeswing, on the limit, went off with a big lead, but broke badly before going half a mile.

The Victoria Handicap was a very interesting race. Legacy led most of the way, but failed to see the journey out, and Dandy Chimes, well driven by J Bryce, beat him home. Jack Arrah did not get a good run, but showed a lot of speed. Capriccio and Nora Creina were left at the post.

The St Albans Handicap was not a very exciting affair, for Birdwood, who has so often disappointed his connections, was on this occasion on his best behaviour, and beginning smartly led throughout, and won easily from All Bell.

The Hagley Handicap, which brought the day's racing to a close, was a very solid betting race. Capriccio was a pronounced favourite with Pitaroa, Child and Sashwood well backed. Capriccio left the mark smartly, and though she broke six furlongs from home, she lost no ground and maintained her lead. In the straight she broke again, and galloped past the post, followed by Chid, Makomako and Pitaroa. The stewards were immediately called together, and after consideration disqualified Capriccio under Rule 293, which reads: "When any horse breaks from his gait, the rider or driver shall immediately pull him to the gait at which he was to go the race, and if any rider or driver shall fail to comply with this requirement the horse he is riding or driving, if it is placed, shall be disqualified for the race, and the rider or driver may be fined any sum not exceeding £20, or be suspended or disqualified for any term." The race was consequently awarded to Chid, with Makomako second and Pitaroa third. Details of the races are:-

SPRING HANDICAP (in saddle) of 250 sovs; second 50, third 25. For unhoppled trotters only. 4.2 class. One mile and five furlongs.

E Berry's b g Mushroom by Young Governor colt, aged, 5sec, Owner 1.
W Orange's b m Miss Salisbury, aged, 8sec, Owner 2
C Davey's ch g Colonel Havelock, aged, 7sec, H Gaskill 3

Lord Roanchild scr, Balnamoan 3sec, Treasure Seeker 5sec, Ben Bell 6sec, Chub 7sec, Te Kuiti 7sec, Marvin Junr 8sec, Miss Lorna 9sec, Tonight 10sec, Succory 10sec, Jessie's Dream 10sec, Pieter Timmerman 10sec, Rita Rose 10sec and Dragoon Junr 10sec also started.

Dragoon Junr failed to get away at the start, and Succory led from Jessie's Dream, Rita Rose and Miss Salisbury. Passing the stand the second time Te Kuiti and Succory led and Lord Roanchild improved his position. Going down the back Mushroom went to the front and with Miss Salisbury led into the straight. The latter broke one hundred yards from the post, and Mushroom won by half a length. Colonel Havelock was six lengths away third, followed by Succory and Lord Roanchild. Times - 3m 52 1/5s; 3m 55 2/5s; 3m 57 3/5s.

EMPIRE HANDICAP (in saddle) of 250 sovs; second 50, third 25. 4.48 class. Two miles.

E G McCullough's b g Schnapps by Tom Sayers, aged, 5sec, E McDermott 1.
W Eddy's b g Dillon Eddy, 6yrs, 6sec D Bennett 2.
Mr Meorut's b g Will o' the Wisp, 6yrs, 8sec, A Butterfield 3.

Granger scr, Silver Nut 5sec, Mahinga 6sec, The Whip 8sec, Blue Chimes 8sec, Lady Wayward 8sec, Ouimet 8sec, Irvingwood 9sec and Calton 9sec also started.

Ouimet and Will o' the Wisp were quickest to strike a gait and the pair led round the top turn and going past the stand the order was Ouimet, Will o' the Wisp, Calton and Silver Nut, while Granger was called off for starting before his time. The second round was run in the same order, excepting that Schnapps considerably improved his position and Dillon Eddy was pacing seadily in fifth place. At the tanks Ouimet broke and lost his position, and by the time the straight was reached Schnapps had drawn level with Calton, who at once went to a break. Dillon Eddy finished fast, but Schnapps held his own and won by a length with Will o' the Wisp half a dozen lengths away. Calton was fourth and Ouimet fifth. Times - 4m 42s;4m 43 2/5s; 4m 49s.

NEW ZEALAND CUP HANDICAP (in harness) of 2500 sovs, and silver cup Presented by Hon C Louisson; second 500, third 300, fourth 200. 4.33 class. Two miles.

W H Norton's b m Trix Pointer by Demonio-Bally Pointer, 6yrs, 6sec, F Holmes 1.
J G S Holmes's b g Moneymaker, aged, 9sec, A Pringle 2.
Cross Bros & J Bryce's b h Matchlight, aged, 2sec, J Bryce 3.
S G Lemon's br g Sherwood, aged, 6sec, N L Price 4.

Exors J Knight's b h Author Dillon, aged, scr, B Jarden
N Green's br g Albert Cling, 6yrs, 5sec, A Hendricksen
A R Edgerton's br g Don Caesar, aged, 6sec, A Butterfield
C Channing's br g Agathos, aged, 6sec, J Cockerill
J D Parker's ch m Erin's Queen, aged, 8sec, A Fleming
F H Robson's b h Mintson,aged, 9sec, A G Wilson

John Dillon broke up at the start and was pulled up; his stable mate, Author Dillon, was travelling fast, but did not get away quite up to his bell, and Agathos skipped at the tanks. Moneymaker went off at a very solid pace and quickly established a considerable break on Mintson and Erin's Queen, and a six lengths gap separated this pair from Trix Pointer and Sherwood. Passing the stand the first time Moneymaker had a six lengths lead on Erin's Queen and Mintson, with Trix Pointer following. At this stage Author Dillon had closed on several of the field, but had made no impression on the leaders. Going down the back stretch the order was the same, but at this stage Albert Cling was pacing very solidly, and Author Dillon appeared to be picking up ground. Agathos again broke, and was not persevered with.
On commencing the final round Moneymaker led Erin's Queen by six lengths while Trix Pointer was in third position, followed by Don Caesar and Sherwood, who were pacing well and Mintson. Going down the back Erin's Queen raced up to Moneymaker, and Author Dillon, who was well beaten, left his feet momentarity. Erin's Queen and Moneymaker led into the straight, followed by Trix Pointer, who was hitting out in great style. Half-way down the running both the leaders were under the whip and Trix Pointer, staying on beautifully and pacing fautlessly, gathered them both and won a well-judged race by close on three lengths from Moneymaker, while Matchlight, staying on well defeated Sherwood by four lengths. Erin's Queen who broke in the straight was fifth, Mintson sixth and the rest pulling up. Times - 4m 30s; 4m 33 4/5s; 4m 27 3/5s.

RICCARTON HANDICAP (in harness) of 400 sovs; second 80, third 40. 3.44 class. One mile and five furlongs.

Mrs T L Morrison's b h Cello Sydney Wilkes by Harold Dillon-Cremona Wilkes, aged, 7sec, J McLennan 1.
Wootton & Fleming's b g Dean Dillon, aged, 8sec, A Fleming 2.
W H Norton's br h Admiral Wood, aged, 2sec, J Bryce 3.

Tommy C 4sec, Cora Dillon 5sec, Huon Patch 6sec, Hannah M 7sec, Nancy Stair 7sec, Bundura 8sec, Star Queen 9sec, Rorke's Drift 9sec and Captain Stanley 9sec also started.

Captain Stanley and Huon Patch refused to go, and Rorke's Drift at once went away with several lengths lead of Star Queen, Dean Dillon, Bundura and Cello Sydney Wilkes. This order was maintained all through the first round, but going down the back Cello Sydney Wilkes and Dean Dillon went away from the others. In the straight Cello Sydney Wilkes easily held his own, and won nicely by two lengths, with the third horse six lengths away. Rorke's Drift was fourth and Bundura fifth. Times - 3m 42 1/5s; 3m 43 4/5s: 3m 39s.

MIDDLETON HANDICAP (in harness) of 300 sovs; second 60, third 30. 4.48 class. For unhoppled trotters only. Two miles.

N L Price's b h Imperial Crown by Rothschild-Imperious mare, aged, 7sec, Owner 1.
W L Moir's br m Lady Patricia, aged, 10sec, A Fleming 2.
A Smith's b g King Capitalist, aged, 4sec, H Barraclough 3.

Red Heather 3sec, Whisht 4sec, Olive L 6sec, Gay Wilkes 7sec, Electrocute 7sec, Paul Huon 9sec and Beeswing 11sec also started.

Beeswing went off at a great pace, and soon had a big lead from Lady Patricia. The leader broke in the straight and lost all chances of winning, and Olive L also went very unsteadily. Imperial Crown and Lady Patricia carried on the running practically all the way, with Beeswing in third place. Imperial Crown stayed the better, and beat Lady Patricia by three lengths, while King Capitalist finished fast and beat Olive L by a length. Paul Huon was fifth. Times - 4m 42 3/5s; 4m 46 1/5s; 4m 41s.

VICTORIA HANDICAP (in harness) of 400 sovs; second 80, third 40. 4,41 class. Two miles.

W B Masham's br g Dandy Chimes by Four Chimes-Kentucky mare, aged, 4sec, J Bryce 1.
R McLeod's b g Legacy, 6yrs, 4sec, R Logan 2.
R J Stone's ch g Gleaming, 5yrs, 4sec W Warren, 3.

Sympathy scr, Capriccio scr, Jack Arrah 1sec, Norah Creina 1sec, Reta Peter 1sec, Brown's Nugget 2sec, Sir Fulham 3sec and George Hard 4sec also started.

Norah Creina and Capriccio stopped on the mark and took no part in the race. Legacy and Sir Fulham at once went off in the lead, with Gleaming, George Hard and Jack Arrah following in that order. These positions were maintained for a circuit when Brown's Nugget, with Legacy drew out from the rest. The latter broke, and Dandy Chimes improved his position. Legacy led into the straight, but Dandy Chimes came with a good run and won by two lengths, Gleaming, six lengths away, just beating Reta Peter. Jack Arrah was fifth. Times - 4m 41 2/5s; 4m 41 4/5s; 4m 42s.

ST ALBANS HANDICAP (in saddle) of 250 sovs; second 50, third 25. 2.18 class. One mile.

J Jarden's blk h Birdwood by Wildwood Jun-Wattle, 6yrs, 5sec, B Jarden 1.
Paton & Fleming's blk g All Bell, 4yrs, 5sec, A Fleming 2.
C North's b m Pleasant Mount, 6yrs, 5sec, J Armstrong 3.

Cora Dillon scr, Ariadne 2sec and King Karri 4sec coupled, Lord Dillon 2sec, Captain Stanley 3sec, Frank Tracey 3sec, Xavier 4sec and Proudspring 4sec also started.

Birdwood hopped out smartly, and leading all the way, won very easily by four lengths. All Bell looked at one stage like beating the winner, but failed to sustain his effort. Pleasant Mount was six lengths further away, followed by Ariadne and King Karri. Times - 2m 15 1/5s; 2m 16 3/5s; 2m 18 4/5s.

HAGLET HANDICAP (in harness) of 300 sovs; second 60, third 30. 2.50 class. One mile and a quarter.

W B Masham's blk g Chid by St Elmo-Lady Brentwood, aged, 4sec, J Bryce 1.
H W Kitchingham's b g Mako Mako, aged, 7sec, W Brown 2.
S Wootton's b g Pitaroa, 5yrs, 7sec, A Fleming 3.
E G McCullough's b m Capriccio, aged, 7sec, E McDermott disq.

Sashwood 4sec, Sungod 4sec, Vice-Admiral 5sec, Tamarisk 6sec, Bundong 6sec and Pax 7sec also started.

Capriccio commenced very smartly and led past the stand from Pitaroa and Tamarisk, with Chid handy. Along the back Capriccio was still in front with Pitaroa, Bundong following and Chid making a fast run. Capriccio led into the straight and appeared to be winning easily. She broke thirty yards from the post and galloped past six lengths in front of Chid. Maka Mako was three lengths away, followed by Pitaroa, Sashwood and Sungod. Times - Chid 2m 45 4/5s; Mako Mako 2m 50s.

After the race the stewards held an enquiry and disqualified Capticcio under Rule293, the race being awarded to Chid, with Mako Mako second and Pitaroa third..

Credit: The Press 12 Nov 1919


| | |
| --- | --- |
| | RACING HISTORY FEATURE RACE COMMENT |

1919 SPRING MEETING: THURSDAY 14 NOVEMBER

Delightful weather favoured the New Zealand Metropolitan Trotting Club for the continuation of its Spring Meeting at Addington, yesterday, and a good day's sport was enjoyed. The attendance of the general public was highly satisfactory, and though the crowd was not nearly so dense as on the opening day, it represented a big increase on the numbers present on the second day in previous years. The track was in excellent order, and the liberal use of the water-carts minimised to a large extent the dust nuisance.

Although backers of favourites did not enjoy a great deal of success, there was evidently plenty of money for speculative purposes, the sum of £58,748 being put through the totalisator. Though this sum falls short of the first day's total, it is a big increase on the investments on the second day last year, when £37,947 10s was put through the machines. The management was all that could be desired, and the arrangements, which were in the hands of Mr A I Rattray, went with a swing from start to finish.

The Stipendiary Stewards had a cpmparatively easy day, and nothing of importance happened to occupy their attention. W Smith, driver of Rearguard was fined £5 for starting before his time in the Metropolitan Handicap, and for a similar breach on Xavier, in the November Handicap, J Bryce junr was fined £10.

The Free-For-All, though contested by a small field, provided a very interesting race, and when Author Dillon flashed past the post a length in front of Cathedral Chimes, he received a great ovation, and the cheering was renewed when the champion returned to the birdcage. Although the Harold Dillon horse had been a bit off colour since running in the New Zealand Cup on Tuesday, he finished in such a manner as to leave little doubt as to his superiority over the other competitors. He was well handled by B Jarden, and throughout the race had a length's advantage of J Bryce's horse. At the entrance to th straight Cathedral Chimes was pacing in a manner that left his admirers quite confident of the result, but, under pressure, Author Dillon showed plenty of pluck, which carried him to victory.

'Cello Sydney Wilkes put up two sterling performances in winning the Courtenay Handicap, of two miles, in 4min 34 1/5th sec, and the Royal Handicap, of one mile and a quarter, in 2min 44sec. In both races the son of Harold Dillon showed speed and stamina, and his exhibitions prove him to be one of the best horses in training at the present time. This marked the third win attained by 'Cello Sydney Wilkes at the meeting, and on each occasion he returned his supporters a sustantial dividend.

Another double winner was the OYM mare Capriccio, who finished first in the Hagley Handicap, of one mile and a quarter, on the opening day, but who was disqualified for galloping. Yesterday she made amends by winning the Metropolitan Handicap in harness, over one mile and five furlongs, and later in the afternoon annexed the Railway Handicap, in saddle. On each occasion E McDermott handled his charge in the most finished manner. Both J McLennan, who drove 'Cello Sydney Wilkes in each of his engagements, and also won on Acushla Machree, and E McDermott, received ovations from the crowd on returning to scale, McDermott's victories in particular being well received.

The Sockburn Handicap provided one of the best races for unhoppled trotters seen at Addington for some time. The different competitors went very steadily, and half a mile from home the race was very open. Reta Peter from scratch registered a very fine performance in winning in the good time of 4min 35 2/5th sec. The Petereta mare made up her ground very steadily and staying on well, she beat Paul Huon, who led for most of the journey. Following are details of the racing:-

WHITELEIGH HANDICAP (in saddle) of 250 sovs; second 50, third 25. For unhoppled trooers only. 4.55 class. Two miles.

H McNaughton's b g Ivan Huon by Black Huon-Nettie, aged, 6sec, W Orange 1.
W C Angus's br Craibwood, aged, 7sec, M Edwards 2.
J D Piper's b m Grattan Chimes, aged, 3sec A Fleming 3.

Balnamoan 2sec, Treasure Seeker 4sec, Billy Parole 5sec, Ben Bell 6sec, Chub 7sec, te Kuiti 7sec, and Marvin Junr 8sec also started.

Craibwood broke soon after the start, and Balnamoan refused to leave the mark. At the stand Ivan Huon was leading, closely followed by Chub, who broke turning into the back stretch. Ivan Huon, Te Kuiti and Grattan Chimes led for a circuit, but going down the back the last time, Craibwood joined Ivan Huon, and the pair went right away from the rest of the field. In the straight Ivan Huon easily held his own, and won by two lengths from Craibwood, with Grattan Chimes twenty lengths away in third place, followed by Chub. Times, 4m 48 2/5s; 4m 49 3/5s; 4m 52 1/5s

NOVEMBER HANDICAP (in saddle) of 275 sovs; second 54 sovs, third 27 sovs. 4.46 class. Two miles.

J Farrell's ch m Acushla Machree by Prince Imperial-Ferns, 6yrs, 6sec, J McLennan 1
J Payne's ch g Harold Child, 6yrs, 6sec, E McDermott 2.
W Eddy's b g Dillon Eddy, 6yrs, 5sec D Bennett 3

Granger scr, Captain Stanley 1sec, Xavier 3sec, Silver Nut 5sec, Mahinga 6sec, Will o' the Wisp 8sec, Irvingwood 8sec and The Whip 8sec also started.

Will o' the Wisp, Silver Nut and Mahinga carried on the running over the first circuit, with Acushla Machree in a handy position. Xavier was called off for anticipating his bell. Will o' the Wisp, Silver Nut, Mahinga and Harold Child comprised the leading division for the next half-mile, but approaching the tanks Acushla Machree improved her position. Harold Child appeared to be winning one hundred yards from the post, but Acushla Machree stayed the better and won by a length, with Dillon Eddy, who finished fast, six lengths away. Will o'the Wisp and Silver Nut were next. Times, 4m 44 1/5s;4m 44 3/5s;4m 44 1/5s.

COURTENAY HANDICAP (in harness) of 600 sovs; second 120 sovs, third 60sovs. 4.36 class. Two miles.

Mrs T L Morrison's b h Cello Sydney Wilkes by Harold Dillon-Cremona Wilkes, aged, 8sec, J McLennan 1
P McNeill's blk g Lord Minto, aged, 9sec, A Butterfield 2.
Edwards & Humphrey's blk g Vice Admiral, 6yrs, 11sec, M Edwards 3.

W H Norton's br h Admiral Wood, aged, 2sec, F Holmes.
C Channing's br g Agathos, aged, 6sec J Cockerill.
J Jarden's b h John Dillon, aged, 6sec, B Jarden.
S Lemon's blk g Sherwood, aged, 6sec, N L Price.
F H Robson's b h Mintson, aged, 9sec, A G Wilson.
W B Masham's br h Emilius, aged, 9sec, coupled with Admiral Wood, J Bryce.
R Reay's b g Asturio, aged, 10sec, W Warren.
L M Gregory's b m Sympathy, 6yrs, 11sec, coupled with Vice-Admiral, J Clarke

Sympathy broke up at the start, and Vice-Admiral went off at a smart pace from Lord Minto, Cello Sydney Wilkes, and Emilius, with John Dillon in a good position. Passing the stand the order was the same, and when a circuit had been covered Vice-Admiral still led from Lord Minto, while Sherwood had made a forward move, on commencing the final round John Dillon and Sherwood moved up to just behind the leading trio. Going down the back the last time Cello Sydney Wilkes tackled Vice-Admiral, and with Lord Minto led into the straight. In the run home Cello Sydney Wilkes held his own, and won by two lengths from Lord Minto, with Vice-Admiral three lengths away third, followed by the fast finishing Mintson. Emilius was fifth, and Sherwood sixth. Times; 4m 34 1/5s; 4m 35 3/5s; 4m 37 4/5s.

METROPOLITAN HANDICAP (in harness) of 300 sovs; second 60 sovs, third 30 sovs. 3.47 class. One mile & five furlongs.

E G McCullough's b m Capriccio by OYM-Cappadocia, aged, scr E McDermott 1
R J Stone's ch g Gleaming, 5yrs 3sec W Warren 2
J Richardson's b g Jack Arrah, 6yrs, 2sec N L Price.

Pitarua 2sec, Norah Creina 2sec, Rorke's Drift 2sec, Pax 3sec, Proudspring 3sec, Legacy 3sec, Joan of Arc 3sec and Miss Rolfe 4sec bracketed, Rearguard 4sec, Pleasant Mount 4sec and The Whip 4sec also started.

Rearguard was the quickest to begin, and going past the stand led Gleaming, Proudspring, Norah Creina and Miss Rolfe. The order was the same for the first circuit, at the end of which Rearguard was called off. Gleaming went on in front from Jack Arrah and Rorke's Drift, with Capricco improving her position. Gleaming and Jack Arrah were the first into the straight, but Capriccio came fast and won by a length and a quarter, with Jack Arrah four lengths away in third place, followed by Norah Creina and Rorke's Drift. Times, 3m 41 2/5s, 3m 44 3/5s, 3m 43 4/5s.

FREE-FOR-ALL (in harness) of 500 sovs; second 100 sovs, third 50 sovs. Flying start. One mile and a quarter.

Exors J Knight's b h Author Dillon by Harold Dillon-Authoress, aged, B Jarden 1.
J Bryce's b h Cathedral Chimes by Four Chimes-Jean Armour, aged, Owner 2.
W H Norton's br h Admiral Wood b Wildwood Jun-DIC, aged bracketed with Cathedral Chimes, F Holmes 3.

N Green's b g Albert Cling by Young McKinney-Embrace, 5yrs, A Hendricksen

After two false starts, caused through Albert Cling failing to come up to scratch, the bracketed pair and Author Dillon went away together, but almost immediately Admiral Wood and Author Dillon went out in front, while Bryce dropped in behind the pair. Albert Cling was several lengths away. Admiral Wood and Author Dillon carried on the running down the back stretch, but at the tanks Admiral Wood faded out, allowing Author Dillon to lead into the straight a length ahead of Cathedral Chimes. The latter appeared to have the measure of the Harold Dillon horse, who responded gamely to the call of Jarden and at the finish had a length the better of the tussle, and won amidst the wildest enthusiasm. Admiral Wood was about twelve lengths away in third place, and Albert Cling a similar distance away last. Times, 2m 44 2/5s, 2m 44 3/5s, 2m 47 4/5s.

SOCKBURN HANDICAP (in harness) of 400 sovs; second 80 sovs, third 40 sovs. For unhoppled trotters only. 4.46 class. Two miles.

F H Robson's b m Reta Peter by Petereta-Toto Huon, 6yrs, scr, A G Wilson 1.
C James's b h Paul Huon, aged, 9sec, Owner 2.
J R Corrigan's b g Whisht, aged, 4sec, J Bryce 3.

Red Heather 3sec, Galician 7sec coupled with Whisht, Olive L 6sec, Electrocute 7sec, Gay Wilkes 7sec and Lady Patricia 9sec also started.

Paul Huon at once went to the front, while Lady Patricia left her feet early in the race. Paul Huon carried on the running for the greater part of the journey, with Gay Wilkes, Galician and Olive L as his nearest attendants, and Reta Peter improving her position. The last-named came with a good run over the final bit and won by three-quarters of a length; the third horse three lengths away. Electrocute was fourth and Olive L fifth. Times - 4m 35 2/5s, 4m 44 3/5s, 4m 40 2/5s.

RAILWAY HANDICAP (in saddle) of 250 sovs; second 50 sovs, third 25 sovs. 2.17 class. One mile.

E G McCullough's b m Capriccio by OYM-Cappadocia, aged, 2sec includes 1sec penalty, E McDermott 1.
S Wootton's b g Pitaroa, 5yrs, 4sec, R C N Reed 2.
J R Corrigan's b g Xavier, aged, 5sec, J Bryce jun 3.

Huon Patch scr, Asturio 2sec, Nancy Stair 3sec, Lord Dillon 3sec, Sir Fulham 4sec, Frank Tracey 4sec, All Bell 5sec coupled with Pitaroa, and King Karri 5sec also started.

Xavier was quickest away and led Frank Tracey, All Bell and Pitaroa past the stand, with Capriccio in a handy position. Going down the back Capriccio still further improved her position, and at the tanks Pitaroa lost ground through breaking. Capriccio and Xavier were in front in the straight, where Pitaroa came fast. The first-named, however, lasted long enough to win by a head; Xavier being a similar distance away third. Times, 2m 13 2/5s; 2m 15 3/5s; 2m 16 4/5s.

ROYAL HANDICAP (in harness) of 350 sovs; second 70 sovs; third 35 sovs. 2.49 class. One mile and a quarter.

Mrs T L Morrison's b h Cello Sydney Wilkes by Harold Dillon-Cremona Wilkes, aged, 1sec includes 1 sec panalty, J McLennan 1.
A R Edgerton's b g Don Caesar, aged, 2sec, A Butterfield 2.
A R Farrell's b m Cora Dillon, aged, 1sec, E McDermott 3.

Chid 1sec, Sashwood 2sec, Dean Dillon 3sec, Bundong 4sec and Birdwood 4sec also started.

After a false start Birdwood jumped out smartly and carried the field past the stand with Bundong, Dean Dillon, Sashwood and Don Caesar following in that order. The field closed up in the back stretch, and at the tanks Don Caesar drew level with Birdwood and led into the straight, with Cello Sydney Wilkes in third place. In a good finish the last-named got up in time to win by a length, with Cora Dillon two lengths away, just in front of Birdwood. Times, 2m 44s; 2m 45 1/5s; 2m 46s.

Credit: The Press 14 November 1919


| | |
| --- | --- |
| | RACING HISTORY FEATURE RACE COMMENT |

1919 SPRING MEETING: FRIDAY 14 NOVEMBER

The New Zealand Metropolitan Trotting Club was favoured with fine weather throughout this week for its Spring Meeting, and although th early morning indications did not promise too well yeaterday for the final days racing, the Meeting was brought to a conclusion under excellent conditions.

There was a very strong easterly wind blowing during the early part of the afternoon, and the dust that it was raising made matters somewhat unpleasant, but later on the wind died down, and, with an improving track, some first-class performances were registered.

The attendance was admittedly the largest ever seen at Addington, and, big as was the crowd on Tuesday, the numbers yesterday were far greater, especially in the outside enclosure. The sport has indeed grown in popularity to an amazing degree, and the problem of finding accommodation for the crowds is one that will cause the authorities some serious thought.

With such a large attendance, it was not surprising to find the totalisator investments reaching record dimensions, and the figures registered, amounting to £83,684 10s are the highest yet reached at any Meeting in the Dominion, whether racing or trotting. The total on the corresponding day last year was £46,604 10s. This year the investments for the three days totalled £218,723 10s as compared with £136,643 10s twelve months ago.

From every point of view, the Meeting may be regarded as the most successful ever held at Addington, and the club's experienced secretary, Mr A I Rattray, was, together with the other responsible officials, deservedly congratulated on the results achieved.

Among yesterday's races the Governor's Handicap and the Australasian Handicap were won easily, but the other events produced really good contests, and the Dominion Trotting Handicap was an especially fine race. One of the features of the Meeting was the form shown by 'Cello Sydney Wilkes, and he demonstrated his capabilities in no uncertain fashion yesterday, when he won the Christchurch Handicap without the least difficulty, registering his fourth win during the three days. 'Cello Sydney Wilkes was driven by J McLennan, who scored another win later on during the afternoon on General Link, this horseman's record for the Meeting being six wins. It was a high-class field that 'Cello Sydney Wilkes beat, seven New Zealand Cup candidates being included, but the majority of them shaped disappointingly. Vice Admiral led most of the way, but, when it came to the final run he had no chance with the winner.

The Dominion Trotting Handicap, the most valuable race of the year for unhoppled trotters, brought out a field of thirteen, and in a fine race Whisht defeated King Capitalist, who would probably have won but for a break three furlongs from home. Gleaming won the Hornby Handicap in good style. Pax finished second, but he had started before his time, and his driver, F Holmes, was fined £5 for his offence. The Recovery Handicap, in which the Cup winner, Trix Pointer, made her appearance, aroused much interest. It was a fast-run race. After John Dillon appeared to have the result safe he stopped badly, and Don Caesar beat him home, Trix Pointer finishing third. Details of the racing are:-

GOVERNOR'S HANDICAP (in saddle) of 250 sovs; second 50 sovs, third 25 sovs. For unhoppled trotters. 4.54 class. Two miles.

W Orange's b m Miss Salisbury by Ypung Salisbury, aged, 6sec, Owner 1.
C Davey's ch g Colonel Havelock, aged, 7sec, H Gaskill 2.
S Cox's b g Te Kuiti, aged, 8sec, J Armstrong 3.

Gay Wilkes scr and Billy Parole 6sec bracketed, Mushroom 1sec, Haroldlander 2sec, Balnamoan 3sec, Grattan Chimes 4sec, Treasure Seeker 5sec, Craibwood 5sec, Ben Bell 7sec, Chub 8sec and Marvin Jun 9sec also started.

Balnamoan lost his chance by refusing to begin, whilst Chub went away smartest of the front division, and at the end of four furlongs was showing the way to Te Kuiti, Miss Salisbury and Colonel Havelock. Chub led throughout the second circuit, and though Miss Salisbury broke at the tanks, she was quickly into her stride again. Six furlongs from home Miss Salisbury had headed Chub, and a little further on Colonel Havelock ran into second place. He had no chance with Miss Salisbury who won by fifty yards. Colonel Havelock, who was eased up, was a dozen lengths in front of Te Kuiti, with Craibwood fourth and Mushroom fifth. Times; 4m 44s, 4m 51 3/5s, 4m 53s.

LYTTELTON HANDICAP (in harness) of 400 sovs; second 80 sovs, third 40 sovs. 4.40 class. Two miles.

Hall & Smith's b g Brown's Nugget by Harold Dillon-Woodthorpe Maid, aged, 5sec, W Smith 1.
A R Farrell's b m Cora Dillon, aged, 2sec, E McDermott 2.
L M Gregory's b m Sympathy, 6yrs, 3sec, M Edwards 3.

Nancy Stair 2sec, Hannah M 2sec, Jack Arrah 4sec, Norah Creina 4sec, Rorke's Drift 5sec, Joan of Arc 5sec and Legacy 6sec also started.

Norah Creina broke and was pulled up soon after ther start. Rorke's drift, Brown's Nugget, and Jack Arrah carried on the running past the stand and down the back. There was no change for a circuit excepting that Cora Dillon considerably improved her position, an Sympathy and Nancy Stair ran nearer the leaders. At the tanks Cora Dillon took scond place, but Brown's Nuggettled into the straight, and, continuing his run won very nicely by two lengths, with Sympathy four lengths away in third place, followed by Nancy Stair and Jack Arrah. Times; 4m 37 1/5s, 4m 35 1/5s, 4m 37 1/5s.

CHRISTCHURCH HANDICAP (in harness) of 750 sovs; second 150 sovs, third 75 sovs. 4.35 class. Two miles.

Mrs T L Morrison's b h Cello Sydney Wilkes by Harold Dillon-Cremona Wilkes, 6yrs, 6sec, J McLennan.
Edwards & Humphreys's blk g Vice-Admiral, 6yrs, 11sec, M Edwards 2.
W B Masham's br h Emilius, aged, 9sec, J Bryce 3.

N Green's b g Albert Cling, 4yrs, 5sec, A Hendricksen.
C Channing's br g Agathos, aged, 6sec, J Cockerill.
J Jarden's b h John Dillon, aged, 6sec, B Jarden.
S Lemon's blk g Sherwood, aged, 6sec, N L Price.
J D Parker's ch m Erin's Queen, aged, 8sec, A Fleming.
J G S Holmes's b g Moneymaker, aged, 8sec, A Pringle.
J Parkinson's b h Sungod, aged, 9sec F Holmes jun.
F H Robson's b h Mintson, aged, 9sec, A G Wilson.

Albert Cling was slow to move, and Vice-Admiral went off in front from Sungod, Mintson, Emilius and John Dillon. The order was the same for a curcuit, but then Cello Sydney Wilkes improved his position, and Albert Cling also made a forward move. Going down the back Vice-Admiral was still in front, with Erin's Queen next, and Emilius and Sungod following. At this stage Cello Sydney Wilkes, though well forward appeared to be in a bad position on the rails. McLennan found an opening, and taking full advantage of the horse's speed, shot to the front and led to the straight. Pacing in good style he passed the post an easy winner by three lengths from Vice-Admiral, who was five lengths ahead of Emilius. Erin's Queen was fourth, Mintson fifth and Albert Cling sixth. Times, 4m 29s; 4m 35 1/5s; 4m 34s.

AUSTRALASIAN HANDICAP (in saddle) of 350 sovs; second 70 sovs, third 35 sovs. 4.44 class. Two miles.

S Wootton's b g Pitaroa by Petereta-Aotea-Roa, 5yrs, 3sec, R C N Reed 1.
W R L Pascoe's ch g Silver Nut, 5yrs, 8sec, A Butterfield 2.
H Wedmore's b g Granger, aged, 3sec, H Frost 3.

Dandy Chimes 4sec, Sir Fulham 5sec, Schnapps 5sec, George Hard 6sec, Acushla Machree 7sec and Dillon Eddy 7sec also started.

Silver Nut went off very smartly, and soon had a lead of one hundred yards. Pitaroa also commenced well, and before reaching the straight was in second place. Pitaroa's rider indulged Silver Nut with the lead for a circuit, when he took his mount to the front, and from then on had the race in safe keeping. Pitaroa won very easily by six lengths, with the third horse ten lengths away. Dandy Chimes was fourth. Times, 4m 36 1/5s; 4m 44 4/5s; 4m 41 4/5s.

DOMINION TROTTING HANDICAP (in harness) of 600 sovs; second 120 sovs, third 60 sovs. For unhoppled trotters only. 4.45 class. Two miles.

J R Corrigan's b g Whisht by California-Hush, aged, 5sec, J Bryce 1.
A Smith's b g King Capitalist, aged, 6sec, H Barraclough 2.
J Leslie's b g Electrocute, aged, 9sec, J Wright 3.

F H Robson's b m Reta Peter, 6yrs, scr, A G Wilson.
Mrs F C Allington's b g Whispering Willie, aged, 1sec, J H Wilson.
G W Watkins & A Cox's b g Red Heather, aged, 5sec, A Cox.
N L Price's b h Imperial Crown, aged, 7sec, Owner.
A R Edgerton's ch g Lord Roanchild, aged, 8sec, A Butterfield.
Mrs J Lawrence's br m Olive L, aged, 8sec, E McDermott
J A Sligo's b g Gay Wilkes, aged, 9sec, F Holmes.
Houston & Wilson's b g Galician, aged, 9sec J Bryce jun.
C James's b h Paul Huon, aged, 10sec, Owner.
W J Moir's br m Lady Patricia, aged, 10sec, A Fleming.
Whisht and Galician were bracketed.

Olive L started unsteadily, and Lady Patricia took up the running from Galician, Gay Wilkes, Lord Roanchild and Whisht. This order was maintained for a round, but at the stand the second time Whisht was in front of Olive L, with Electrocute and Imperial Crown following. King Capitalist put in some great work in the last round, but mixed his gait at the turn into the straight, where Whisht led by several lengths. Whisht held his own in the run home, and won by a length. A great race for second place ended in King Capitalist beating Electrocute by a long neck. Olive L was fourth. Times, 4m 39s; 4m 40 2/5s; 4m 43 3/5s

HORNBY HANDICAP (in harness) of 300 sovs; second 60 sovs, third 30 sovs. 3.52 class. One mile and a quarter.

R J Stone's ch g Gleaming by Galindo-Arc Light, 6yrs 3sec, W Warren 1.
G Iles's ch m Perfect Day, aged, 5sec, A Fleming 2.
F Smith's b m Bundura, aged, 4sec, W Smith 3.
W E Simes's b g Pax, aged, 3sec, F Holmes, disq.

Frank Tracey 3sec, Mako Mako 3sec, Proudspring 4sec, Star Queen 4sec, Our Chum 5sec and Miss Rolfe bracketed 5sec also started.

Bundura, Perfect Day, Our Chum and Gleaming formed the leading division at the commencement of the race, while Proudspring broke and dropped back last. Bundura carried on the running for a mile, when Gleaming and Perfect Day ran past him. Gleaming assumed the lead in the straight, and eventually won by three lengths and a half, with Pax a long neck in front of Perfect Day and Our Chum. It subsequently transpired that Pax had started before his time and in consequence second money was awarded to Perfect Day. Bundura being placed third. Times, 2m 48 2/5s; 2m 51 1/5s.

ENFIELD HANDICAP (in saddle) of 275 sovs; second 54 sovs, third 27 sovs. 2.16 class. One mile.

Miss N Gunn's b g General Link by General Mac-Imperialwood, aged, 5sec, J McLennan 1.
S Wootton's b g Pitaroa, 5yrs, 3sec incl 2sec pen, R C N Reed 2.
H Anderson's b g Ariadne, aged, 4sec, H Frost 3.

Lord Minto scr, Huon Patch 1sec and Birdwood 4sec bracketed, Chid 3sec and Xavier 5sec bracketed, Tamarisk 4sec, Rorke's Drift 4sec and Bundong 4sec also started.

Xavier went off in the lead, followed by Bundong, Ariadne and Rorke's Drift. Xavier broke after going half a mile, and Ariadne led from Pitaroa. At the tanks General Link drew level with the leader, and led into the straight from Ariadne, Pitaroa and Bundong. Pitaroa threw out a strong challenge in the straight, but General Link held his own and won by a couple of lengths from Pitaroa, who was three lengths in front of Ariadne. Bundong was fourth. Times, 2m 13 1/5s, 2m 11 3/5s, 2m 14s.

RECOVERY HANDICAP (in harness) of 500 sovs; second 100 sovs, third 50 sovs. 2.48 class. One mile and a quarter.

A R Edgerton's b g Don Caesar by Prince Imperial-Maritana, aged, 5sec, A Butterfield 1.
J Jarden's b h John Dillon, aged, 4sec, B Jarden 2.
W H Norton's b m Trix Pointer, 6yrs, 4sec, F Holmes 3.

Admiral Wood 4sec bracketed with Trix Pointer, Capriccio 5sec, Moneymaker 6sec, Sashwood 6sec and Dean Dillon 7sec also started.

After a false start Dean Dillon went off in the lead, but Moneymaker immediately rushed to the front, and piloted the field round the top turn and down the straight, with Capriccio in second place, followed by Don Caesar and Sashwood. Going down the back John Dillon went to the front, and led into the straight. Half-way down the running Don Caesar came with a fast run, and beat John Dillon by a length, Trix Pointer finishing a couple of lengths away in third place, followed by Capriccio and Moneymaker. Times, 2m 42 2/5s; 2m 42s; 2m 43s.

Credit: The Press 15 November 1919