| | |
| --- | --- |
| | LOCAL HISTORY |

April 17 - First inter-city brass band contest. An audience of 2500 people was on hand for the first inter-city brass band competition held at the Drill Hall in Christchurch. The inaugural winners were the Invercargill Garrison Band

July 19 - Lincoln University opens - the first agricultural college in the Southern Hemisphere.

The first steam trams begin to run.

Credit: Ch-Ch City Libraries


| | |
| --- | --- |
| | RACING HISTORY |

It seems that New Zealand's first trotting races were held as part of the programme of some of the galloping meetings in the Otago Southland area as early as 1864.
In his book "A Salute to Trotting" Ron Bisman notes that:-
"The steeds in these events were utility horses in the true sense, almost all of them being driven miles over rough roads and bridle paths to the meetings at which they raced. Ridden in saddle they were all straight-out trotters, tracing generally to thoroughbred blood, which no doubt accounted for their stamina. The times recorded were slow, but the conditions were quite different from today, with tracks so rough and uneven in most cases that pacers would not have been able to handle them and harness racing would have been quite impossible. The horses were totally untrained for racing - most of them sheperd's hacks who did their daily work on undulating or steep country.
Yet these beasts provided interesting contests and laid the foundations of the sophisticated harness racing that we know today. Most of their races were run over three miles, and the minimum weight carried was 11 stone".

The first totalisators were introduced about this time. They faced opposition from a curious alliance of bookmakers and anti-gambling factions but were approved by the Clubs and licensed by the Colonial Secretary.

The first trotting race on a racecourse in Canterbury was held at a location called Brown's Paddock in Ferry Road, Woolston. Contested in 1875, before the totalisator was introduced, the stake was only about a "tenner", but the match created a lot of interest.

About 1880, Lower Heathcote Racing Club was founded, and held its first meetings nearly opposite Brown's Paddock. The club supported gallops, but added trotting events to it's programme, giving smaller stakes.

Some years later the club discontinued gallops and became the Lower Heathcote Trotting Club, which gave stakes ranging from £15 to £35.


| | |
| --- | --- |
| | RACING HISTORY THE BEGINNINGS |

STRIDES MADE IN HARNESS WORLD

Last Tuesday's NZ Cup field - and other fields for many years past for that matter - have been comprised of horses which are - or were - the acme of physical fitness and grace.

Seventy-odd years ago at any meeting you would have been confronted with the clumsy efforts of horses that, only a few days previously, had been earning their oats between the shafts of a butcher's, baker's or grocer's cart.

Yes, the progress of harness racing has been meteoric as to make one wonder where its limitations will cease, especially with night trotting for Addington practically here. For instance, when Bert Edwards drove that grand old trotter, Monte Carlo, to victory in the first New Zealand Cup, the stake was only 310sovs, and on a good track the winner took 4:44.4 to cover the two miles. By 1910 the value of the Cup had jumped to £1000; in 1913 it was £2000, and in 1929 it had gone up to £4000. At one stage it reached £7500, thereby making it the richest harness race in New Zealand or Austalia at that time.

There has been a corresponding improvement in the times also. Monte Carlo's feat of going the journey in 4:44.4 was hailed as a great one at the time, but it now looks insignificant when compared with Johnny Globe's 4:07.6

Away back in the 'seventies, on almost any general holiday and sometimes on Saturdays, a band of sporting enthusiasts would meet on the New Brighton beach, near the present township. During the day about half-a-dozen events would be decided, some for trotters and some for gallopers. They were rough and ready meetings, and the prizes were usually of the utility order, such as a saddle, a bridle or even a whip. When the New Brighton Racing Club was formed these informal gatherings ceased. Mixed racing and trotting meetings were held on a new course for some years, but after a while the galloping element faded out and it was left to the New Brighton Trotting Club to carry on, which it has done successfully to this day.

It was the Lower Heathcote Racing Club, however, that did most to establish the light-harness sport. The old Heathcote course was situated on the Sumner Road, just before you came to the bridge. All the arrangments were primitive.

My present concern, however, is more with those old-time trotters which in their humble way helped lay the foundation of trotting as it is now. To a dwindling few present-day racegoers (all well into their 80's) the names of such ancient celebrities as Fidget, Shakespeare, Sapphire, Bobby Burns, Maid of Munster, Narrow Gauge, Cock Robin, Wait A While, Chanticleer, Victor, Young Irvington and Long Roper will conjure up memories of the so-called 'good old days'.

Mention of Cock Robin brings to mind the fact that even Gloaming's trainer was an active participant in the trotting sport. Before becoming associated with Gloaming, Dick Mason owned Cock Robin and on one occasion rode him to victory in a race at Oamaru. The versitile Mason was just as fine an artist on the back of a trotter as in a galloper's saddle, and this particular win gave the ring a nasty jolt. Amongst the regular competitors at Heathcote, was a pony called Jimmy Brown who, though blind, generally knew the shortest way to the winning post. Once Jimmy would not answer the helm and, swerving off the course, landed in the Heathcote River. Both he and his rider had cause to remember that mishap.

Most of the races were run under saddle (a pity there are now none of these events in Canterbury) and it was no unusual thing to find a good horse giving away from 60secs to 90secs start, and even that concession failed to put the cracks out of court. For a long time the handicappers never made less than 5secs between any division of horses, for which there was probably a good reason. Under the rules, when a horse broke its rider was compelled to pull it up and turn round before going on with business. When, as often happened, there were several that could not trot a furlong without getting 'in the air', the race savoured more of an equine circus or a Waltzing Matilda contest than a trial of speed. Just fancy a race at Addington with similar conditions prevailing!

The Lower Heathcote Trotting Club died a natural death in 1893, but its memory lingers. When Lancaster Park was brought into being as a sports and cricket ground, difficulty was experienced in financing it. To help in this was a club known as the Lancaster Park Trotting Club was formed and held meetings on a three-lap-to-the-mile course, the same as that on which the bicycle races were run. The venture did not serve its purpose and its operations were subsequently taken over by a more practical body known as the Lancaster Park Amatuer Trotting Club. Its meetings were well conducted and did much to popularise the sport.

Another club that had a rather meteoric career was the Canterbury Trotting Club, with headquarters at the Addington Show Grounds. In the meantime the Lancaster Park Amateur Trotting Club, finding its headquarters all too small to accommodate the ever-increasing crowds, formed a course on the Twigger Estate at Addington. This meant that two clubs were racing side by side, seperated only by a tin fence. Naturally, such a state of affairs could not go on, so eventually the Government forced the two bodies to amalgamate. It was a fortunate move, for out of the amalgamation grew the New Zealand Metropolitan Trotting Club.

It was not until operations had been in progress at Addington for a few years that the New Zealand Trotting Cup was instituted. The field for the initial contest in 1904 comprised Monte Carlo, Norice, Euchre, Vickery, Factory Boy, Vascoe, Verax and Royalwood. Like so many of its successors, the first Cup did not give rise to much excitement. The American-bred mare Norice, went off at a great clip, but when it came to the real business Monte Carlo soon had her measure. In those times 'Old Monte' was held in just as much affection by racegoers as in latter years were Harold Logan, Johnny Globe, and now, Cardigan Bay. The victory of the American-bred Birchmark in 1905 was recorded on a very heavy track and under wretched conditions. There was nothing outstanding associated with the success of Belmont M., Marian, Durbar or Wildwood Junior.

The race of 1910 however, will be long remembered for the series of mishaps associated with it. Just after the field had been sent on its two mile journey Walnut swerved across the track and collided with Manderene, both horses losing their drivers. Then King Cole ran into El Franz, whose driver was thrown out of the sulky. In the meantime, Manderene had practically taken charge of the track. Careering around at a mad gallop he forced the other competitors to get out of the way as best they could. One of the few to escape trouble was the previous year's winner, Wildwood Junior. Cleverly driven by his owner-trainer, William Kerr, the handsome son of Wildwood got an almost uninterrupted passage and had no difficulty in defeating Bright and Ribbons.

Of all those early winners, Wildwood Junior stood out in a class by himself. Either he or another of Wildwood's progeny in the sensational Ribbonwood, would have equalled the performances of some subsequent winners had the track conditions and training methods under which they raced been equal to what they are nowdays.

Credit: 'Veteran' writing in NZ Trotting Calendar 12/11/63


| | |
| --- | --- |
| | RACING HISTORY THE BEGINNINGS |

ANDREW RATTRAY - Club Administrator

There has never been a club administrator, before or since, to match the achievements of Andrew Innes Rattray. That is partly because he was one of the first and worked in an era when innovation, efficiency and the fight for respectability were paramount aims all of which Rattray achieved through sheer dedication.

His vision and especially his early "centralisation" activities were decades ahead of their time.

Rattray was the Secretary of the Heathcote Racing Club in the early 1880s when it hosted the first full trotting meeting in the South Island. He then became secretary of the body which would become the New Zealand Trotting Association. All southern (and later Northern) clubs, racing and trotting who wanted to hold trotting races, joined for a small fee and set out the dates. You could argue it was an early Racing Board model. With Rattray a driving force this became the NZ Trotting Conference in 1896 gaining the full and vital support of the Auckland clubs.

Soon afterwards Rattray was one of the leaders in the formation of Addington Raceway and the NZ Metropolitan Trotting Club. Even then, more than a century ago, Rattray handled the Canterbury, Lancaster Park, New Brighton and Plumpton Park clubs all centralised on his office as well as some Racing Clubs. Similar innovation around the country 60 years later would be hailed as a "major breakthrough" in administration.

Addington was a wilderness before it was transformed into a racetrack and Rattray's work, organisation and sometimes his own money, was vital to its growth. To match the surrounds of Riccarton the club spent thousands of pounds to make it a showplace on the Rattray "build it and they will come" philosophy. Within a few years the popularity of trotting in Canterbury the so-called "illegitimate" sport rivalled and then outdid crowds at Riccarton an incredible achievement in less than a decade and for which Rattray could take most of the credit.

Rattray even got Prime Ministers to tour every city trotting tracks during visits to Christchurch. He championed the tote, whose possibilities he had noted when it was introduced in 1880, to help pay for facilities (clubs got 10%) and hired off duty policemen to run bookmakers off the course. He often caught the dawn train to Lyttleton to check out horse arrivals so there would be no "ringers" at any of his meetings.

Rattray could be stern and set high standards for his assistants nearly all of whom were also administrators of high calibre. He was an ideal mixture of discipline, honour, discretion and aggression and his air of authority gave him added stature. He was incorruptible and gave trotting the leadership image it so desperately needed. Sometimes the secretary's office could be threatened with invasion by irate punters in the days before stipendiary stewards. It was a tough job.

True, he had many supporters but their is little doubt that Rattray was virtually the president, secretary, treasurer and organiser of the major clubs of that era. He was the secretary to the New Zealand Metropolitan Club for an incredible 41 years.

For many years his memory was honoured through the Rattray Handicap, a feature at the NZ Cup meeting before sponsorship eliminated the tributes to many outstanding trotting administrators such as he - more's the pity.


Credit: David McCarthy writing in Harnessed Aug 2016


| | |
| --- | --- |
| | RACING HISTORY THE BEGINNINGS |

WANGANUI WAS CRADLE OF DOMINION TROTTING

It was the Wanganui Trotting Club which pioneered the light-harness sport in NZ, the first meeting being held in the town by the river in 1877.

Where did they get their horses, and what led up to the formation of the club? One may be forgiven for querying. There were no trotting-bred horses in the then colony, even though trotting was a sport well underway in America, and surely they must have been slow movers and bad breakers. To say where they got the horses from is not difficult, the Maori War being responsible to the greater extent for the class required being in the country. When the native risings had been practically settled, the Imperial troops stationed in Wanganui and surrounding districts possessed some particularly attractive and well-taught mounts who were educated to trot as well as gallop. While the English thoroughbred was well represented, some of the more splendid horses were of pure Arab descent.

The troopers, particularly the officers, being of the opinion that nothing was too good, acquired several at the Cape of Good Hope on the way out. Of these, many passed into the hands of the settlers, and they and their progeny were responsible for the institition of racing at a gait. Of course they had never been tried against time, but with training they developed speed, and one was pitted against the other in match racing.

One of these outstanding matches against time that caused quite a flutter was brought about by the late Mr Tom Hammond, a member of the well known family which occupied York Farm, near Marton, saying he was training a mare who could trot 16 miles within the hour. Several bet against him. Millie was his representative's name, and she was a mare of doubtful parentage. The course was from Oroua Bridge to the Club Hotel, Palmerston North and back, and the conditions were 'tug and go' or in other words if she broke the mare had to be pulled up and started at the trot again. Mr Hammond was a first class rider, and he made good time. Arriving in Palmerston, he quaffed a shandy and started on the return trip.

The full distance was accomplished in about four and a half minutes inside the hour. This was a great performance for the mile record in America for a 4-year-old was 2.19 in 1882, that being some years later, and held by Jay-Eye-See, while the 15-mile record of 1874 was Girdler's 47 minutes 20 seconds, registered in San Francisco. Of course these were in harness, a solid type of sulky being drawn, but all the same Millie's effort, all things considered, was quite comparable, for under saddle in the States Great Eastern's record in 1877 was 2.15¾. Millie later went to Christchurch, where she was matched with Black Boy, a good horse, on the Yaldhurst Road. Owing to the straps on a breast-plate cutting into her shoulder, she was beaten. Later she raced well in wagon with a horse called Marmion, and also served in the Marton coach.

It was matches such as these which promoted the forming of a club, and the races were decided over various distances and in various parts of the town. Conditions then were laughable, for the heats were decided in saddle, and if a horse broke it had to be pulled up and started again, while another method was to tug them to a stop and make a complete turn. Still, the rules served the purpose.

Some time after the inauguration of the club, the late Mr Frank Evans, of Bulls, and of the Rutland Hotel, Wanganui, on the premises of which some solid wagering took place, made a trip to America, and on his return certainly made history by bringing back a high hickory, steel-supported sulky, and a four-wheeled specially-constructed trotting wagon, all the rage at the time in the United States and the first to be brought to these shores. These were the pride of the town, and when not in use were stored in the loft. Unfortunately, the loft and everything in it went up in smoke some time afterwards. Still, the sulkies served a useful purpose for the introduced team racing, and to compete with the American invention the opposition, not to be out-done, beseiged a local wheelwright to remove the bodies from four-wheeled buggies and construct small seatson the front axle.

Imagine be-whiskered gentlemen so perched, driving two horses in actual racing in such weird contrivances. Yet they were the ones who laid the foundation of what has become a great light-harness sport. Driving tandem was another fashionable mode of competition, and this and waggon racing was then unknown in any other part of NZ. With the advancing of time, as the horses improved so did the sulkies, until they are now practically perfect.

The art of driving was learned in a hard school, one of the experts and hardest workers for the club was Mr Charles Chavanness. He was connected at the time with Cobb & Co's coaching firm, doing an extensive business between Wellington, Wanganui and Taranaki and it was on the tortuous road between Hawera and New Plymouth that he became famous throughout the land as a champion reinsman. His dexterity at handling the ribbons stood him in good stead in competitive events, and he won many races. He was also a polished horseman over obstacles and on the flat. Of those connected with the early days of the sport he was the greatest all-rouner.

Another prominent official and successful all-rounder who witnessed the club come into being was the late Mr Joseph Chadwick. He was one of three handicappers who made the adjustments for the early meetings, and his wealth of old-time stories and reminiscences would command a ready sale if put into book form. He it was in after years who was instrumental in sending the first American ball-bearing pneumatic-tyred low-slung cart to the South Island. That was in 1894. Mr Joseph Henrys also met with success on a grey mare at the early meetings. Another keen follower of the sport, Mr W (Kopeke) Tuck, was another trotting pioneer. The late Mr William Wilson bred a trotter called Inferno in after years that was credited in cutting out 27 miles on a metalled road in an hour and a half, a rather heavy type of sulky being used. This one's dam, by the way, was Iniquity, by the thoroughbred Traducer. The Higgie family, with Castaway, and Messrs Keith, Powell and Lingard were others all well to the fore.

The early handicapping was by yards and later by seconds. Some competitors were called upon to give away anything up to 600 yards. One of the programmes issued in 1882 for the sixth meeting is interesting to read. The principal event, the Wanganui Handicap, was in saddle, and over three miles. The stake was for £65, and green horses, or those with no public performances, were limited to 50secs start. Ten yards in those days were considered equal to one second. The backmarker in this event was Castaway on a 58sec mark. There was also a race for ponies, of 13 hands or under. Boy riders were allowed, but they had to be approved by the committee. The handicappers were Messrs Chadwick, Jun, J Pollock and A Higgie, and the first mentioned pair acted as starters.

Credit: 'Old-Timer' writing in NZ Trotting Calendar 7Apr48


| | |
| --- | --- |
| | RACING HISTORY PEOPLE |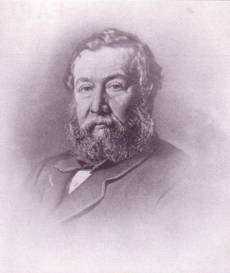 Robert Wilkin

MR R WILKIN

Robert Wilkin was born in Scotland and after a time in Australia arrived at Lyttelton in 1858. Two years later he was elected to the Provincial Council of Canterbury as the representative for Timaru. Wilkin had by this time amassed extensive land holdings throughout Canterbury and Otago and was a man of many interests. He organised the first sheep sale in Ch-Ch, was judge at the first Merino sheep sale at Shepherds Bush, was a grain and seed merchant in Ch-Ch, was on the council of Canterbury University and with George Matson founded the Agricultural & Pastoral Society of Canterbury.
Wilkin raced thoroughbreds, was on the handicapping committee of the Canterbury Jockey Club and one of the founders of the Middle Park Stud.

One of his business partners, John Carter of Tinwald was responsible for the importation of the British mare Miss Kate who holds a hallowed place in the NZ racing scene as the ancestress of both Phar Lap and Kindergarten. In addition her son, Perkin Warbeck II became the sire of several foundation mares in the NZ Trotting Stud Book.

Wilkin's interest in trotting bred horses was kindled more by a wish to improve carriage horses than winning races. In the mid 1870's on a visit to Australia one of the mares he brought back was Sally, which had a strong trotting action that would suit his purpose. After being sold, Sally was mated with the thoroughbred Touchstone and produced a filly, which as Pride of Lincoln founded an outstanding family.

In 1881 Wilkin bought the American bred Berlin which was an immediate success at stud in Canterbury.
The following year Wilkin was offered Childe Harold, which he bought and on-leased to Andrew Town of Richmond, NSW. During his seven years at stud Childe Harold was so outstanding he was hailed as the Hambletonian 10 of Australia and was one of the main reasons for the Australian standardbred proving superior to their NZ counterparts in this era. Sydney's Harold Park is named after him. Luckily, his greatest siring son, Rothschild came to NZ and established a dynasty here.



| | |
| --- | --- |
| | RACING HISTORY NEW BRIGHTON TROTTING CLUB |

EARLY RACING PRIOR TO NEW BRIGHTON TC

Among the fine pioneers who helped convert the Canterbury plains from tussock-strewn wastes into their present-day productiveness were many who had followed the hounds and ridden over steeplechase courses in England. Naturally, their inherent love of sport soon asserted itself in the land of their adoption. Not long after Hagley Park had been laid out, it was a common meeting ground for horsemen of that time, many of whom not many years previously had helped to swell the throng in Rotten Row.

So it came about that before long Hagley Park saw the start of racing activities in the young settlement. There were no regular race meetings but matches between prominent horsemen were of frequent occurrence. Anniversary Day could always be relied upon to produce two or three contests of this kind, and great was the interest taken in them. When the Canterbury Settlement was first formed, a large tract of land at Upper Riccarton was set aside as a racecourse reserve, and it was there that the Canterbury Jockey Club made it's headquarters. There it has remained ever since, and from one with primitive appointments the course has progressed into a racetrack that has few superiors in Australasia. The first contest for the Canterbury Derby, now known as the NZ Derby, was decided in 1860, victory resting with Mr Harris's mare, Ada, which was ridden by R Reay. In the same year, the Canterbury Cup was instituted, the initial race being won by that great mare, Wetsail, owned by Mr C Redwood, of Nelson.

In the (18)seventies racecourses sprang into existence from one end of Canterbury to the other. Meetings were held at Akaroa, Ashburton, Burke's Pass, Leeston, Geraldine, Hurunui, Kaiapoi, Rangiora, Ohoka, Oxford, Southbridge, Timaru, Waimate and Woodend. Many of these Clubs have dropped out, but in their time they did much to advance the sport of kings.

It was at these old-time meetings that trotting gained its first foothold. As yet, no proper trotting club had been inaugurated, and the few horses in training were recruited mostly from the local tradesmen's carts. Matches between these were often witnessed in Hagley Park, but an even more popular racing ground was the fine stretch of road extending from the Ferry Bridge into the city. These races invariably finished at the old White Hart Hotel, where those who had not followed the trotters on horseback congregated to see the final stages. As the number of light-harness horses and patrons increased, there grew a demand for increased racing facilities.

One of the first tracks was a Brown's Paddock in Ferry Road, just on the town side of where the Lower Heathcote course was subsequently formed. It was a rough spot, with practically no conveniences, and did not survive many meetings. Then a change over was made to Heathcote, where gatherings, which included gallops, hurdle races and trots, were held for many years. Not until the early 'eighties was trotting put on an independent footing by the formation of a club devoted entirely to its interests. This was the Lower Heathcote Trotting Club, and in subsequent years arose the Lancaster Park Trotting Club (reorganised afterward and made the Lancaster Park Amateur Trotting Club), New Brighton Trotting Club, Canterbury Trotting Club, and Plumpton Park Trotting Club, now known as the Canterbury Park Trotting Club.

From the very earliest days New Brighton had always been a keen trotting centre. Such fine sportsmen as Tom Free, T Marr, Henry Mace, John, Charlie and Willie Kerr, H McIlwraith, and others, did much as owners and breeders to help the sport to its present high standard. In the 'seventies that grand stretch of beach northward of where the pier now stands was a favourite congregating ground. For several years meetings were held there, the flat and hurdle events being run over straight courses, while the trotters had to turn round a post and finished where they started.

The late Tom Free at the time owned the Bower Hotel, and also a good deal of the sandhills property between the hotel and the sea. Recognising the disadvantages of racing on the beach, he formed a body known as the New Brighton Racing Club, to promote all classes of racing in the district. Mr Free let the Club have what is now the New Brighton racecourse at a nominal rental, and formed a right-of-way to give access to it from the old New Brighton Road. It was a rough-looking spot in those days - nothing but sandhills, manuka scrub, and tussocks greeting the eye in all directions. In places the sandhills were levelled to make way for the racing track, but in others it was cut through them.

One of the last meetings held on the beach was in 1885. At this gathering C Kerr won the two miles trot with Queen, who was followed home by Sly Sam. The three miles trot went to Sly Sam, who at an earlier meeting had returned a big dividend. It was in 1884 that the first meeting was held on the newly-formed New Brighton course. Johnny Kerr rode his own horse, Larry, to victory in the open hurdles, and subsequently Willie Kerr appropriated the Maiden Hurdles with Patience. Burlington won the Maiden Plate, while the principal event for the afternoon, the Avon Plate, went to Rebecca. The only trotting event on the programme fell to Mr W Graham's Miriam, with Flora second and Old Bob Riley third. Among other winners at those early gatherings were Maud S, Roger, Ragman, Cock Robin, Jumbo, Gipsy, Miss Scott, Arthur and Young Irvington. The last-named was owned by Mr Tom Free, whose son Arthur steered the son of Irvington in most of his races.

Irvington was imported from America by Mr John Kerr, of Nelson, in 1882. Subsequently he stood a few seasons in the New Brighton district, and afterwards found his way to New South Wales. He was brought out from America at the same time as Vancleve, Childe Harold, Fitzjames, Newland's Hambletonian, Blackwood Abdallah, Berlin, Bill Allen, and Pinole Patchen. The importation of so many well-bred sires soon brought an improvement in the class of light-harness horses, which up to this time had been without the influence of American blood. Unfortunately, the best of the collection - Childe Harold and Vancleve - were snapped up by Australian buyers without being used in New Zealand. Irvington remained here one or two seasons only and he will always be remembered as a sire of great producing mares.

Quite a number of useful gallopers were attracted to the early New Brighton meetings, while such well-known sportsmen as J E Pilbrow, 'Dan' O'Brien, 'Pasty' Butler, H Vallance, J Lunn, R Richardson, H Piper, S Wilson, J Ward and H Murfitt were generally in evidence. On one occasion Geo. Murray-Aynsley rode Master Agnes at 12st in a Lady's Bracelet, but more than met his match in J E Pilbrow's Vanity Fair.

Among those who had most to do with the club's early destinies were T Free, M Hawkins, J Wild, R Sunderland, D Barnes, John Kerr, and R Richardson, the last named of whom officiated as starter. Unfortunately, the undertaking, a proprietary one, was not a success, and after a few years a new body known as the New Brighton Sports Club, took over the course. This concern started off with a big flourish of trumpets, but after less than two season's activities had to throw in the towel. After going begging for some time, the racecourse was acquired by the late Henry Mace in 1888 and about the same time the New Brighton Trotting Club came into existence. Prominent among its officials were Messrs H Mace, T Marr, T Free, D Barnes, J Free and Smithson. Mr Calvert, a well-known vet, usually officiated as starter. An arrangement was entered into with Mr Mace, whereby he kept the course and buildings in order and charged the trotting club and the Christchurch Racing Club so much a day for its use. Like most proprietary concerns, however, the new trotting club failed to make much progress, nor was the management all that could be desired.

At almost every meeting a selling race was included on the programme, and these were seldom above suspicion. It was one of them that led to the biggest rumpus ever witnessed on a Canterbury course. As previously mentioned, part of the New Brighton track along the back straight was cut through a sandhill with high banks on either side. For about a furlong the competitors were completely lost to view, and here it was that some desperate happenings took place. In the race under mention, a well-known owner-trainer of that time had a fairly useful trotter engaged, and entrusted a relative with a good sum to back it on the totalisator. By some means the commission was shut out. The horse referred to had a useful lead when the field entered the sandhill, but by this time the backer had raced across the course and imparted this ill news to the driver. When the field reappeared to view the leader had dropped back to last, a position that he stuck to for the remainder of the journey. No sooner had the race finished than pandemonium broke loose. So scared was the driver (whose money was not on) of the hostile demonstration, that he failed to weigh in, and bolted for town. This saved his skin, but did not prevent him from being "rubbed out" for a lengthy period.

On another occasion the story is told by old timers of all the competitors coming to a halt in the shade of the sandhill, and an argument arising as to who was to win. One rider, who was leading at the time, waited in vain for the others to come up, and at length in despair shouted out "Come on you loafers or I'll turn back." No wonder the meetings came into disfavour with the general run of racegoers, and that in 1891 the club was reorganised with the proprietary element cut out.

New blood was introduced into the management with the late Mr A I Rattray as secretary. From that time there was a marked change for the better in the affairs of the seaside club. The New Brighton body weathered the depression years of the 1930's very well indeed, and although it was forced to give up its popular course during World War II and for some years afterwards, its return there last season proved a move in the right direction. The public are according the club most gratifying support, and the racing provided on the mile grass circuit last season was of a standard bettered on very few courses throughout the Dominion.


Credit: F C Thomas writing in NZ Trotting Calendar 10Aug49