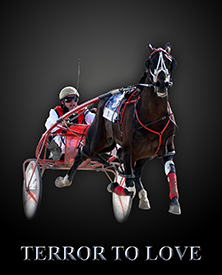 The third three time winner of the New Zealand Cup (2011, 2012, 2013). Together with False Step, he is equal best performed of the three three time winners both having been placed fourth in their other attempt in the NZ Cup.
Terror To Love was by the speedy millionaire Western Hanover stallion Western Terror (1:48.3US, Cane/Tattersalls Pace, Breeders Crown 3c, O'Brien [Canadian] 3c&g Pacer of Year) from unraced Live Or Die mare Love To Live (Live Or Die/Michaels Magic), NZ Broodmare of Year in 2014, dam of five winners for breeder/owner Terry McDonald. This is the renowned New Zealand family of Bessie B whose only NZ Cup winner is Terror To Love.
Key facts concerning Terror To Love's career include :
Winner of 30 races in NZ (from 62 starts), 16 at Addington, $2,046,900; one win and four times placed from fourteen races in Australia, A$330,225; double millionaire, grand total earnings of $2,377,125
Leading pacing/overall stake earner for three consecutive seasons : 2011/12 ($528,828), 2012/13 ($621,699), 2013/14 ($624,366)
Third three time winner of NZ Cup in successive years 2011/2012/2013 (record shared with Indianapolis 1934/1935/1936 and False Step 1958/1959/1960)
One of nine four year olds to win NZ Trotting Cup (Lookaway, Lordship, Stanley Rio, Inky Lord, Il Vicolo, Christian Cullen, Mainland Banner, Lazarus)
Remarkable NZ Cup sequence : at 4 : 2011 NZ Cup defeated Smoken Up and Highview Tommy at 5 : 2012 NZ Cup defeated Highview Tommy and Sushi Sushi at 6 : 2013 NZ Cup defeated Fly Like An Eagle and Christen Me at 7 : 2014 NZ Cup fourth to Adore Me
Terry McDonald's three wins, most NZ Cup wins as an owner, record shared with George Barton (Indianapolis) and Jim Smyth's (False Step)
Eight Group One's (including Cranbourne Cup in Australia), six Group Two's and eight Group Three's
Four year old entire or gelding of year, Aged entire or gelding of year (twice), Pacer of Year (three times), NZ Harness Horse of Year (twice)
Terror To Love commenced racing as a 2yo (2009/10 season) racing until aged seven being trained throughout by Graham Court and his son Paul (except for period when Paul went to Canada to train, mid 2013 to just prior to 2013 NZ Cup meeting). Winning once at two in Sapling Stakes at Ashburton, he was runner up in Kindergarten Stakes at Wyndham and a heat of the NZ Sires Stakes at Forbury Park. Two year old record showed six starts : 1-2-1, $28,738, p2 1:58.4.
As a three year old, Terror To Love's record read 15:8-2-2, $166,724, p3 1:55.1 with wins recorded at Alexandra Park (two including GN Stakes), Addington (five including Flying Stakes dead heat with Gold Ace in 1:55.1MR, NZSS heat) and Rangiora while major placings included seconds in GN Derby heat, NZ Derby/Harness Jewels Emerald to great foe Gold Ace and third in GN Derby to Sushi Sushi. Apart from his first two 2yo starts Terror To Love had been driven exclusively by Jim Curtin to this stage of his career.
Stepping up to open class Grand Circuit level as a four year old was to prove no barrier to Terror To Love's continued success. His four year old NZ season (2011/12) stats showed 13:5-3-1, $528,828 together with his first two Australian starts (WORTH a$22,000) for a second in the Cordina Sprint prior to the Miracle Mile. His NZ wins included his first NZ Cup (4:02.0/2:01.6MR, ¾ length) driven by Jim Curtin, plus Canterbury Classic at Addington, Taylor Mile at Alexandra Park and Jewels Emerald at Cambridge together with an early season victory at Rangiora. His seconds came in Sir Lincoln's Auckland Cup, Superstars 4yo Championship and Easter Cup with a third in Hororata Cup.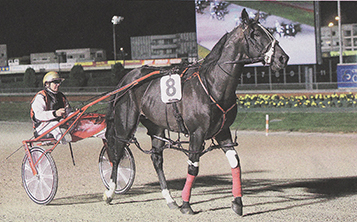 Terror To Love continued on his winning way at five with NZ seasonal stats of 11:8-2-1, $631,699, p5 1:51.0 and in Australia, his three starts resulted in a second in the Miracle Mile won by Baby Bling in 1:50.5 for stake earnings of A$139,000. In his second NZ Cup (3:58.6/1:59.9MR, ¾ length) win, driven by Ricky May who took over the reins at the start of Terror's five year old career and drove him in all his remaining career starts. Other Addington victories were Avon City Ford New Brighton Cup, Summer and Easter Cups; Ashburton Flying Stakes and A one off Jewels Emerald for five year olds in a career best 1:51.0; Northern Southland Cup at Invercargill and three horse ID heat at Alexandra Park (fourth in 2013 Grand Final at Menangle won by Beautide) defeating Sir Lincoln and Gold Ace. Terror To Love was second in the Canterbury Classic and to Im TheMightyQuinn in the Auckland Cup and third in the NZFFA to complete an almost perfect NZ five year old season. During the season he passed the million dollar mark in earnings.
At six, Terror To Love's NZ stats showed a seasonal record of 10:6-4-0, $624,366, 1: 57.2 while in Australia his two unplaced starts in Miracle Mile and ID Grand Final yielded A$30,000 in stakes. His third consecutive NZ Cup win was his best, after conceding considerable ground with an early break, being 30 metres behind the field after settling, Ricky May urged him around to take the lead putting in a 29 second quarter. This broke the hearts of all but Fly Like An Eagle who rallied late being credited with the same time as Terror To Love (3:57.0/1:59.1, his fastest winning by a neck), who was ultimately declared the winner of his third NZ Cup. The season's six NZ wins apart from the NZ Cup came at Addington in an ID heat, Ashburton Flying Stakes and Northern Southland Cup at Invercargill (both for a second time), Auckland Cup and final season start in Rangiora Classic. His second placings came in Avon City Ford New Brighton Cup, Canterbury Classic, Invercargill and Easter Cups. During this season Terror To Love passed through the two million dollar earnings barrier.
In his final season as a seven year old (2014/15), Terror To Love won two and was placed third in his seven NZ starts ($76,545, 1:58.5) while in Australia he recorded his solitary "overseas" victory in the Cranbourne Cup to go with a second and a third from seven starts (A$139,225, 1:57.1). His second was in the Ballarat Cup, third in an ID heat at Menangle as well as fourth in the Miracle Mile again proving that Menangle was not a track that he favoured. In NZ he won his first two seasonal starts in Avon City Ford New Brighton Cup and Canterbury Classic, both won for the second time. His attempt at a fourth consecutive NZ Cup in 2014 came up short when placed a close fourth to Adore Me beaten a half head, one length and one and a quarter lengths. His third placing in the 2015 Easter Cup at Addington was to be his final career start.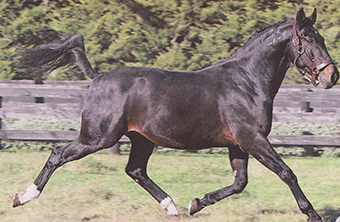 : Stallion – Terror to Love
Retired to stand at stud after his Easter Cup run for third, Terror To Love has spent the past few seasons at Pinelea Farm (Graham Court and Rise Hanley) with his oldest progeny currently two year olds in 2018/19. Terror To Love's complete Australasian record showed : 62 NZ starts : 30–13–6, 1:51.0, $2,046,900; Australia 14 starts : 1-3-1, 1:57.1, $330,225; totals of 76:31-16-7, $2,377,125, 1:51.0.
September 2018