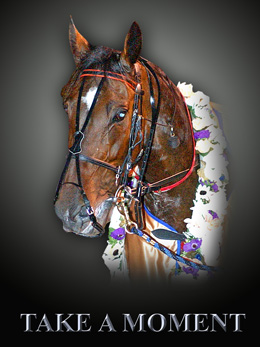 Take A Moment (1995g Armbro Invasion/Nakura) is one of New Zealand's greatest ever trotters who raced from 2000 to 2005 (five – ten year old) won 39 of his 67 starts which included six of sixteen starts in Australia. Of the
New Zealand trotting millionaires (August 2017), only then stablemate Lyell Creek and I Can Doosit have bettered his total stake earnings of $NZ1,164,356. Major victories included two Inter Dominion Trotting Championship Grand Finals, three consecutive Dominion Handicaps (including deadheat) and a Rowe Cup.
A product of strong trotting bloodlines, the gelded son of Armbro Invasion USA and Jet d'Emeraude EU mare Nakura (NZ), Take A Moment is a member of the leading NZ family of Pride Of Lincoln (N1). Nakura a four year old trotting mare of year and bred on through her fillies Juverna (eight foals for eight winners including Quite A Moment T1:55.3, Breeders Crown – 3T, National Trot; Duke Of The Moment T1:59.6); Nows the Moment T2:04.7 (dam of Dr Hook, $453,366, T1:56.2 CPTC Trotting Cup/Ashburton Trotters Miles twice, ID heat; Moment Of Truth T2:02.5) and gelding Another Moment, T2:02.2.
Grand dam Nakaia (1977 Crockett/Morning Haze filly), T2:12.0, was dam of two winners in Nakura (see above) and Naraya, T2:10.1, dam of six foals for one winner in Stig, $841,529, twenty two New Zealand wins, T1:55.2 Trotting free-for-all, Dominion Handicap, National Trot, Rowe Cup/one AUS win, T1:57.2, heat Great Southern Star and Only A Moment, unraced, dam of Dream A Moment, T1:57.5TT.
An in-depth look at Take A Moment's achievement's reveals-
Best mile rates of :
New Zealand - T1:57.2 at Cambridge (2 January 2002)/Ashburton (27 October 2003)
Australia - T1:57.7 at Moonee Valley (7 December 2002)
Significant race wins :
Group 1 victories (13) :
Addington - Dominion Hcp (3); NZ Trotting FFA (2); ID Trotting Final
Alexandra Park - National Trot (2); Rowe Cup
Albion Park - ID Trotting Final
Moonee Valley - Australian Trotting Grand Prix; Bill Collins Mile (2)
Group 2 victories (7) :
Addington - Canterbury Park Trotting Cup
Alexandra Park - City of Sails FFA (2)
Cambridge - Trotters Flying Mile (2)
Ashburton - Trotters Mile (2)
Group 3 victories (5) :
Addington - ID Trotting Heats (3), clean sweep
Albion Park - ID Trotting Heat (1)
Moonee Valley - Australian Trotting C/S heat
Other notable victories :
Listed Ordeal Cup (twice) at Addington as well as Cup Day Trot and an Addington FFA.,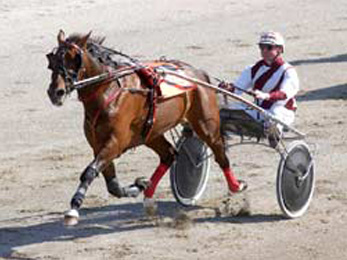 Take A Moment's overall record at Addington was 28 starts for 21 wins (six Group One's, one at Group Two, three at Group Three), one second and one third. Between 28 October 2002 Ashburton Trotters Mile and 12 December 2003 Bill Collins Mile at Moonee Valley, Take A Moment won 18 races in succession (including three wins in Australia), just short of Lyell Creek's record of 20 straight for a trotter. Sub two minute trotting victories came at Addington (one, T1:59.6), Ashburton (one, T1:57.2), Cambridge (two, best of T1:57.2) and three at Moonee Valley (Melbourne), fastest of T1:57.7.
Take a Moment recorded a number of multiple major race wins especially in feature Group Ones, such as three Dominion Hcps (together with Lyell Creek only three time winner), and two NZ Trotting FFA's, National Trots and Bill Collins Miles in Australia. Take a Moment will retain an Inter Dominion Trotters record for all time over the distance of 3157m at Albion Park of T4:03.4/MR T2:03.2 and a Grand Final record over 2600m at Addington of T3:15.9/MR T2:01.2 (Major Decision won a heat in MR of 2:00.3).
Awards won by Take A Moment included :
ANZ Grand Circuit Trotting Champion (twice)
NZ Trotter of Year (twice)
NZ Aged (5yo+) H&G Trotter of Year (twice)
NZ Harness Horse of Year
Australian Trotter of Year
NZ stake earning Trotter of Year (three times)
Inducted into NZ Trotting Hall of Fame
Take A Moment was bred in the Central Districts by Andrew (AM) Corkran whose nephew Paul joined him in ownership and trained him in Canterbury. After winning four of his first six starts for the Corkran's as an early five year old, Tim Butt organised a syndicate consisting of Bruce Greenhalgh, Barry Cotton, Jack O'Donnell, Merv Rodgers, Peter Barber, Neven Botica, Julie King-Turner, Tom Malcolm and Trevor Woolley to purchase Take A
Moment for $120,000. Initial three starts for new owners the Long Drive Syndicate saw wins in all three of his starts at the 2000 NZ Cup carnival.
Having taken over Take A Moment's training, like that of Lyell Creek early in his career, Tim Butt trained him for all of his future Australasian starts (61). In the driving stakes, Anthony Butt drove Take A Moment in every Australasian start (58 of 67) except for the initial six starts when John Hay drove him on five occasions for three wins, Andrew Paanagiotidis won a junior drivers race while Mark Jones had three drives with a best placing of second in National Trot with him.
September 2017