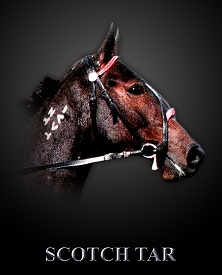 Aside from three time winning stablemates Lyell Creek and Take A Moment, Scotch Tar is one of just seven horses to have twice won NZ's most prestigious race for trotters, NZMTC's Dominion Handicap at Addington (1978, 1980). In addition, he placed fourth in the 1979 edition. A freakishly speedy trotter faster than many pacers with masses of stamina with an overall brilliancy seen in few square gaiters.
Scotch Tar was pacing bred being by North American stallion Tarport Coulter from race winning Roydon Lodge pacing mare Scotch Penny (Scottish Command/Happy Tryax), Hutt Park 3/4yo Challenge Stakes. Scotch Penny was the galloping prompter in Garcon Roux's 1:59.6TT set as a three year old at Hutt Park and dam of five winners, three in Australia. This is the New Zealand family of Harold's Rest, predominantly pacing orientated with Scotch Tar its only major trotting winner.
Key facts concerning Scotch Tar's career include :
Winner of 29 races and 10 placings from 87 starts; 18 wins at Addington from 51 starts (Alexandra Park, six; Hutt Park/Forbury Park/Timaru/Motukarara/Methven solitary wins); $142,405
Leading trotting stake earner in consecutive seasons : 1979/80 ($35,715), 1980/81 ($50,040)
Fifth dual winner of Dominion Hcp (record shared with David Moss, Durban Chief, Easton Light, Master Lavros, Michael Galindo, Whispering Willie)
Dominion Hcp sequence : at 5 : 1978 defeated Spartan Prince and Framalda (sixteenth lifetime start and ninth win in race, track and national record time of T4:11.6** for 3200m stand) ** quicker time than 1978 NZ Cup winner Trusty Scot's 4:12.6 at 6 : fourth to Alias Armbro, Even Speed and About Now at 7 : 1980 defeated Stormy Morn and dead heaters Game Way/No Response
Two Group One's (both Dominion Hcps), five Group Two's and one Group Three
Best winning time of T2:04.4 (2600m, off 35m handicap, Worthy Queen Hcp, NZ Cup Meeting 1980, NZ record); time trialled in T1:58.9 (November 1980, aged seven)
Aged trotting entire or gelding of year (twice), Trotter of Year once
NZ Trotting Hall of Fame inductee
Pacing bred by Roydon Lodge and sold to Robert Cameron for $1,100 before being on sold to Chertsey trainer Albert Willem (Slim) Dykman for $1,000 at the 1975 Ashburton sales, neither trainer was particularly in getting him to pace. After gelding him, Dykman eventually converted Scotch Tar to the trot where he began to realise his great potential.
Qualifying as an early four year old at Washdyke (Timaru) driven by Cameron, he won his race day debut on the grass at Methven by four lengths in late September 1977. After winning his second start at Motukarara, a further three victories were recorded all at Addington at age four (total of five). His first appearance at Addington in his third start resulted in a disqualification for galloping at the start. Four year old record of eight starts : 5-0-0, $7,095, T2:09.0.
As a five year old, Scotch Tar's record read 22: 7-3-0, $38,800, T2:05.9, the season (1978/9) he stepped into the open class trotting ranks for the first time after just twelve starts. Four wins were recorded at Addington including his first Dominion Hcp and NZ Trotting FFA victories during 1978 NZ Cup carnival as well as a 3200m Interdominion heat (seventh in No Response's 1979 Trotters Grand Final) which had been preceded by victory at Timaru off 90m behind. His other two wins came at Alexandra Park where he had finished second in the Benson and Hedges Challenge Stakes, also second in Canterbury Park Trotting Cup and NZ Trotting Championship at Addington on Pacers Grand Final day (engaged in a titanic battle over 2600m mobile, NZ record set by No Response who defeated him by a neck with third place getter ten lengths behind).
His six year old season (1979/80) stats showed 23: 7-2-0, $35,715, T2:05.3. His wins included a hat trick of wins in a week at Alexandra Park including Benson and Hedges Challenge Stakes in October 1979; three wins at Addington including his second NZ Trotting FFA, Reta Peter Hcp, NZ Trotting Championship and Dunedin Trotting Cup at Forbury Park. He placed second in the DB Trotting FFA at Timaru and South Canterbury Flying Mile (T1:59.9 against pacers, first trotter under two minutes in a race in NZ) to Locarno. He finished fourth to Alias Armbro in the Dominion Hcp.
Scotch Tar's seasonal stats at seven were 18: 7-0-3, $48,645, T2:04.4. Commencing the 1980/81 season winning his first three starts at Addington including the Ordeal Cup, followed by his second win in the Benson and Hedges Challenge Stakes and victory off a 100m handicap at Hutt Park preceded the 1980 Cup carnival at Addington. His Cup carnival starts included wins in the Worthy Queen Hcp and his second Dominion Hcp in a much slower T4:16.6 than his earlier 1978 effort. He also time trialled on the first night of the four day carnival, stopping the clock at T1:58.9 (.1 second outside Nigel Craig's record). Third placings were recorded in Reta Peter Hcp and NZ Trotting Championship.
Worthy of mention were Scotch Tar's efforts against the pacers this season. Unplaced in Wee Win's Ashburton Flying Stakes, he finished fifth at Ascot Park (Invercargill) to Trevira, tenth to Delightful Lady (Inter-Island Challenge Stakes) and fifth same night three races later in an open class trot. Dykman started him in the 1980 NZ Pacing FFA over 2000m on Show Day. Scotch Tar was responsible for a spectacular contest streaking to the lead recording a 26.8 first quarter, 800m in 58.6, three quarters 1:28.4 and the opening 1600m in 1:57.4. Although fading in the final 200m to finish seventh, Scotch Tar set the race up for NZ Cup winner and tremendous stayer Hands Down, receiving as many plaudits as the winner.
At eight, Scotch Tar's stats showed a seasonal record of 9: 1-0-1, $3,955, T2:07.6, his solitary victory coming in his season opener at Addington, winning the Christchurch Hcp for the second time. His third placing was in the NZMTC Stewards Trotting FFA.
In his final season as a nine year old (1982/3), Scotch Tar won two and was placed second once in his seven starts ($8,195, T2:07.9). He won his third consecutive Christchurch Hcp to open his season and the following month recorded his final victory in a New Brighton club trotting FFA, on both occasions beating home Sir Castleton. He had earlier placed second on the opening night of the New Brighton September meeting. His final three race day starts were all Group races at Addington - during 1982 NZ Cup carnival finishing unplaced in Dominion Hcp and NZ Trotting FFA (fifth) while his final start came at Easter 1983 when unplaced in the NZ Trotting Championship.
Winning reinsmen during Scotch Tar's career were trainer Slim Dykman (fifteen), Robert Cameron (first ten wins) and Peter Wolfenden (four). Scotch Tar retired the winner of twenty nine races, eighteen at Addington Raceway, T1:58.9TT, $142,405.
Scotch Tar's last public appearance was at the Ashburton Trotting Club's centennial meeting on 29 September 1990 where Kevin McRae (Chertsey) prepared him. Following the centennial meeting, Scotch Tar's final resting place was on a Hororata farm where he was cared for by Alf Phillips. Scotch Tar died of a suspected heart attack aged twenty in December 1993.
The latest champion trotter inducted into the Addington Harness Hall of Fame SCOTCH TAR.
September 2019