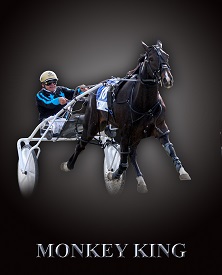 The first three million dollar earning NZ bred pacer to have solely graced the racetracks of Australasia was Monkey King (Sam). Monkey King is one of just fourteen horses to have twice won NZ's most prestigious race for pacers (2009, 2010) placing second in the 2007 edition.
Monkey King by Beach Towel stallion Sands A Flyin (1:50.0US) from the race winning mare Tuapeka Vale (Smooth Fella/Sakuntula), 1:56.6TT AUS, six NSW wins/three at Harold Park, dam of four winners for breeders June Sharples (deceased), Lesley and Matthew Lewis. This being the North American family of Dairy Maid represented in NZ by foundation mare Norice. The Dairy Maid family has left four NZ Cup winners (Camelot, Iraklis, Monkey King twice).
Key facts concerning Monkey King's career :
Winner of 35 races and placed on 22 occasions in NZ (from 86 starts), 19 wins at Addington (11 Alexandra Park, 2 Cambridge, 1 Blenheim/Ashburton/Oamaru), $2,746,363, 1:54.0; four wins (2 Harold Park, Menangle/Newcastle) and once placed from nine races in Australia, A$586,150, 1:50.8; triple millionaire, total earnings of $3,332,513
Leading pacing stake earner for 2009/10 ($1,022,944)
Thirteenth dual winner of NZ Cup (Ahuriri, Flashing Red, Harold Logan, Haughty, Highland Fling, Il Vicolo, Just An Excuse, Lazarus, Lordship, Lucky Jack, Peter Bingen, Reta Peter, Wildwood Junior)
NZ Cup sequence : at 5 : 2007 second to Flashing Red at 6 : 2008 last to Changeover despite running sub four minutes for 3200m at 7 : 2009 defeated Bettors Strike and Smoken Up at 8 : 2010 defeated Smoken Up and Sleepy Tripp at 9 : 2011 seventh in Terror To Love's first Cup success
Ten Group One's (including Miracle Mile in Australia), four Group Two's and six Group Three's
Only horse to have completed the double of back to back NZ Cup's and NZFFA's and in consecutive years (Harold Logan : NZ Cup 1931, 1932, FFA 1931, 1934, 1936. Lordship : NZ Cup 1962, 1966, FFA 1962, 1964, 1967)
Four year old entire or gelding of year, Aged entire or gelding of year (three times), Pacer of Year, NZ Harness Horse of Year, Australasian Grand Circuit champion
Established Australian Pacers mile/Australasian Pacers race mile records at Menangle (2009 Miracle Mile)
NZ Trotting Hall Of Fame inductee
Owned by Robert Famularo, wife Kerry and daughters Sara and Michelle, racing under the Cavalla Bloodstock Ltd banner, Monkey King was purchased for $20,000 by his initial trainer Stephen Reid at the NZ Premier Sales. His later trainer Brendon Hill worked for Stephen Reid for six years before Reid joined in partnership with Graeme Rogerson. Hill moved south taking over Dancingonmoonlight, a boutique breeding and racing establishment in North Canterbury owned by Famularo. Monkey King was transferred from Reid to Hill leaving him with the enviable task of taking over his along with Baileys Dream, Harley Earl amongst others.
Monkey King began racing as a 3yo (2005/6) under Stephen Reid's training. Winning on six occasions in NZ (five Alexandra Park, one Addington) including GN Derby [fifth start, fourth consecutive victory] and Flying Stakes, he was runner up in Elsu Classic and NZ Derby. Three year old NZ record 10 :6-2-1, $160,415, 1:57.3. His three Australian starts yielded a win in NSW Derby heat (fourth final) – AUS record : 1-0-0, A$16,150, 2:01.3.
As a four year old, Monkey King's record read 18: 9-2-2, $312,998, 1:54.0 with wins recorded at Alexandra Park (two including Messenger), Addington (three), Cambridge (two including Te Awamutu Cup), Blenheim (Pelorus Trust Classic) and Harness Jewels Emerald at Ashburton in a NZ career best of 1:54.0. Major placings included seconds in Cambridge 4yo Classic, NZ 4yo Championship; third in the Taylor Mile; fifths in the Auckland Cup and City of Auckland FFA.
At five Monkey King had continued success with his seasonal stats (2007/8) showing 12: 4-3-0, $346,466, 1:59.4. Wins included his first Easter Cup (4:01.8/2:01.5MR) plus two other Addington successes and the Kumeu Founders Cup at Alexandra Park. Among his seconds were neck defeats in both major Cup races : Flashing Red in NZ Cup (race record 3:57.8) and Gotta Go Cullen in the Auckland Cup; second also in City of Auckland FFA. During the season he passed the million dollar mark in earnings.
Continuing on his winning way at six (2008/9) his seasonal stats were 16: 7-4-2, $340,562, 1:58.3. Earlier in the season he had dual success at Alexandra Park for trainers Stephen Reid and Graeme Rogerson (City of Auckland FFA). Among his five Addington victories with Brendon Hill having taken over Monkey King's training duties were his second Easter Cup in a brilliant 3:58.2 (1:59.7MR), Renwick FFA and Winter Cup. Major placings included seconds in Auckland Cup behind Auckland Reactor (earlier had finished last in NZ Cup although timed in 3:58.7, quicker than second placing year before in 3:59.1), Kumeu Founders Cup, Waikato Flying Mile; thirds in Ashburton Flying Stakes, Summer Cup and fourth in Spring Cup.
At seven, Monkey King's NZ stats (2009/10) were almost perfect with a seasonal record of 7: 5-2-0, $1,022,944, 1: 54.5. His four victories at Addington included his first NZ Cup/NZFFA double. The Cup was won in a time of 3:57.3/1:59.3 (then second fastest race record) from the outside unruly barrier position of fifteen while his win in the NZ Pacers FFA required a 1:54.5MR. Other Addington victories were recorded in the Canterbury Classic and Summer Cup. Taking out the Auckland Cup from Tintin In America and stablemate Baileys Dream completed his NZ seasons successes. Monkey King placed second in the Hannon Memorial and a handicap pace at Addington.
In Australia, Monkey King broke all records in winning the Miracle Mile (1:50.8) at Menangle well as two heats of the Interdominions (Harold Park/Newcastle) before placing second in Blacks A Fake's record breaking fourth Pacers Grand Final win. Running fourth in the Victoria Cup won by Bettors Strike, his Australian record for 2009/10 was 5: 3-1-0, A$560,000. During this season Monkey King passed the two million dollar earnings barrier.
As an eight year old, Monkey King's NZ stats (2010/11) were 15 : 3-2-2, $530,619, 1:55.6. Three victories at Addington mirrored his previous season with his second win in each of the Canterbury Classic, NZ Cup (4:00.7/2:1.0; driver Ricky May's fourth NZ Cup), again from the unruly position and NZFFA (1:55.6). Major placings were seconds in the New Brighton Cup and City of Auckland FFA; thirds in Summer Cup and a heat of Interdominions held in Auckland; fourths in Maurice Holmes Vase and Ashburton Magic Mile. His solitary Australian start was in the Miracle Mile where he finished sixth to Smoken Up - Australia : 1:0-0-0, AS10,000. During this season Monkey King's earnings topped the three million dollar mark.
In his final season as a nine year old (2011/12), Monkey King won his first seasonal start Hannon Memorial, his only success from nine starts, $32,358, 2:01.1. Fifths in the New Brighton Cup and NZFFA, seventh in the NZ Cup and fourth at his last start in the Summer Cup at Addington in early February 2012 rounded out his illustrious career.
Monkey King was driven extensively throughout his career by Ricky May, the winning driver on 21 occasions in NZ and three in Australia. Todd Mitchell handled the reins early on in his career with nine wins while trainer Stephen Reid was the pilot for five of his victories. Darren Hancock drove him when victorious in a heat of the NSW Derby. Trainers successful during Monkey King's career were Stephen Reid (19 NZ, 1 AUS) Stephen Reid and Graeme Rogerson (2) while Brendon Hill was his trainer for 14 wins in NZ and three in Australia.
Monkey King retired in early 2012 with an Australasian career showing : 86 NZ starts : 35–15–7, 1:54.0, $2,746,363; Australia 9 starts : 4-1-0, 1:50.8, $586,150; totals of 95: 39-16-7, $3,332,513, 1:50.8.
September 2019