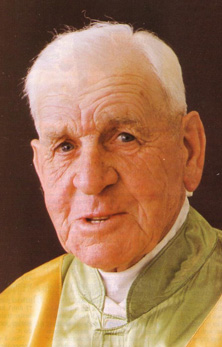 The "Maestro", a legend in his own time, revered by all and feared by his opponents, Maurice Holmes was the inaugural inductee into the Addington Hall of Fame in 2005.
Born into a racing family, one of eight children, his father Free Holmes won the 1888 New Zealand Galloping Cup on Manton. He achieved the double winning the 1919 New Zealand Trotting Cup with American import Trix Pointer, and in 1936 aged 65, won the Inter-Dominion Pacing Grand Final at Gloucester Park, Perth with Evicus. Maurice's brothers, elder Freeman and Allan made their marks as horsemen while Walter was their father's right hand man. Maurice's nephews Freeman L, Graham, Kevin and Colin continued the family tradition for top horsemanship and today Robbie Homes keeps the Holmes name to the fore.
A champion driver of superb ability who amassed 1666 winning drives ($2,054,555 in stake money over 49 years), Maurice Holmes was the first driver to reach 1000 wins. Opportunities then were less than half what they are today with his best winning season being his last in 1973/4 when he totalled 93 winning drives. He was at the top of his profession for almost 50 years having had his first win aged 16 under saddle on Bonny Logan at Addington in August 1925. At 17 he won the 1926 Auckland Cup with Talaro and by age 20 he was New Zealand's leading driver. Shades of modern day champion driver Dexter Dunn.
Maurice Holmes achieved much throughout his lengthy harness racing career. To list but a few - honoured by the Queen (OBE); NZ Racing Personality of Year twice; leading driver 18 times, the first at age 20; 3 NZ Cups; 2 Auckland Cups; 2 ID Pacing Finals; 4 NZFFA's; NZ Miracle Mile; an amazing 12 NZ Derby's; 3 GN Derby's; 3 NZ Oaks; 3 Rowe Cups; 3 Dominion Handicaps; 5 NZ Trotting Derby's (3yo Trotting Stakes); 3 Golden Slipper Stakes - 2; 3 Sapling Stakes - 2 ; just some of his classic race winning driving achievements.
Maurice Holmes turned his hand to training in the 1940's achieving his one training premiership in the 1949-50 season with 30 wins. His training successes included several of those horses that he achieved classic driving wins with as listed above.
Forced into early retirement due to having attained the then compulsory driving retirement age of 65 years, his final race day was at Alexandra Park on July 20, 1974. His eight drives yielded four winners with fittingly his last drive being a successful one on trotter Transmitter Sound. He did continue training into his eighties with his last success coming at age 80.
Maurice Holmes was associated with many wonderful horses at different stages of their careers such as Pot Luck, Vedette, Chamfer, Lookaway, Noodlum, Ordeal, Robin Dundee, Recruit, Harold Logan being just a few driven by the champion reinsman.
Maurice Holmes was a very worthy recipient as the inaugural inductee to the Addington Hall of Fame. His achievements marked him down as a very special horseman.