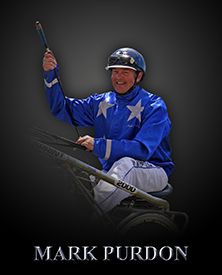 Already an inductee of the New Zealand and Interdominion Halls of Fame, Mark Purdon, the all round horseman, completed the trifecta with his recent induction into the Addington Harness Hall of Fame.
Throughout his career, he has accumulated a lengthy list of remarkable achievements, whether they be training, driving or sales selection successes. His driving career commenced during the 1981/2 (six wins) season with his first victory coming on Dark And Dusty at Ruakaka (1 February 1982). In five seasons as a junior driver he saluted the judge on forty four occasions with a further five from a season spent in Australia (1983/4). With primary mentors being his legendary training father Roy (twenty one training Premierships) and older brother Barry (nineteen training Premierships; 168 winners in a season training record held with Roy), it became obvious that Mark Purdon was always going to be a high achiever.
The first two Group One successes came in his first season driving in open ranks; Miss Ardmore (Great Northern Oaks) and Julie Vance (New Zealand Oaks) among fifty one winning drives for fourth in Drivers Premiership. His best season driving to date is 2011/12 with seventy five victories.
In 1990, an Ardmore property was purchased in co ownership with brother in law Tony Herlihy, Mark commenced training on the property some years later. In his inaugural season as a public trainer (1995/6), he trained eighty one winners, second only to older brother Barry's eighty four (Roy retired at the end of the previous season).
Synonymous with the All Stars Stables training facility at Rolleston (Mark moved to Canterbury at the start of 2001/2 season), thirteen training Premierships have been recorded over the past nineteen seasons, a record that may eventually rival that of Roy's twenty one and Barry's nineteen. His best season training wins to date was 2013/4 in partnership with Natalie Rasmussen (157 wins, again just short of record held by Roy and Barry Purdon). Mark joined Roy and Barry Purdon as the only trainers to have recorded 2,000 training wins in NZ when Bettor Trix won driven by Mark at Addington on 12 October 2017.
Mark Purdon's training stats :
New Zealand - total of 2,117 made up of 908 on own, 558 with Grant Payne and 651 to date with Natalie Rasmussen (recorded over past five seasons 2013/4 – 2017/8). Included in these 2,000+ training wins are four instances of seven winners on a race day : a) Mark Purdon and Grant Payne, Auckland TC New Year's Eve meeting, 31 December 2009; b) Mark Purdon and Natalie Rasmussen, NZ Cup Day 11 November 2014; Auckland TC New Year's Eve meeting, 31 December 2017; NZMTC Addington meeting of 16 March 2018; six winners a) Mark Purdon, Nevele R Fillies meeting, 11 May 2013; b) Mark Purdon and Natalie Rasmussen, NZ Cup Day, 10 November 2015; Easter Cup night 28 March 2016; Sat 21 May 2016 NZMTC NZ Oaks Day; NZ Cup Day, 8 November 2016; Harness Jewels 2 June 2018, Cambridge and five winners on twenty four occasions : Mark Purdon and Natalie Rasmussen (14), Mark Purdon and Grant Payne (6), Mark Purdon (4).
Australia - total of 304 wins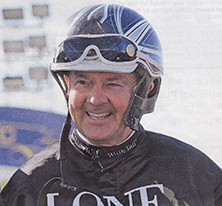 Mark Purdon's driving stats :
New Zealand - total of 1,525, 2017/18 season bringing up his fifteen hundredth winner on Funonthebeach in a three year old event at Cheviot's annual meeting at Addington. On six occasions he has driven five winners in a day.
Australia - total of 209 wins
In addition, Mark drove the winner of the final heat of 2017 World Drivers Championship at Charlottetown, Prince Edward Island, Canada where he was the NZ representative together with defending WDC champion Dexter Dunn. In 1996, he piloted Pride Of Petite into fourth in an elimination heat of the world's premier trotting sprint, the Elitloppet at Solvalla Raceway, Stockholm, Sweden. Finishing fourth and qualifying for the rich Final, she finished sixth together with a third placing in Copenhagen when in Europe.
It needs to be remembered that Mark has always had stable drivers of the calibre of Blair Orange, Tim Williams and training partner Natalie Rasmussen to handle stable horses, thereby lessening to some degree the number of drives he has had. His overall UDR strike rate in NZ exceeds 3100 (low of .2099 in first season, high of .5753, 2015/6).
Few races have not been won by Mark Purdon, either driving or training with most notably a Miracle Mile yet to be annexed.
With a keen eye for superior racing stock and a loyal bench of owners such as Phil and Glenys Kennard, Neil Pilcher and many others, Mark's yearling sales selections have over many years turned up trumps. It goes without saying that his Group One training successes of 243 (NZ – 177; AUS – 66) are fast approaching legendary thoroughbred trainer Bart Cummings record of 268. Of the Group One victories, 70 of 177 in NZ have been at Addington with an overall split between pacers (198) and trotters (45) Australasia wide. Mark is trainer of the first and two of the three pacers to have gone under 1:48 in Australasia.
With respect to major races won, these include five training and driving (third behind Ricky May's seven and Cecil Devine's six) victories in the NZ Cup; a Dominion Hcp winner; five Auckland Cup training and four driving successes; two Rowe Cups; two Hunter Cups; numerous Pacing Derbies (25) made up of GN (6), NZ (13), VIC (2), NSW (3), AUS (1) and ten Trotting Derbies – GN (4), NZ (6) and several Pacing Oaks (19) made up of GN (8), NZ (4), VIC (1), NSW (3), QLD (2). His Harness Jewels training record at Ashburton/Cambridge (to June 2018) is unsurpassed – 40 victories (24 driving wins) from a maximum of 108 Jewels races to date (excluding one-time 5yo Jewels), while in Australasian Breeders Crown events he has trained eleven winners and driven thirteen to victory.
His combined Interdominions Grand Finals record is without peer – as a driver, Pacers : four heats and three Grand Finals, Trotters : six heats and three Grand Finals. As a trainer, two Pacers Grand Finals and five Trotters Grand Final victories. Insert Photo : Mark Purdon and Lazarus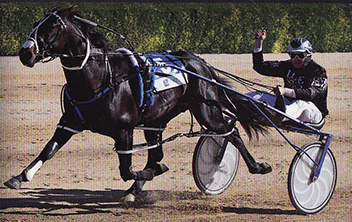 It is impossible to list and name all of Mark's major winners but mention must be made of these - Mark Hanover, Mark Roy, Il Vicolo, The Court Owl, Bogan Fella, Pride Of Petite, Diamond Field, Buster Hanover, Brabham, Young Rufus, Jack Cade, Sharp And Telford, Highview Tommy, Auckland Reactor, Sleepy Tripp, I Can Doosit, Fly Like An Eagle, Smolda, Adore Me, Border Control, O Baby, Escapee, King Denny, Fight For Glory, Piccadilly Princess, Have Faith In Me, Dream About Me, Spanish Armada, Party On, Heaven Rocks, Ultimate Machete, Elle Mac, Vincent, Princess Tiffany, Our Waikiki Beach and Lazarus …. plus many other notables. N.B. : stats to 31 August 2018
September 2018