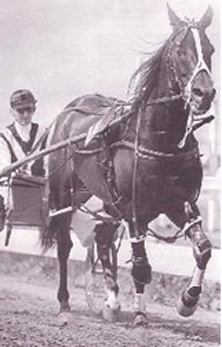 One of two initial inductees to the horse's category of the Addington Harness Hall of Fame, Johnny Globe was the idol of Addington Raceway during the 1950's. This grand little stayer and sprinter maintained his place in the hearts of Addington race fans throughout his eight season career.
From the Globe Derby line, being by Logan Derby from Sandfast, Johnny Globe was raced by Don and Doris Nyhan. Following an initial win in the 1950 Timaru Nursery 2yo Stakes, Johnny Globe completed the NZ/GN Derby double at three. Close to being the first 4yo to win the NZ Cup in 1951 when second to Van Dieman, he nevertheless was leading stake earner with £9,360 and 8 wins for the season. Success finally came at his fourth attempt in the 1954 NZ Cup when as a 7yo, Johnny Globe off 48yds paced a world record 4:07 3/5 for the 2 mile journey.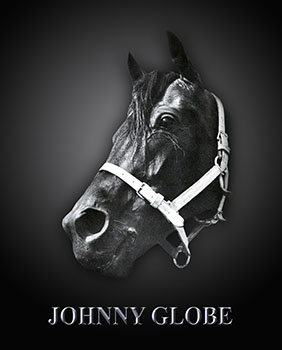 Johnny Globe retired as a 9-year-old, the winner of 34 races with 45 places from 99 starts, 15 of them being free-for-alls and four world records. His stake earnings of £42,887 10/- were a record for a standardbred or thoroughbred raced solely in NZ. Addington was the scene of Johnny Globe's greatest triumphs, 13 of his wins being gained there. Whilst his greatest performance was undoubtedly his success in the world record-breaking Cup of 1954, his other world records were establishing a mile against time on the grass at Alexandra Park in 1:59.8 (November 1953); a mile from a standing start in a race in 2:01.2, and a mile and three furlongs in 2:50.2. Johnny Globe also held the New Zealand mile and a quarter record for a 3yo of 2:37.6.
Johnny Globe was officially farewelled at Addington in December, 1956, when a huge crowd emotionally cheered and sang as a band played 'When Johnny Comes Marching Home'.
Retired to stud at Globe Lodge and with barely 10 mares booked to him in his first year because of a bias against colonial bred stallions, Johnny Globe was leading sire in NZ for four consecutive years from 1969/70 to 1972/73. In addition, he produced a son, Lordship, who twice won the NZ Cup (45 wins) and was an even greater success at stud than Johnny Globe himself.
Significant Successes : included 5 Group 1 races (NZ Derby, GN Derby, NZ Cup, NZFFA (2) :
2yo (1949/50) - Timaru Nursery
3yo (1950/51) - NZ Derby, GN Derby
4yo (1951/52) - Hannon Memorial
6yo (1953/54) - NZFFA
7yo (1954/55) - Hannon Memorial, NZ Cup, NZFFA
Pacing Stake Earner of year - 1952, 1955
Pacers race time record of 1:59.8TT (incl in 1st 100 2:05, 2:0 NZ Pacers)
Leading sire - stakes 1970 - 1973; Siring Successes incl Bay Johnny, Cee Ar, Globe Bay, Johnny Gee, Lordship, Poupette, Royal Force, Spry etc.
Equal Leading Broodmare Sire - winners 1981. Broodmare successes included : Courting Appeal, John Gilbert, Thriller Dee, Tobago etc