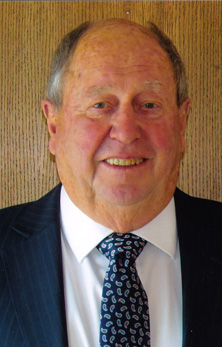 Having given a lifetime of service to the harness racing industry as a horseman and administrator, John Arthur Lischner is one of the 2014 inductees to the Addington Harness Hall of Fame.
On the administrative front, John Lischner's involvement has included :
Long term President of Trainers & Drivers' Association and member of National Council
Harness Racing New Zealand Board Member for six years (2008 - 2014) as Trainers and Drivers representative
Chairman of Handicapping Sub-Committee for 5 years
Member of Handicapping Sub-Committee since 2000 – 14 years
Instrumental in development of conditioned handicapping system - 2001
Involved in cadet schemes both in Southland and Canterbury
Addington Harness Hall of Fame Trustee and committee member
Starting out as a butcher in Tapanui, John Lischner tried training for several years before turning to full time training in 1988. His first training win came with Lord Bijou (dr. R.G. Kerr) in a 2yo race at Invercargill, January 1982. In early 1988, he shifted from Tapanui to Ashburton, taking up residence at Robert Cameron's former property, just off the main highway between Ashburton and Methven. He trained there until a final training shift to what is now Ken Barron's Toliman Lodge, West Melton, commencing in the 2001/2 season. Leading trainer in 1996/97 season (86 winners) and 1998/99 (85 winners); also in the top ten on five other occasions. From 14 winners in 1993/4, Lischner's numbers exploded in 1994/95 ( 63 winners - 2nd), 1995/96 (69 - 3rd), leading trainer 1996/7, 1997/98 (40 - 5th), leading trainer 1998/99, 1999/2000 (57 - 2nd) and in his last season training on his own 200/1 (36 - 6th).
As a trainer in his own right between 1981/2 and 2000/2001 seasons as well as briefly during 2006/7 and 2007/8, from 3,331 starters, John Lischner produced the winners of 563 races for stakes in excess of of $4m. Of these, 409 starters were trotters that won 79 races. His overall UDR rating was a more than respectable .2776. Among his best performers on the track during this time were -
Emcee (part owned with wife Eleanor; 13 of 18 wins, Forbury Juvenile, Southland Futurity, Pickaberry 3yo C/S, Invercargill/Kurow Cups, PGG FFA; 2nd NZSS - 3, Shipleys Sound & Vision Gp3), later winner of numerous QLD FFA's. N.B. Bill Denton, Frank Cooney and Roy/Barry Purdon trained him for five NZ wins
Twinkle John won his first two starts for Lischner before Robert Cameron trained for a further eight wins
Gee du Jour (part owner, $¼m, 17 wins, Ordeal/Rowe Cups, ID ht, Alexandra Park FFA's (2); 2nd ID ht (2), Dunedin Trotting Cup (also 3rd), Trotting FFA (also 4th), Dominion Hcp, National Trot, Waikato Trotters Mile; 3rd ID ht, Ashburton Trotters Mile, 4th ID Final, Trotting C/S (2))
Tartan Clansman (9 wins, Otago C/S - 3, Superstars - 4; Invercargill Cup & prelude; 2nd 3yo C/S, Junior FFA, Invercargill Cup, Wellington Cup, Taylor Mile, Messenger; 3rd Hannon Memorial); 4th NZ Derby
Eastburn Grant (13 wins BPTC Trotting Cup (also 2nd twice), Rowe Cup; 2nd NZ Trotting FFA (also 3rd), Dominion Hcp, Ashburton Trotters Mile, National Trot; 3rd Dunedin Trotting Cup (2), City of Sails FFA (2), Rowe Cup), CPTC Trotting Cup; Melbourne ID's, 2nd hts (2), 5th Final)
Robinson Cruscoe (8 wins; 2nd Kurow Cup, CPTC Winter Cup, Thames Cup, New Brighton Cup (Avon City Ford), Junior FFA; 3rd Alexandra Park Winter Cup
Bradshaw (11 wins, Easter Cup, Meadow Fresh 2000 (also 4th), Kaikoura Cup (also 3rd); 2nd Ashburton Flying Stakes (also 3rd), Ashburton Cup, Hobart ID hts (2nd/3rd), 4th final)
Stars and Stripes to July 2001 (11 wins, NZSS - 2 ht, NZSS -3 HT/Final, GN/NZ/VIC & ht/final NSW Derbies, Avon C/S -3; 2nd Welcome Stakes, NZSS - 2, Rising Stars, NZYSS - 3, 3rd NZYSS Southern Sales Graduate, Flying Stakes, Kaikoura Cup, Junior FFA; 4th Chariots of Fire)
Gees Pride (9 wins, NZ Trotting Stakes - 2, NZSS - 3T, VIC Trotters Derby ht; 2nd VIC Trotters Oaks, 3rd Holmfield, NZSS - 2T, Hambletonian, Rosso Antico Stakes)
Bolsena (9 wins, CPTC Winter Cup; 2nd Timaru Cup)
OK Rock (9 wins, GN Oaks, Nevele R Fillies hts (2), NSW Oaks; 2nd Southland/NZ/QLD Oaks; 3rd Aust Oaks)
Soft As Silk (5 wins, Forbury 4yoC/S)
Biddy BB (6 wins, Robin Dundee Crown)
John Arthur (Wairio Cup)
Three Little Pigs (Methven Cup)
Gold Prince (NZYSS NHT -2)
In his earlier days of training down south Lischner made good use of skilful reinsman Henry Skinner for many of his successes. After his move to Ashburton, Ricky May figured most prominently until Ken Barron became stable driver from the 1994/5 season (1996/97, 103 wins best season finishing second in drivers premiership). Many other prominent Canterbury/mid Canterbury reinsmen were to record successes for the Lischner stable, Robert Cameron, Jack Smolenski, Simon Adlam to name a few. Clark Barron and Tony Herlihy were often utilised in their Southland and Northern locations respectively.
In conjunction with Ken Barron during the three seasons of 2001/2 - 2003/4 (Ken Barron commenced training on his own account in the 2004/5 season), the Lischner/Barron partnership lined up 867 starters for 99 winners of $819,807 (100 trotting starts for 14 wins). Their UDR rating was a useful .2243. Better performers included amongst these winners were - Stars and Stripes post August 2001 (4 wins, Invercargill Cup, Nobilio now Canterbury Classic, 2 ID hts; 3rd Renwick/NZFFA/SBS & Hellers Goods FFA, 5th NZ Cup); Roland John (Southern Supremacy, 3rd Superstars 4yo C/S); Lady Toddy (CPTC Winter Cup; 3rd Nevele R Fillies ht); Southern Soky (NZSS Silver - 2 and 3c&g; 3rd Bell Tea Gp2); Spiritual King (NZYSS NHT -2); Kenny The Cowboy (NZSS - 3c&g ht (also 3rd ht). Other placings of note included - Eastburn BB (2nd NZSS - 4/5 c&g); Highflyin Eagle (2nd NZYSS Consolation - 2); Jo Anne (2nd Hambletonian - 3T); Pocket Game (3rd Greymouth Cup); Eastburn Gee (3rd NZSS HT - 2f). The Lischner/Barron combination finished 11th in the trainers premiership in 2001/2 (27 wins), 9th in 2002/3 (29 wins) and 7th in 2003/4 (43 wins), improving their performances each season.
Ken Barron (84 wins) was obviously the key stable driver over the three seasons of the Lischner/Barron partnership; others used to winning effect were then junior drivers, Stephen McNally (2), Gavin Smith (1), Andrew Armour (3) as well as Clark Barron (5), Ricky May (2), Maurice McKendry and Mark Jones one apiece.
John Lischner has now moved to Wanaka to enjoy his retirement.
Compiled as at 1 October 2014.