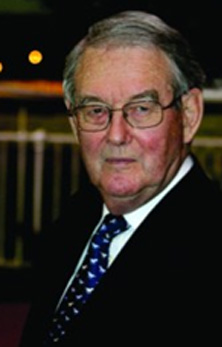 Retired Christchurch businessman Jim Wakefield has made a significant contribution to the harness racing industry over many years. He was awarded a Member of the New Zealand Order of Merit (MNZM) in 2012 for his services to harness racing and outstanding contribution to the industry in a number of areas over an extended period.. Jim Wakefield also received the Outstanding Contribution to Harness Racing Award at the 2012 HRNZ Awards.
A prominent administrator, Jim was the NZ Trotting Owners Association representative on the Harness Racing New Zealand executive from 1998 to 2010. He went onto become Chairman from 1999 to 2003.During this time Jim played a key role in promoting a number of changes :
the development of the Racing Act 2003 on which the current industry is structured.
promotion of ownership support, safety in harness racing and integrity
he was HRNZ's inaugural appointment to the New Zealand Racing Board (2003 - 2006)
Jim Wakefield chaired the organising committee for the World Trotting Conference held in Christchurch in 2007.
An owner, breeder and prolific yearling sales purchaser he and wife Susan have been associated with successful horses such as :
Bettors Strike (2nd NZ Cup, 2nd Easter Cup, Tasmania Cup, Victoria Cup, Cranbourne Cup, Rangiora Classic, $789,864, 1:55.7); Sparks A Flyin (2nd NZ Oaks, Nevele R Fillies, NSW Oaks, Aust Breeders Crown - 3f, raced USA/Canada 9 wins, $627,218, 1:52.0US); Texican (NZSS -3, Southern Supremacy, $262,496 as at 27/5/121:56.0); Scorching (NB Cup, Alex Park Winter Cup, Invercargill Cup); London Pride (NZYSS NHT -2, 2nd GN Derby, 1:51.6US); London Express (Cardigan Bay Stakes -2, Shepparton Cup, $258,548, 1:50.6US); London Legend (Rising Stars - 3, Pelorus Classic - 4, 2nd Taylor Mile/Messenger/City of AK FFA, 2nd NZFFA, Rangiora Classic (2)), Vic Sky Channel FFA etc
The Wakefield's have made good use of the top partnership of Cran Dalgety as trainer and Dexter Dunn as driver in recent years.
Outside of harness racing, Jim Wakefield is a fellow (Hon Retired) of the NZ Institute of Chartered Accountants having been a member since 1956. He joined the Christchurch office of what became KPMG in 1952. He spent 27 years as a partner in the firm with three of these being Christchurch managing partner. In the 1970's and early 1980's Wakefield was active in NZICA activities at both local and national levels including a year as Canterbury/Westland Branch Chairman. Wakefield has been chairman and director of numerous private and public companies. In his youth his sporting interests included being awarded a NZ University blue for boxing and representing South Canterbury and Buller at cricket. In later life he became a regular golfer.