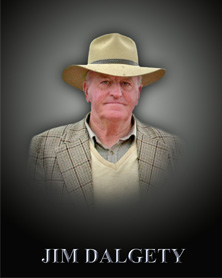 Jim Dalgety has had a lifetime in harness racing as a breeder, owner, trainer, driver, stud master …… Part of a multi-generational family involvement In harness racing spanning the last seventy five years, Jim (James Scott) Dalgety (jnr) is the son of Jim (James William) Dalgety (snr), a breeder/trainer who operated the Belmedia Stud at Kakanui, Oamaru (North Otago).
Assisting their father, sons Don (Donald Murray, Shardon Stud, Kakanui) and Jim (Lantana Lodge, West Melton) later established their own standardbred studs. Now in his mid-eighties Jim Dalgety is a walking encyclopaedia of harness racing knowledge, having passed on his ability to present well prepared and healthy horses to his son, leading trainer Cran Dalgety. The Dalgety's are obviously nurturers of future talent as can be seen in respect of talented horseman Robert Dunn who learnt his trade under Jim, and son Cran's development of two future World Driving champions in Mark Jones and Dexter Dunn (son of Robert).
Jim got his start in harness racing as a seventeen year old after leaving his parents farm at Kakanui south of Oamaru. First licensed as a Probationary Driver in the 1955/56 season, Jim was working for Maurice Holmes. His first placed drive being an NZMTC Probationary Drivers' race at Addington on 6 April 1957, where he finished third on Simalas (owned by A M Hunter). His application for a trainer's licence stated that he had worked for Cecil Devine for two years, and Maurice Holmes for three years. He was granted a licence to train his own and his father's horses in November, 1958 while his first win as both a trainer and driver, was with Vanity Scott (owned by his father, J W Dalgety) at Forbury Park on 24 January 1959.
After branching out on his own account, Dalgety later took horses to North America in 1967 where for five months he worked for Stanley Dancer. It was here he met Vernon and Caroline Dancer the owners of Out To Win and Farm Timer, these stallions Dalgety later purchased to stand at his Lantana Lodge operation.
As a trainer Jim Dalgety prepared 162 winners (twelve trotters) from 1966/7 season to date and at further 49 dating back to 1958/59 season, making a total of 211. His best seasons were 1965/6 with twenty one wins (Mister Chips seven, Chief Command four, Overtime three, Ulove/Michael two, Monte Bello), 1964/5 with fourteen (Golden Oriole/Ulove three, Mister Chips/Michael two, Monte Bello) and 1973/4 with eleven winners (Adios Ned five). This season he has had two training wins both with Time Traveller in the hands of Dexter Dunn at Forbury Park on 15 June and 15 July 2017.
In the driving ranks Jim Dalgety drove 40 winners (three trotters) in the period 1966/7 to 2001/2 and a further 18 dating back to 1958/9 with his best season being 1980/81 when his six wins included four with Melton Monarch (NZ Champion Stakes). His last winning drive came on trotter A Touch Of Sun at Motukarara on 29 April 2001.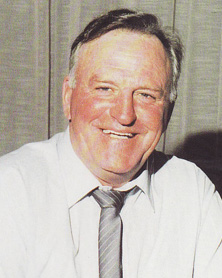 Associated in varying capacities with horses the winners of an Auckland Cup (Bolton Byrd), GN Derbies (Bolton Byrd, Melton Monarch, Golden Oriole), GN Oaks (Happy Hazel, Scuse Me), Taylor Mile (Scuse Me), Nevele R Fillies (Happy Hazel, Solberge), Ladyship Stakes (Lucy Lumber), Delightful Lady Classic (Fancy Wishes), Leonard Memorial (Rely winner, Astrazaani, Violetta), NZSS – 2f (Imagine That), Sunny Action (NZ Trotters Derby, NZ Trotting FFA defeating Lyell Creek), Jovial Jeanie (Franklin Cup), Dictatorship, Dwayne (solitary NZ Cup drive), Out To Dream, Living Proof, Danger Sign, Never Bend, Living Doll (bred by his father but raced by Jim jnr and matriarch of an extensive on going branch of Dairy Maid family) and A Touch Of Sun plus numerous others over many years.
Jim Dalgety bred the dam of a NZ Cup winner Lord Module, Three Year Old Pacer (Melton Monarch) and Pacing Filly of Year (Happy Hazel), Four Year Old Pacer of Year (Melton Monarch); full brothers from Bachelor Hanover mare Nikellora out of Out To Win (imported and stood both stallions at stud) in Bolton Byrd and Melton Monarch.
One of most astute decisions he ever made was during a trip to the States when he noticed 1963 NZ Derby winning mare Bellajily (Van Dieman/Malabella) racing in lowly claimers. He had an American friend claim her on his behalf for $2,600. Coming from a strong family of good winners Dalgety developed this branch of Krina's Dam family through Bellajily/Jovial Jeanie seven wins)/Happy Hazel/Imagine That (all Group winning mares) over the next three decades. He and wife Faye have been among the more successful breeders in the business.
Stallions that Jim Dalgety stood at Lantana Lodge included premiership leading sire Bachelor Hanover who he imported in 1965, dying aged 22 in 1977 (leading sire for winners twice 1972/3, 1973/4; stakes once 1973/4; sire of 193 NZ bred winners of 553 races worth $1.094m including NZ/Auckland Cup winner Arapaho, juvenile champion and sire Noodlum, Bachelor Star, Sovereign, First Batch, Main Star, Bachelor Tom; dam sire of 524 NZ bred winners including Bionic Chance, Locarno. Lord Module, Bolton Byrd, Melton Monarch, Times Up, Ladys Rule, Decision Time, Motoring Magic, Galleons Paradise). Bachelor Hanover is buried with a commemorative headstone near the main entrance to Lantana Stud Dalgety's 450 acre property.
Jim Dalgety also stood a second premiership leading sire in Out To Win he imported in 1970 becoming infertile in later years and dying aged 22 in 1985 (leading sire for stakes once 1976/7; sire of 277 NZ bred winners including Wee Win, Double Agent, Amaze, Bolton Byrd, Melton Monarch, Mighty Me, Balgove, Trident, In Or Out; dam sire of 358 NZ bred winners including Borana, Pacific Flight, The Unicorn). These two sires alone showed that Dalgety was a fine judge of horseflesh with his stallions contributing massively to enhancing NZ harness racing. Other stallions that stood at Lantana Lodge included Colonel Kenton, Last Edition, Paulsboro, Farm Timer, Striking Force, Goodland, Tuapeka Knight, Wingspread, Alberton, Reba Lord and Ginger Man.
Jim Dalgety was the recipient of the Outstanding Contribution to Harness Racing Award at 2009 HRNZ Awards dinner and recognised for his considerable contribution to the industry over many years by the NZ Trainers And Drivers Association.
"Me old mate" Jim Dalgety is the latest deserving entrant to the Addington Harness Hall of Fame for his extensive contribution as a horseperson to the harness racing industry in Canterbury and further afield.
September 2017