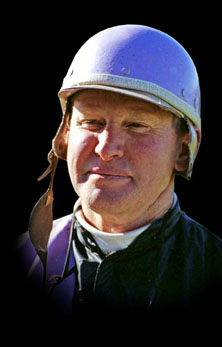 Ces Devine. Jack Smolenski, Lord Module : Allan Matson FFA 1981
A magical period of success during the 1970's seventies established Jack Smolenski as a leading trainer and driver not only in the Canterbury area but throughout New Zealand. Known as a horsepersons horseman, Smolenski was leading trainer twice in 1971/2 (43 wins) and 1972/3 (55 wins) while also leading driver in 1971/2 with 47 wins. His overall career statistics stand at : trainer - 742 wins and driver - 1,059 wins, therefore making him an early member of the exclusive "one thousand" club.
His career started out with Tom Gunning at Temuka in late 1949. He worked two spells in the 1950's for leading trainer Ces Devine and started training from Reg Curtin's place before branching out from his own property in Templeton.
A major owner for Smolenski was John Osborne, a former committeeman of the NZ Metropolitan Trotting Club and a prominent South Island breeder and owner. They shared ownership with Maurice Vermeulen in the high-class mare, Royal Belmer. As well as part owner in Osborne's horses, Smolenski trained the likes of Royal Belmer (Breeders Stakes), dam of Sovereign who won the 1978 NZ Derby, Harvest Gold (GN Oaks), Imperial Guest (Golden Slipper Stakes), Regal Guest (2 DB hts) and Regent Guest. Osborne and Smolenski were partners for more than 25 years.
During his time Smolenski was associated as driver and/or trainer of many Group race winners - Amaze/Sovereign (NZ Derby), Times Up (NZ Oaks), Times Up/Gina Rosa/Harvest Gold/Gina Marie (GN Oaks), Gina Rosa/Blue Water (Nevele R Fillies), Arapaho (NZ/AK Cup/Stars Travel Mile), Vanadium (Ash Flying Stakes/ID Hts (2)), Rocky Star/Torrent (ID Pacers Consol),Gina Rosa (Premier Mares), Vanadium/Torrent (Easter Cup), Gina Rosa/Royal Belmer (NZ Breeders Stakes), Lord Module/Giovanetto (Alan Matson), Jennys Rocket/Zebec/Harvey Wilson (NZ Trot Derby), Harvey Wilson (GN Trot Derby), Philemon (Dom Hcp), Pompalier (Trot C/S), Melvander (Trot FFA), Waipounamu (CPTC Cup), Nardinski (Flying Stakes - 3), Ostrava (NZ C/S -3), Mels Boy/Nardinski (GN Derby), Nardinski (NZ C/S - 2), Mels Boy (Welcome/Kindergarten Stakes), OK Royal (Messenger). Colonel Grace (Rising Stars - 3), Giovanetto (Superstars - 4), Seaswift Franco (Caduceus Club Classic - 2), Champagne Princess (Sthld Oaks) ; also Melvander/Jenner/Al Mundy (Ordeal Cup), Vanadium (NB Cup (2)/Laing Hcp), Philemon (Worthy Queen Hcp); Lord Lynbar/Seaswift Franco/Starwin Boy/King Aurea (Add Winter Cup) etc.
Smolenski suffered a brain haemorrhage in 2008 which left him confined to a wheelchair.