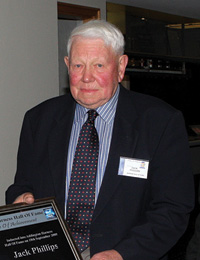 A keen standard bred enthusiast and prominent harness racing administrator, Jack Phillips was inducted into the Addington Hall of Fame in 2009.
Born in Kurow in 1929, Jack both purchased and bred numerous standardbreds, many in conjunction with his brothers Rex, Ian and Bruce. Among their better performers were - trotting mare Pure Adrenalin T1:57.2 (11 NZ wins), Camero 1:54.2, $124,301 (8 NZ wins) and Spring A Lot 1:52.1US, $166,466 (9 NZ wins).
Jack's contribution to harness racing administration has been immense. Beginning with the Timaru Trotting Club, he served on their committee for 40 years from 1962 - 2002. He was vice president for five and President for ten years. For thirty six years (eleven as Chairman) he was a trustee of Timaru's Phar Lap raceway.
He became an executive member of the NZ Trotting Conference (now Harness Racing NZ). His total service of 16 years, included four years as South Island vice president before a period of five years as President (1989 to 1993).
At a higher level, Jack served on the Inter Dominion Grand Council for five years and was senior vice president of the Interdominion Harness Racing Council from 1988 to 1993. He was a NZ representative at five World Trotting Conferences, vice president at the 1991 World Conference held in Auckland and participated in a number of standing committees at World Conferences.
His personal contribution at an administrative level spanned over 40 years. In 1994 he was awarded the Ern Manea Inter Dominion Gold Medal for his significant contribution to New Zealand/Australian harness racing and the Inter Dominion Championships.