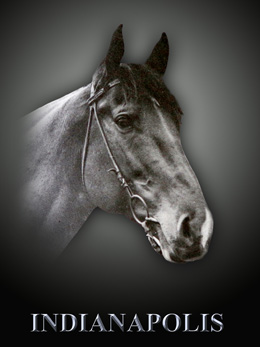 The first three time winner of the New Zealand Cup (1934, 1935, 1936) was outstanding champion pacer Indianapolis.
Bred at Harry (HF) Nicoll's Durbar Lodge, Ashburton by Freeman Holmes and WH Norton, both of Christchurch and purchased by AJ (Arthur) Nicoll from his father's dispersal sale in 1932 and later sold to Dunedin owner George
Barton as an early three year old for £500.
One of the greatest stayers ever produced in the Dominion, a few salient facts concerning him follow :
Winner of 27 races, 14 at Addington, meagre stake earnings of £10,257 due to the Depression
Leading stake earner 1934/5 season : £3,210
Established mile records 2.01.4TT (19/1/1935 Addington); 2:00.4TT (13/11/1936 Addington); world 2 mile record 4:15.8 (NZ Cup 1934)
Forbury Park mile record 2:03.6TT (1/2 1936)
Winner of NZ Cup/FFA same year 1935
First three time winner of NZ Cup in successive years 1934/1935/1936 (record shared with False Step 1958/1959/1960 and Terror To Love 2011/2012/2013)
Remarkable NZ Cup sequence :
at 5 : 1934 NZ Cup defeated Blue Mountain King & dual NZ Cup winner Harold Logan
at 6 : 1935 NZ Cup defeated War Buoy and 1933 NZ Cup winner Red Shadow
at 7 : 1936 NZ Cup defeated Red Shadow, War Buoy and Harold Logan
George Barton's three wins were the most NZ Cup wins as an owner,a record shared with Jim Smyth (False Step) and Terry McDonald (Terror To Love)
Indianapolis - 1929c (Wrack/Estella Amos), 73 starts : 27 wins, eight seconds, five thirds (26 wins for GJ Barton); 2:00.4TT, £10,257, family of U303 Brown Lancet.
Commenced racing as a 2yo (1931/2) racing until ten, Initially trained by Jack Behrns for his first win in the Selma Hcp as a 2yo against rivals of all ages at the Ashburton County RC meeting in May 1932 with Maurice Holmes driving.
At three, Indianapolis now owned by GJ Barton and trained/driven for him by leading horseman (Bill) WJ Tomkinson, record read 13: 6-3-2, £1,282. Wins registered at Hutt Park; Forbury Park (three); Auckland TC's GN Derby and Ashburton. Indianapolis placed second to Taxpayer in the NZ Derby at the 1932 NZ Cup meeting.
Indianapolis's four year old season (1933/4) stats showed 12:7-2-1, £1,720 (2nd leading stake earner). Wins were recorded at NZMTC's Addington meetings (four); Oamaru (Weston Hcp, forerunner to Hannon Memorial); 1933 Auckland Cup at Alexandra Park and Hutt Park.
During Indianapolis's 5yo season (1934/5), his previous year's record of seven wins was equalled - 13:7-1-1, £3,210 (leading stake earner of year). With the passing of WJ Tomkinson at the end of the previous season (trained Indianapolis for 13 wins; driver on ten occasions), Claude (FC) Dunleavy took over his training (12 wins).
Wins came at Oamaru; Alexandra Park Champion Hcp in the hands of Jack (J) Fraser jnr; Addington in National Hcp qualifying him for a 1934 NZ Cup start when favourite, establishing a world record time for the 2m staying journey of 4:15.8, last mile and a quarter in 2:35.0, last mile 2:03.6, last half 59.6. Against 11 rivals, Indianapolis started off 12yds in the £1,500 Cup (plus £100 trophy), driven to a one length victory over Blue Mountain King and 1931/1932 winner Harold Logan (72 yds) by Eugene (EC) McDermott; Show Day winning Christchurch Hcp; NZMTC Royal meeting Windsor Hcp (same day he won an exhibition mile in a NZR 2:01.4, taking a second off the Australasian record [2:02.4TT] jointly held by Auburn Lad and Walla Walla); NZMTC Easter meeting.
Indianapolis' six year old record shows 8:4-1-0, £1,780 (2nd leading stake earner). Commencing an unbeaten sequence of four straight wins with Oamaru's 1935 Weston Hcp;, he successfully defended his title in 1935 NZ Cup against ten other starters, handicapped off 48 yds, driven by J Fraser jnr defeating War Buoy and 1933 NZ Cup winner Red Shadow; second day he won 1 mile Clarkson Memorial (48 yds) completing a carnival clean sweep on the third day winning the NZFFA thus completing a treble.
As a seven year old (1936/7), Indianapolis had one win, his third successive NZ Cup victory, off a 48 yd handicap in the £2,000 Cup (plus £100 trophy) for dr J Fraser jnr, Indianapolis ran the 2 miles on a heavy but improving track after overnight rain in 4:30.6 to win by one length, defeating Red Shadow, War Buoy and Harold Logan. Seven year old record read 6:1-0-0, £1,100 ). Having undergone a 2 mile preparation, he appeared three days later on Show Day time trialling in his best ever recorded mile time of 2:00.4.
Into the twilight of his career at eight (1937/8) Indianapolis record shows 12:1-0-1, £315 with numerous unplaced runs off long marks. At the 1938 InterDominion's held at Addington, Indianapolis one of Barton's five representatives was unplaced in all three heats reserving his best for Grand Final day by taking out the second ID Consolation. Indianapolis produced little from a handful of starts in his final two seasons of racing at nine and ten.
Retired to stud, Indianapolis sired 75 individual winners (53 pacers, five in 2:0; 22 trotters; seven Australian winners). His classic offspring included Indian Game - ID heat, Indian Parrish - Rowe Cup and dam sire of 27 (Jewel Derby - Rowe Cup; brother and sister pair Le Chant - ID Trot Consolation, Trotting FFA, Trotting Championship and Stylish Major - ID Trot heat & Final; Sugar'n Spice - Australian Trotters Championship). Indianapolis died in 1951.
September 2017