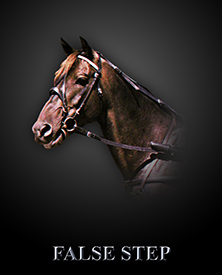 The second horse to become a three time winner of the New Zealand Cup (1958, 1959, 1960). Together with Terror To Love, he is equal best performed of the three three time winners both having bene placed fourth in their other attempt in the NZ Cup.
False Step was the result of a mating between Jack Litten's stallion and NZ Derby winner Fallacy and Jim Smyth's twenty year old mare Dainty Direct (Dan Direct/Queen Betty), family of N301 Dot Robbins.
Key facts concerning False Steps career include :
Winner of 22 races in NZ, 15 at Addington (from 44 starts), £35,575; one race in Australia, approx. £1,000 and two races in USA, grand total earnings of $188,701
Leading stake earner 1958/9 season : £7,055 and 1960/61 £10,185
Established world record for 13 furlongs of 3:21.0 placing second off 48 yds to Massacre in 1961 ID Pacing Grand Final
Winner of NZ Cup/FFA same year 1960
Second three time winner of NZ Cup in successive years 1958/1959/1960 (record shared with Indianapolis 1934/1935/1936 and Terror To Love 2011/2012/2013)
Remarkable NZ Cup sequence : at 5 : 1957 NZ Cup fourth to Lookaway at 6 : 1958 NZ Cup defeated Caduceus and Gentry at 7 : 1959 NZ Cup defeated Gentry and Caduceus at 8 : 1960 NZ Cup defeated Sun Chief and Lookaway
Jim Smyth's three wins, most NZ Cup wins as an owner, a record shared with George Barton (Indianapolis) and Terry McDonald (Terror To Love)
False Step raced from two (1954/5) until ten years of age, undergoing his initial education and training with Jack Litten. Winning once at two in Methven Two Year Old Stakes, he was runner up in Oamaru Juvenile/Sapling Stakes and third in Timaru Nursery/Welcome Stakes. Two year old record showed seven starts : 1-2-3, £1,005.
At three (1955/6), False Step's record read 10: 6-0-2, £4,055. Wins registered at Addington NZ Derby/Canterbury 3yo Stakes), Methven (Harrison Stakes), New Brighton (Presidents Hcp) and Ashburton (Champion/NZ Futurity Stakes).
False Step's four year old season (1956/7) stats showed 15: 6-5-0, £5,545 (2nd leading stake earner) with all his wins being at NZMTC Addington meetings (Metropolitan/Electric/Metropolitan Challenge Stakes, Electric/Australasian Hcps), except New Brighton Electric Hcp; finished second, beaten a nose, by Tactician in the first 2:00 race mile run in NZ. False Step failed to win a race as a five year old (1957/8) although placed on seven occasions; NZ record 13 : 0-3-3, £1,575, with placings of fourth to Lookaway in NZ Cup, second in NZ Flying Stakes and NZ Pacing Championship to Caduceus. Taken to Adelaide for the 1958 Interdominions at Wayville Showgrounds, placing fifth on night one, won his second night heat over 11 furlongs 140 yds, third on third night to finish as leading points scorer. Unplaced in the Grand Final finishing eighth driven throughout the carnival by Fred Kersley for trainer Jack Litten.
Transferred to Cecil Devine's stable at the start of the 1958/9 season after a tiff between Smyth and Litten, False Step's six year old record shows 12 : 3-3-0, £7,055 (leading stake earner). All wins came at Addington including NZ Cup (front) defeating Caduceus by a head with four lengths to Gentry in 4:18 3/5; NZ Pacing Stakes and Canterbury Park's Au Revoir Hcp. Major placings came with seconds in Ashburton/NZ Flying Stakes, Timaru Centennial Cup and fourth in NZFFA.
Ces Devine
As a seven year old (1959/60), False Step had two NZ wins, his second NZ Cup victory off a 24 yd handicap, running the 2 miles in 4:12 4/5 to win by eight lengths from Gentry with a further three and half lengths back to third placed Caduceus. Winner also of Ollivier Hcp and third in NZFFA during NZ Cup carnival, a second in Ashburton Flying Stakes another major placing. NZ seven year old record read 7 : 2-1-1, £6,155. At the 1960 Sydney Interdominions, second on opening night with fourths on both second and third nights both in fastest times meant False Step finished second equal highest points scorer with Caduceus, just behind Apmat. Finished seventh in Grand Final won by Caduceus.
As an eight year old (1960/61) False Step was leading stake earner with £10,185 having won his third successive NZ Cup (48 yds) for trainer/driver Cecil Devine defeating Sun Chief by a half-length and Lookaway third five lengths in arrears; his time of 4:09.0 had only been beaten by Johnny Globe's world record 4:07 3/5 set in 1954. False Step almost completed the Cup carnival clean sweep taking out the NZFFA and Allan Matson Hcp but placing second to Invicta in the Ollivier Hcp. Earlier in the season False Step had won the Farewell Hcp at Addington (only to be disqualified for interference) and Ashburton Flying Stakes driven by Jack Smolenski with Devine suspended while placed third in Hannon Memorial.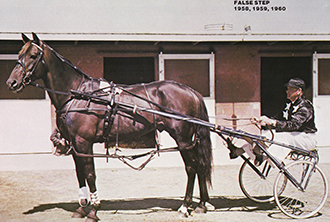 False Step, three time NZ Cup winner
In the 1961 Interdominions at Addington, False Step was second on the first day, tipped Devine from sulky and pulled up on day two and seventh on third day. False Step (48 yds) started favourite in the Grand Final in his final NZ start and in the closest finish on record of finishes was second to Massacre beaten a nose with Arania half-length back third and Lady Belmer right alongside.
False Step's complete Australasian record showed : 75 NZ starts : 22–17–9-6, 2:04 1/5, £35,575; Australia 10 starts : 1-1-1, 2:10 1/5, £1,000 approx.
Taken to North America to run in the 1961 Yonkers International Series, False Step was withdrawn from the first leg due to injury; ran third in second leg Good Time Pace and won third leg National Championship ace over 1½m in 3:07 4/5 defeating Bye Bye Byrd, Apmat, Arania, Caduceus (Adios Butler had completed in first two legs). Sold after the Yonkers series to Jack Dreyfus for US$115,000 (a then record for NZ Standardbred), won New Frontier Pace on 27 May 1961 and ended with 1961 USA record of 11 starts : 2-3-1, US$60,200. Raced again in 1962 before his death the result of a heart attack with final worldwide record of 2:03.1, US$188,701.
From few mating's prior to leaving NZ, Sire of a couple of two time winners in NZ, Miss Step, 1:59.3US (Lexington), Double Step 2:11.0 (dam of False Regal 1:59.2US) and Stepson three time winner for Devine.
September 2018