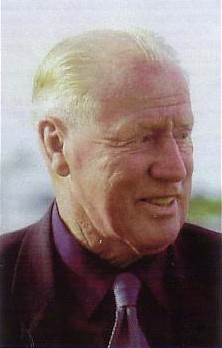 Derek Jones needs little introduction to most harness fans for besides being a highly successful horseman and trainer as well as an administrator he was one of the great characters of harness racing with friends in every part of the country.
Christchurch born Jones trained as a hairdresser but was always interested in horses. He had worked for Allan Holmes and Dil Edwards as a youngster returned to Holmes at a later date and then joined Joe Washington who was a private trainer for Clarrie Rhodes for whom he drove his first winner at Riccarton, in a three division race. Jones then went North to work for prominent horseman and punter, Dan Fraser, returning to Christchurch in the late 1940's when he accompanied "Soangetaha and Barrier Reef" South though the horses were initially trained in the name of Bill Coates at Templeton.
Both horses put Jones into the big time, Soangetaha being one of the finest pacers of his generation during a vintage era of high class pacers. He won the 1949 Great Norther Derby and later two Auckland Cups and was prominent in Interdominion series. Soon afterwards Derek and Bill Craddock hit the headlines with the trotter "Rewa Scott" whose descendants such as "Our Own" and "Craven" were to gain further prominence for the family.
Through the 1960's Derek won two training premierships in partnership with Jack Grant, but never developed the large racing teams which were required to continue the tradition. However, Derek ultimately joined the 1000 club in training wins.
His greatest moments in recent times were with "Hands Down" and "Blossom Lady" both of which also advanced the top line careers of his son Peter (Hands Down) and grandson Anthony Butt (Blossom Lady). "Hands Down" became an Addington specialist and an Addington hero, his win in the 1980 New Zealand Cup being one of the finest spectacles in the long history of that race. "Blossom Lady" who also had a sensational record in Australia won the 1992 Cup after being unlucky in previous tries. She came to Derek as a stable of last resort and succeeded magnificently. While Derek, always reluctant to compare horses, did concede "Hands Down" as better that "Soangetaha in later years and probably Blossom Lady as well, his first star always held a special place in his heart.
In an Industry where disappointment can produce bitterness, there was never a bad word said against Derek who always managed to put even the most sensational development into perspective. He was the same when President of Banks Peninsular Trotting Club. In later years he was an indefatigable visitor to those on the sick list and rarely missed a friend's funeral.
Derek Jones is probably a member of the Hall of Fame not so much for what he achieved, which was impressive, but because of who he was.