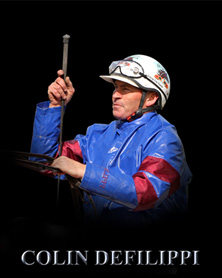 Already an inductee to the New Zealand Trotting Hall of Fame, leading South Island driver and trainer, Colin John DeFilippi is one of the 2015 inductees to the Addington Harness Hall of Fame. Rapidly closing in on 2,000 NZ driving victories (1,960/430 trotters; 15,971 drives since 1986 season for stakes of $17.484m, UDR of .1894 as at early October 2015), it seems likely he will be the fifth to achieve this milestone after Tony Herlihy, Maurice McKendry, Ricky May and David Butcher. His best season came in 2005/6 when driving 121 winners.
From a prominent harness racing family, horseman father RH (Rod) DeFilippi, brother Michael (Mike)/former prominent trainer (301 wins)/driver (1,063 wins,) harness racing has played the major part in Colin's life (aside from brief three months part time at University). Son Darren (junior driver with 14 wins from 263 starts) tragically lost his life in a motor vehicle accident following 1995 Geraldine meeting. His life is remembered each year in the eagerly sought after junior drivers Darren DeFilippi Memorial Trot held each July at Addington and warmly supported by the DeFilippi family. Wife Julie, a daughter of highly-respected trainer and mentor, Bill Denton, has officially been part of the training partnership with Colin since the 1998/9 season.
Colin DeFilippi was licensed as a professional horseman (driver) for matinees and trials in early 1972 when working for his father. Granted a probationary (junior) driver's licence at the beginning of 1974/5 season, he recorded eleven wins with his first win coming in the Members Hcp on Brother Eden at Greymouth on 23 October 1974 (trained by father Rod). With considerable early success in the probationary ranks, this culminated in his finishing third in both 1974/5 ((11 winning drives) and 1976/7 (17 wins) seasons.
Becoming a trainer in 1975/6 whilst still a probationary driver, he has been self-employed ever since. As a trainer, initially on his own until 1997/8 season, he had 277/54 trotting winners (2,481 starters since 1986 – 1997/8 seasons) for stakes of $1.587m, UDR of .1879 and a seasons best of 30 training successes in 1985/6. Training at Broadfield together with wife Julie from 1998/9 season, he has had 240/86 trotting winners (2,109 starters) for stakes of $2.960m, UDR of .2092 with seasonal bests of 20 in both 2001/1 and 2001/2.
Whilst always been based in Canterbury, DeFilippi did spend a short stint of six months training in the North Island in 1987 where he was stable driver for Kenwood Stud Ltd (and their syndicates) and trainer Charlie Hunter. Among many junior drivers attached to his stable have been Ricky Alfeld, Craig Thornley, Darren DeFilippi, Risa Tanaka, Katie Cox, Samantha Ottley and currently Loren Lester.
Stand out horses driven and/or trained by Colin DeFilippi apart from the ultimate dream of winning the NZ Cup with Kyms Girl, have been champion juvenile pacer Courage Under Fire ("The Pocket Rocket" in NZ and "Mighty Mouse" in Australia) and the Trevor Casey owned trotter Stent. A North American campaign next year remains a possibility for Stent and would cap off DeFilippi's career.
Colin and Julie DeFilippi
Kyms Girl
Courage Under Fire
Stent
A brief outline of Colin's achievements to mid October 2015 follows:
Drivers Premiership 2005/2006 (121 wins); second in 1983/4 to Peter Wolfenden
Top ten (or better) position on Drivers Premiership for 24 of past 36 years
Twice driven winners of in excess of $1m in a season – 1998/9 $1,101,309; 2005/6 $1,022,285
Driven 100+ seasonal winners on one occasion (121 in 2005/6)
Probationary (junior) driver : third in 1974/5 and 1976/77
Driven five winners on programme on three occasions : Oamaru 12 May 1979, Westport 28 December 1983, Banks Peninsula 2 October 2005
Best training performance – placed third equal with John Butcher in 1985/6 (30 wins)
Winner NZ Drivers C/S in 1983 (placed on number of other occasions)
Second 2007 World Drivers C/S held jointly between Australia and New Zealand including 3 winning drives in New Zealand (three points adrift of winner Belgian Christophe Martens)
Trained and driven winner of NZ Cup (Kyms Girl) and drove Auckland Cup winner (Burlington Bertie)
Drove only three year old to record six major Australasian Derbies : Courage Under Fire (GN/NZ, NSW, Victoria, Queensland and Australian Derbies – 1998/9)
Drove Courage Under Fire to 24 consecutive victories (2yo – 4yo) for trainer Bruce Negus
Trainer and driver of 2014/5 Australasian Grand Circuit Trotting champion/NZ Trotter of Year : Stent
Colin DeFilippi has driven numerous group and listed race winners in NZ plus in Australia. The more prominent among his many NZ victories (a number multiple feature wins/those trained shown as tr) are set out below (to mid October 2015) :
New Zealand Cup (tr/dr Kyms Girl, also third plus seconds on Our Mana twice and Dillon Dean)
Easter Cup (Our Mana/tr)
Auckland Cup/ (Burlington Bertie, also second with Our Mana)/Ashburton Flying Stakes (Burlington Bertie)
NZFFA/Messenger (Dillon Dean)
GN/NZ Derby/Flying Stakes (Courage Under Fire, Country Ways - Flying Stakes only)
Delightful Lady Classic (Adios Dream)
Sires Stakes - 2c : Fiery Falcon, Courage Under Fire, Sly Flyin; NZSS – 3 : Courage Under Fire, Roman Gladiator; NZSS – 2f : Classy Filly, Cosmic Ice; NZSS – 3f : Classy Filly; NZSS – 2T : Castletonian
Driven winners of four Hannon Memorials (Idolmite, Burlington Bertie, Franco Ledger, Kyms Girl (tr)
Driven winners of four NZ Standardbred Breeders Stakes (Quiet Touch, Adio Routine, Kyms Girl twice/tr), two Premier Mares Championships (Adio Routine, Kyms Girl/tr), Queen of Hearts/Canterbury Classic (Adio Routine)
Driven winners of four Welcome Stakes (Speedy Cheval, Courage Under Fire, Sly Flyin, Roman Gladiator)
Driven winners of four Junior FFA's (Michelle Bromac (tr), Whitecliff Whistler, Roman Gladiator, Bellas Boy)
Driven winners of four Methven Cups (Capri, Ruthless, Chipaluck, Franco Ledger)
Driven winners of three Invercargill Cups (Burlington Bertie, Ok Ado, B Grudge (tr)
Driven winners of three Sapling Stakes (Warlord (tr), Black Loch, Fleet Magic)
Driven winners of two Kaikoura Cups (Michelle Bromac (tr), Master Musician)
Driven winners of two New Brighton Cups (Idolmite, Franco Whisper)
Driven winners of two NZ Oaks (Gypsy Winkle, Caps Off)
Driven winners of two Rowe Cups (So Long Eden, Stent (tr), City of Sails Trot (Pompalier), ANZAC Cup (Stent/tr), Lyell Creek Stakes (Stent/tr)
Driven winners of Dominion Hcp (Pompalier), NZ Trotting FFA (Stent (tr), two NZ Trotting C/S : Special Force, Stent (tr)
Stent : tr/dr Cambridge Trotters Flying Mile twice), Cambridge Trotters Flying Stakes, Ashburton Trotters Flying Mile
Driven winners of two NZ Trotting Stakes – 2 : Just Incredible, Ayra
Australian successes include - 20 wins from 50 starts -
Courage Under Fire : (8) Victoria Derby ht/final, NSW Derby ht/final, Queensland Derby, Australian Derby, Gold Coast Grand Prix 3yo Invitation Stakes, Shepparton Cup plus 2nd ID Heat
Kyms Girl : Truer Memorial
Roman Gladiator – NSW Derby
Stent (tr/dr): (7) Australian Trotting Grand Prix (2), Great Southern Star heats (2)/final, Melton Trotting Cup, Knight Pistol and placed second in Glenferrie Challenge and Great Southern Star final
Special Force : Bill Collins Mile, EB Cochran Trotters Cup, 3rd ID Trotters G/F
Gate Keeper : FCL Parkes Trotters Hcp
Colin DeFilippi joins an illustrious group of horsepersons to have been inducted to the Addington Harness Hall of Fame.
Compiled as at 10 October 2015.