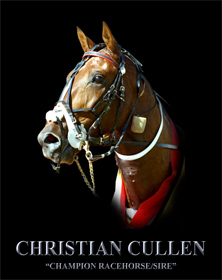 An inductee to the Addington Harness Hall of Fame in 2013, Christian Cullen was a champion racehorse and equally successful in the breeding barn. A powerful and impressive looking stallion with a pedigree to match his confirmation, he has like his own sire In The Pocket been particularly successful in the Australasian breeding scene. Speed, stamina and a great gait all added to his success and appeal.
The In The Pocket son of Bo Scots Blue Chip mare Pleasant Franco, bred by Paul Bielby (dam also of Kate's First : AK Cup, NZ/Queensland Oaks, Nevele R Fillies, NZSS - 2f, Pride of Lincoln family) boasted a racing record that included Group One features such as:
1997 NZ Sires Stakes - 3
1998 Auckland Cup
1998 NZ Cup/FFA double
1998 Miracle Mile
1998 Truer Memorial
and other significant victories including Welcome Stakes; NZYSS - 2; Rising Stars - 3; NZ C/S - 3; NZYSS - 3; Renwick FFA; Superstars - 4; Ashburton Flying Stakes Cambridge Classic; Waikato Flying Mile; ID Heat. He was NZ 4yo Pacer, Overall Pacer, Harness Horse and Australian Grand Circuit Horse of Year in 1999.
Raced on 31 occasions, his record showed : NZ - 26 : 19 - 2 -1 , $963,150; AUS = 5 : 3 - 0 - 1, $286,000, a total of 31 : 22 - 2 - 2, $1,249,150; p2, 1:58.6; p4, 1:54.1.
Throughout his career, he was owned by Ian and Doreen Dobson, after his first five starts in partnership with his trainer Brian O/Meara. Christian Cullen was driven during his career by Peter Jones (2 wins), Ricky May (5 wins) and the late Danny Campbell (15 wins). Ian Dobson has over the past twenty years been represented by a number of other headliners such as Mainland Banner (NZ Cup, NZ Oaks, Messenger, Breeders Stakes), Gotta Go Cullen (Auckland Cup, NSW Derby, Messenger), Panky's Pacer, Cigar etc. He has been a major sponsor of harness racing at Addington Raceway, a major breeder (stallion and broodmare owner) and sales purchaser/vendor over this time period..
Christian Cullen's siring record is impressive:
Five times champion NZ sire (stakes) : 2006, 2008 - 2011
Four times leading NZ sire (winners) : 2009 - 2012
Leading Australian sire (stakes) : 2011
Leading sire of Harness Jewels winners (9)
Over 40 Group One winners
14 age group champions
More $100,000+ sales yearlings than any other sire
A very successful sire of particularly younger horses, he stood for a decade at Wai Eyre Farm before moving to Nevele R stud for the 2013/14 breeding season where he will stand with his son Gotta Go Cullen. His semen is sought after in Australia as are his progeny whilst he stood one northern hemisphere season in USA - his youngsters born in America have already won races there. He has a number of sons standing at stud - Gotta Go Cullen, Gotta Go Cullect, Stunin Cullen, Charles Bronson, Ohoka Arizona, Justa Tiger etc.
His principal top level performers include :
All Tiger 1:49.1US; Christen Me 1:50.5 (Chariots of Fire, Taylor Mile, Messenger, Jewels - Emerald 4); Franco Emirate (Messenger, Jewels - Emerald 4); Classic Cullen 1:50.4US (Gotta Go Cullen (millionaire; NZSS - 2, NZ C/S - 2, NSW Derby, Auckland Cup, Messenger); Hands Christian 1:52.5 (Easter Cup)Kiwi Ingenuity 1:52.1 (NZ Oaks, Queen of Hearts, NZ Breeders Stakes); Lauraella (NZ/GN Oaks, Nevele R Fillies); Likmesiah (NZSS - 2, NZ Derby); Mainland Banner (NZ Oaks, NZ Cup, City of Auckland FFA, Messenger, NZ Breeders Stakes); Lizzie Maguire (GN Oaks); Make Mine Cullen 1:53.0 (Breeders Crown - 3f, Ladyship Mile, Breeders Crown - 4m, Kilmore Cup, Queen of the pacific); Mighty Cullen 1:50.2US; Molly Darling 1:51.2US (Caduceus Classic - 2f, Nevele R Fillies); O Baby 1:54.8 (NZSS - 2f, Nevele R Fillies, Jewels - Diamond 3f, Queensland Oaks); Pay Me Christian 1:52.8 (NZSS - 3, NZ Derby, Newcastle Mile); Roman Gladiator (NSW Derby); Royal Cee Cee 1:49.3US; Stunin Cullen (millionaire; NZSS - 3, GN Derby, Ballarat Cup, Hunter Cup) etc. Broodmare Site of Highview Tommy (Welcome Stakes, Ballarat Cup) and Ohoka Punter (GN/Victoria Derbies) - both by Bettors Delight
Christian Cullen has to date sired the winners of in excess of 2,100 races in NZ, over 150 individual winners in Australia and a handful of winners in North America as at October 2013.
Compiled as at 1 November 2013.