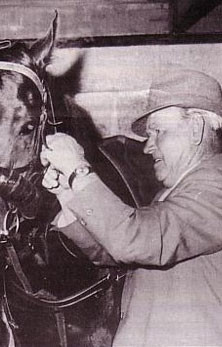 In 1936, as a stable hand Cecil Devine accompanied two horses from Tasmania to New Zealand to compete in the Interdominions at Addington Raceway when his brother was unable to make the trip.
He came for a month and stayed for a lifetime.
He set up training in Prebbleton and soon through his skill and dedication to detail he became one of the most respected trainers and horseman of his time.
In the 9 years between 1951 and 1960 he won five New Zealand Cups, with Van Dieman, Thunder, 3 consecutive wins with False Step and a Royal Cup with Van Dieman, presented by Queen Elizabeth – a truly remarkable performance.
In 1979 he trained and drove his sixth NZ Cup winner the brilliant but erratic Lord Module.
Cecil often known a Tassy was one of the true champions of Harness Racing and several of New Zealands latter leading trainers did their apprenticeship under his guidance.