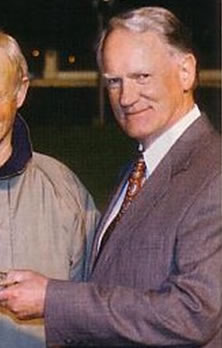 BobMcArdle has always maintained his major involvement in New Zealand Harness Racing as a founding partner in the iconic Nevele R stud happened more or less by accident after a casual meeting with Wayne Francis in the early 1970's, but it is certain that sooner or later the native of Tasmania would have played a major role on this side of the Tasman. It is the nature of the man.
Bob was raised more in a thoroughbred mode that harness and one of his biggest subsequent thrills was returning to win the Tasmanian Cup with the former Kiwi "Sir Trutone" in 1973, the year Nevele R was founded. He later won a Moonee Valley Cup with "Butternut" which he purchased in Canterbury and sent to Australia.
Gradually Bob and his brother John became more involved as bloodstock agents, firstly in throroughbreds but widening their interests into standardbreds when the American market opened up in the 1960's. They had considerable success at all levels from stars to maidens in the tough American business regime and built up valuable contacts over several years. There have been any amount of success stories with his exports, one of the most recent "Attorney General" at one time the fastest horse ever bred in this country and now at stud here.
Bob's role when Nevele R began was an essential insight into the American scene and obtaining rights or purchasing the right sort of stallions for New Zealand conditions. Previously importations had been rather haphazard and many of them unsatisfactory, but the horses Nevele R brought in based heavily on track performance where previously pedigree had been the main factor revolutionized the breeding industry. He has won numerous major awards on both sides of the Tasman. In a business where many operators come and go with equal rapidity, he has remained a constant.
On his own account through these years he promoted his own brand the Bromac (brothers McArdle) breed, horses from many different families bred and largely sold for export though several hit the high spots on the tracks here, notable "Montini Bromac" which Bob later brought back to stand at stud here. His business structure required almost endless travel on which he thrived. The business like so many others was hit by the recession of the late 1980"s, but Nevele R marched on.
In more recent years Bob as eased out of a direct role with Nevele R and concentrated on Bromac Lodge where yearlings are bred for sale or retained for breeding purposes.
In the tough game of horse dealing, Bob McArdle's reputation has stood the test of time and his partnership with Wayne Francis and the support for each other's desire to raise the standard of breeding and racing in New Zealand has set him apart.