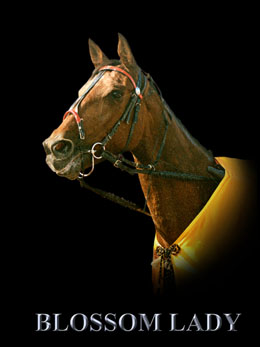 The "Bloss" as she was known, is one of sixteen mares (Reta Peter, Haughty twice) to have won the NZ Cup (to 2015). The 1984 bay Farm Timer mare from Lumber Dream mare Lumber Lady, was bred by Ashburton mates Bob Davison and Bill Cook and raced by the twelve strong Polly Syndicate headed by former HRNZ Chairman Ralph Kermode. The syndicate consisted of six couples, four from Palmerston North and one each from Auckland and Wellington.
Blossom Lady was the leading performer produced by Farm Timer retiring as the fifth NZ millionaire (Luxury Liner, Christopher Vance, Master Musician, Chokin) and first mare as well as being among first ten millionaires in Australasia. At Addington Raceway she won 17 races from 66 starts (placed 21 occasions) placing her among other leading performers such as Hands Down (23 wins), Take A Moment/Lordship (21), Christen Me (20), Monkey King (19), Caduceus (18) and False Step/Tussle (17).
Racing from three years old (ten starts, three wins, first at Manawatu Raceway on 9 February 1988) until her retirement aged eleven following her sixth placing in the 1996 NZ Standardbred Breeders Stakes held on New Years Day, her 131 starts in NZ produced 36 victories, sixteen second placings and thirteen thirds for earnings of $879,605. She campaigned on six occasions in Australia for seven victories and nine placings from 24 starts. Her full career stats were : 155 : 43 – 20 – 18, $1,334,808. Best mile rate was 1:56.0 recorded over 1 mile in her first NZ Standardbred Breeders Stakes win at the Canterbury Park meeting on 3 January 1991. Established the following national records for a mare all at Addington unless otherwise specified – 1 mile mobile 1:56.0 (1:56.5 AUS), 2000m stand 2:33.5, 2400m mobile (Ashburton) 2:57.0, 2600m stand 3:15.8/3:14.9 (also overall national records), 3200m stand 4:03.3.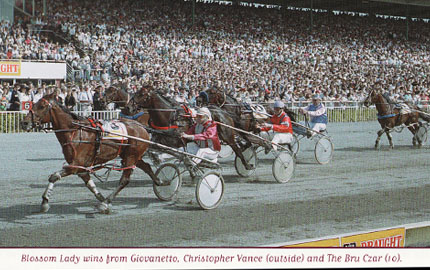 Blossom Lady 1992 NZ Cup
Blossom Lady's six NZ Group One's were all at Addington (NZ Cup/FFA, Easter Cup, 3 NZ Standardbred Breeders Stakes) with a further two at Moonee Valley (2 Hunter Cups). Eleven of her twenty two Group race wins were at Addington (above plus 3 Premier Mares C/S, Interdominion heat, Alan Matson (Monsanto) FFA). Her remaining group race wins being Hannon Memorial (2), Ashburton Flying Stakes, Interdominion Consolation (Alexandra Park), Interdominion heats (2 Moonee Valley/Harold Park, 1 Alexandra Park).
Blossom Lady's staying ability is borne out with her seven victories at the extreme distance of 3200m (3 at Addington including NZ Cup, Easter Cup, DB Draught Hcp) plus Ashburton Cup/DB Draught Hcp (Ashburton) and two Hunter Cups. A sixth of her wins coming from standing starts over two miles distance.
Blossom Lady Moonee Valley
Other major wins included 3 Easter Invitational FFA's – all at Addington; Manawatu/Ashburton Cups, Invercargill Cup (2), Palmerstonian Classic, Forbury FFA's (2), recording placings in the following major races :
seconds at Addington in Honda/Peugeot Cars 2000 (2), New Brighton Cup (Avon City Ford), Premier Mares C/S, Easter Cup, ID heat and Hannon Memorial, ID heats (Harold Park, Albion Park), Victoria/Hunter Cups
thirds at Addington in Monsanto FFA (2), NZ Standardbred Breeders Stakes, Easter Cup, New Brighton Cup (Avon City Ford) and Ashburton Flying Stakes, ID Ht/Final (Albion Park), ID Final (Moonee Valley), Victoria/Cranbourne Cups
Blossom Lady initially trained by Stephen Doody from his Palmerston North headquarters (25 starts for 6 wins) before moving in February 1990 to the Templeton stable of the legendary Derek Jones from where her major successes were engineered. Grand son Anthony Butt handled her for twenty seven victories in NZ plus seven in Australia with others to record wins with her being Stephen Doody (5), Derek Jones and son Peter two each.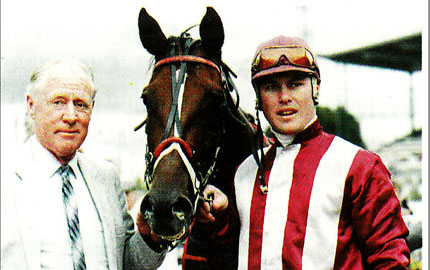 Derek Jones, Bloss, Anthony Butt
After retirement from the racetrack, Blossom Lady's career as a broodmare saw her leave only three live foals, all of whom won races. Her first foal, son Mister DG (Camtastic), won 20 races (14 NZ/6 AUS), $795,749, 1:55.9 (Cambridge Classic, SBS/Heller FFA, Popular Arm FFA, Hunter/Cranbourne Cups, Hannon Memorial, Nobilio, Casey Classic, ID's [2 heats, Consolation], Waikato Flying Mile). Her two filly foals, In Bloom and Bloss's Flame. both won two races.
Blossom Lady died on 18 May 2004.
Already an inductee into the NZ Trotting Hall of Fame, Blossom Lady with a Lounge named after her at Addington, rightfully takes her place amongst the elite Standardbreds to have graced Addington Raceway as a 2016 inductee to the Addington Harness Hall of Fame.
October 2016